Making Sure Military Families Stay Fed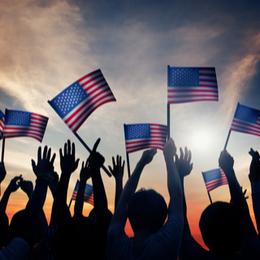 A supply line Wednesday afternoon at New Jersey's largest military base is handing out items many of us are gathering this month: food for the holidays.
It's the annual Operation Homefront's Holiday Meals for Military event.
"The idea is to provide crucial family support to our military and veteran families," says Peter Stinson, Operation Homefront's Northeast senior director.
Since 2008, Operation Homefront has helped provide more than 75,000 military families with groceries and gift cards for the holidays.
At the joint base Mcguire-Dix-Lakehurst, 250 active duty, reserve and National Guard families are receiving a full day's worth of food.
"It's awesome to not have to worry, that we have everything we need for the holiday," says military wife Tara Whetstone.
Many families here are far from home.
Shannon Kelleher is from Tennessee and her husband works with C17 cargo planes.
She says this haul is enough to share.
"I am going to make dinner for us as well as airmen who are in the dorms and other families who are going to stay here who don't have family near," says Kelleher.
Article continues below
---
advertisement


---
In addition to groceries, dozens received gift cards to Cracker Barrel where they can get almost a home-cooked meal without having to do any of the cooking.
"I enjoy going to Cracker Barrel so to have them give us a gift card it means a lot," says Army Sgt. 1st Class Daniel Pollard.
Operation Homefront doesn't just help at Christmas time.
They assist military families and veterans with medical and financial needs year-round.
Author:
South Jersey Organization Making Sure Military Families Stay Well-Fed During Holidays
Archives
---
Students Rush To Help Residents In...
New Jersey Declares State Of Emergency..
Winter Storm Warning Issued As Region...
Dream Drives: The Army Reserve...
Washington Township, Uber Team Up To...
PECO Service Completely Restored...
Northeast May See Another Winter Storm..
Winter Storm Leaves Thousands In The...
Pop-Up Ice Sculpture On Display At...
New Jersey Crews, Homeowners Deal With..
10-Year-Old Boy Accused Of Threatening..
2 Gloucester County School Districts...
Officers On Leave After Video...
Voorhees Community Brainstorming...
New Jersey Senate To Vote On Property...
More Articles