2 Dead After Vehicle Is Pushed Into Lake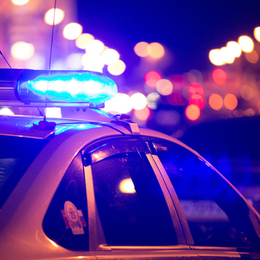 A deadly two-car crash left two people dead after their car was pushed into a lake in Burlington County.
Officials say the crash took place around 4:30 p.m. Saturday at the Northbound jug handle of Route 130 headed towards Bridgeboro Road.
Authorities say a two-door sedan driven by Amish Patel, 29, of Delanco, entered the jug handle, lost control, and crashed into a minivan waiting to cross over Route 130.
Investigators say the force of the impact propelled the minivan over the guard rail and down an embankment, where it submerged into a body of water that is part of Olympia Lakes.
Multiple rescue squads and fire departments were involved in pulling the occupants, Robert Stephens, 52, and his wife Janet, 50, of Burlington Township, from the water.
Investigators say life-saving efforts were unsuccessful, and Robert and Janet would later be pronounced dead Saturday night at Lourdes Medical Center in Willingboro.
Officials with the Prosecutor's Office and the Willingboro Township Police Department are investigating the collision.
Article continues below
---
advertisement


---
Authorities say no charges have been filed, and the investigation will focus on whether criminal behavior was responsible for the collision and the subsequent deaths.
Anyone who witnessed the collision is asked to call Burlington County Central Communications at 609-265-7113.
Author:
http://philadelphia.cbslocal.com/2018/01/14/fatal-crash-leaves-car-submerged-in-burlington-county-lake/
Archives
---
New Jersey Voters To Decide Approval For $500 Million In Bonds For Schools
South Jersey Biz Digital Edition
Man Arrested For Peeking Into Windows, Committing Lewd Acts In Women's Clothes
2 Killed, 1 Hurt After Fire Ravages Browns Mills Home
2 Killed In Massive House Fire In Browns Mills
Racist Fliers Supporting KKK Left On Residents' Lawns In Cherry Hill
New Jersey Plans To Reveal 'Stunning' Sports Betting Numbers
Statistics Show Streets Of Camden Getting Safer
Lifeguard At Deadly Beach Predicted A Future Sand Collapse
Police ID Suspect Wanted In Cherry Hill Robberies
Renewed Debate Over Extending New Jersey's Route 55 Into Cape May County
Police Locate Missing 14-Year-Old Girl From Camden
Mantua Township Police Investigate Gunshots Near Elementary School
Husband & Wife Team Caught Shoplifting More Than $8,000 Worth Of Stolen Items In Gloucester Twp.
Tacony–Palmyra Bridge Closed Until Further Notice
More Articles