South Jersey Magazine Digital Edition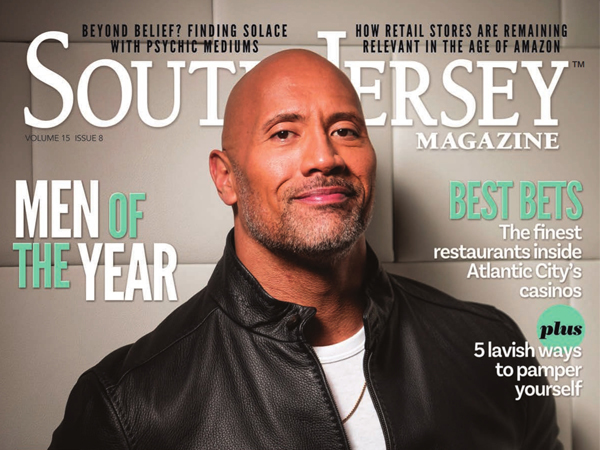 Click to read the latest edition of South Jersey Magazine, covering the latest and greatest of South Jersey.

This month's edition includes:
• One of entertainment's biggest and most beloved stars, Dwayne "The Rock" Johnson
• The best restaurants in Atlantic City (and what they offer)
• Information about the region's brick-and-mortar stores' excitement for the holiday season
• Willingboro native Stephen Hill and his leading role in the reboot of Magnum P.I.
• A dining review of Porch & Proper, Collingswood's newest culinary sensation
• 12 of South Jersey's Men of the Year
• So much more!
Article continues below
---
advertisement


---
Author:
South Jersey Magazine - Editorial Staff
Archives
---
Fifth Arrest Made In Connection With Murder Of Millville Youth Football Coach
Atlantic City Mayor, Councilman Being Investigated After Alleged Fight At Casino
Lumberton Police Searching For Missing Elderly Couple
Sen. Bob Menendez Defeats Republican Challenger Bob Hugin In New Jersey Senate Race
2 Women Killed When Car Ran Off Road, Hit Trees In Gloucester Township
Grand Jury Declines To Indict Deptford Officer Who Fatally Shot Shoplifting Suspect
Authorities ID South Jersey Detective Who Fatally Shot Teen In Vineland
New Jersey Paid Sick Leave Law Goes Into Effect
1 Dead After Small Plane Crashes During Takeoff At Woodbine Municipal Airport
South Jersey Mom Helps Thwart Potential School Attack
Man Wanted For Armed Robberies Of Dunkin' Donuts, Gift Shop In South Jersey
Man Shot, Killed By Detective In Vineland
Camden County Fighting Opioid Epidemic With Expansion Of 'Project Save Program'
Woman Latest Of Over 20 People Charged With Defrauding NJ State Health Benefits Programs, Insurers
Man Dies In Vehicle Fire In South Jersey
More Articles