SJ Nightlife – Karaoke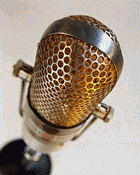 Karaoke, the mere mention of the word strikes fear into the hearts of millions. The thought of some amateur stepping up on stage, taking the microphone in his/her hand and butchering your favorite song is enough to make anyone squirm right? Wrong! It seems that Karaoke is very popular in South Jersey, and let's face it a bit fun as well. But where did it all start, and where can you find it around here you ask? Well, Here's the scoop!

First lets break down the word Karaoke. "kara" comes from "karappo" meaning empty, and "oke" is the abbreviation of "okesutura," or orchestra. Now, the concept; rather than including both vocals and music, karaoke tracks only have the music, the vocals are provided by a live (and often slightly intoxicated) person who takes the microphone and attempts to sing along with the words displayed on a screen.

How did it all start you ask? Well, legend has it that Karaoke originated 30 years ago in the urban city of Kobe, Japan. The myth is that a small restaurant in that city had a strolling musician come in to entertain customers. At times that he did not show up, the enterprising restaurant owner would play taped music. This encouraged the customers themselves to sing along. And so, Karaoke was born.

Article continues below

---
advertisement


---
Okay, now that you know more than you really need to about the origins of Karaoke I'm going to tell you where you can go in South Jersey to experience this phenomenon, and give it a try first hand.
First up the Tabernacle Inn, located where else but Tabernacle. Not only is this place an excellent place to dine, but they also hold Saturday night Karaoke parties. I spoke with Shannon, the Manager who informed me that they have been holding Karaoke nights for about the last five years, and that they draw a very diverse crowd ranging from folks in their mid-twenties to those in their sixties. According Shannon, the music also spans a wide range with everything from the latest Pop and Top Forty hits to the Oldies but goodies. So if you're looking to "Step up to the mic." this weekend, head on over to the Tabernacle Inn on Saturday and join the fun. The Karaoke kicks off at 9:30 p.m. and continues to 1 a.m. For more information, call 609.268.1060.
Fridays at Octobers Pub on Route 73 in Winslow is the place to be when they host Shooting Star Karaoke! The party starts at 9 p.m. with Sideshow Bob (the dancing airbag) and HairFree Fred. Head on over and help them kick off their first show! For more information and directions call 609.567.8474.
Here are a few more local spots where the Karaoke never stops:
Friday Nights:

Pistol Petes Saloon & Rest.
1000 Black Horse Pike, Pleasantville
(609) 484-1000 / 5 PM to 9 PM
By USA KARAOKE - With Your Hosts Bernie & Walter
Randazzo's
1370 North Main Road, Vineland
(856) 691-9725 / @ 9 PM
Joe Pops
20th & Blvd., Ship Bottom
(609) 494-0558 / From 6 to 10 PM
Your Hosts: Joe & Sue
Anchor Inn
4501 New Jersey Ave., Wildwood
(609) 522-8433 / @ 10 PM

Saturday Nights:

Somerdale Bar & Grill
209 North White Horse Pike (US Rt. 30), Somerdale
(856) 435-9893 / @ 10 PM
Harvest House
251 So. Lincoln Ave., Vineland
(856) 692-6333 / @ 8 PM
Your Host Big Al

Sunday Nights:

Fat Jacks
1146 So. Delsea Drive, Vineland
(856) 563-0001 / 7 to 1:30 AM
The Grotto
2709 Pacific Ave., Atlantic City
(609) 347-2002 / 10 PM to 4 AM
Maynard's Cafe
Bay Avenue, Margate
(609) 822-8423 / @ 9 PM
Your Host Carol

Tuesday Nights:

Red Lobster
101 Marlton Pike East, Cherry Hill
(609) 665-7427 / 8 to midnight

Thursday Nights:

Wishing Well Tavern
263 South White Horse Pike, Clementon
(856) 435-9455 / @ 9 PM
Your Host Kenny G

For a complete listing of all the SJ Nightlife, click here.


Author: Steve Kelly - Editor, SouthJersey.com

Archives
---
A Blueprint for Remodeling
Speak Out South Jersey! Talk to Us!
Things to Do
Caught in the Middle
Elmer
Good Buy: In the Kitchen
The Spaces Between Your Fingers Project
On The Move
Things to Do
Holistic Health Methods
On Display
Boost your Curb Appeal
Autism Support is Never Too Far Away
On Sight
Things To Do
More...