Things to Do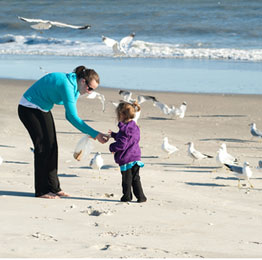 Looking for something fun and family-friendly to do this week? Check out what's going on in South Jersey. Check out International Children's Film Festival, Maple Sugaring, Mummers Show of Shows, Ghosts of Cape May Trolley Tour, Battleship tours, Mighty Mike at the Aquarium and more! Step back in time with a tour of Pomona Hall and the Camden County History Museum, or just check out some of the other great attractions throughout South Jersey!

The Garden State Discovery Museum is a great place for the entire family to visit.
On Saturday and Sunday, February 25 & 26, enjoy the International Children's Film Festival . Sunday is Oscar night, the biggest night of the year for the film industry, so in its honor, the Museum rolls out the red carpet for two days of multicultural movies for the whole family.
Don't forget to check out the new DINOSAURIUM! This brand new, 2000-square-foot exhibit dedicated exclusively to dinosaur exploration and discovery will bring you right back to prehistoric times. Climb and slide in the giant 3-story Climb-a-saurus structure. Unearth giant dinosaur bones in the dig site. Prepare fossils in the laboratory. Give a mighty roar in the Roaring Room.
The Garden State Discovery Museum is located at 2040 Springdale Road in Cherry Hill. Admission is $10.95 for adults and children 12 months old and older; $9.95 for seniors. Hours are 9:30am to 5:30pm daily. On Saturdays, it's only $5 after 5pm. Saturday hours are extended until 8:30pm from October through April. They close Christmas Eve and New Year's Eve at 5:30pm; and are closed on Thanksgiving and Christmas Day. For more information, call 856-424-1233 or visit their website at discoverymuseum.com.

Article continues below

---
advertisement


---
Through the end of February, Adventure Aquarium has Mighty Mike, a 14-foot long, 800-pound American alligator. He is considered the largest alligator in the country on display outside of the state of Florida, and the third-largest animal ever exhibited at Adventure Aquarium (only the aquarium's two massive Nile hippos weigh more!)
Adventure Aquarium, located at 1 Aquarium Drive on the waterfront in Camden, is open from 9:30am to 5pm daily; admission is $21.95 for adults and $17.95 for children ages 2-12 (prices do not include 7% NJ sales tax). You can avoid ticket lines by buying and printing your tickets directly from their website. For more information, call 856-365-3300 or go toAdventureAquarium.com.

Step back in time with a tour of Pomona Hall and the Camden County History Museum on Thursday or Sunday, or by appointment. The first tour begins at noon; the last is at 3:30pm. Hosted by the Camden County Historical Society; Pomona Hall is located at 1900 Park Blvd. in Camden. Please call 856-964-3333 or go to cchsnj.com for more information.

Howell Living History Farm is hosting their annual Maple Sugaring event on Saturdays, February 25 and March 3. Sugaring time arrives in late winter at Howell Farm and the public joins in the fun of making and tasting homemade maple syrup (and pancakes!). Activities offered continuously on these dates, from 10am until 4pm, include syrup making, flour milling, butter making and pancake sampling. Sap gathering takes place at noon and at 2pm. Tree tapping demonstrations are held at 11am, 1 and 3pm. The trees are tapped beginning in early February. School groups and the farm staff collect and boil down sap for several weeks.
Howell Living History Farm is located at 70 Wooden's Lane in Lambertville. For more information, call 609-737-3299 or visit their website at howellfarm.org.

On Saturday, February 25, don't miss the Philadelphia Mummers Show of Shows at Atlantic City's Boardwalk Hall! The 2pm show is an encore of the New Year's Day show, and is sure to enthrall everyone! Reserved seat tickets are $25 and $21, with a limited number of $35 VIP floor seats available. General admission tickets are $18. Family Packages are $80 and $60 and include four tickets, four hot dogs, four sodas and a complimentary program. $3 discount on $25 and $21 seats to groups of 15 or more; call 609-348-7023 for Group information. For more information, go to boardwalkhall.com or phillymummers.com.

Board a MAC trolley tour for a 45-minute evening ride through the haunted streets of Cape May on a Ghosts of Cape May Trolley Tour. The paranormal findings of ghost writer Craig McManus come alive as your guide translates McManus' spooky stories. Ride past the flickering gas street lamps, the haunted properties of Cape May and experience the spine-tingling tales exposed by McManus. Offered Saturday, February 25 at 7pm. $10 for adults and $7 for children (ages 3-12). Sponsored by the Mid-Atlantic Center for the Arts & Humanities (MAC). For more information, call 609-884-5404 or 800-275-4278 or go to capemaymac.org.

The Nature Center of Cape May has a lot going on. And lots you can take advantage of, free of admission, with the entire family! The Observation deck and tower provide a panoramic view of the harbor and surrounding area. The upstairs lounge provides an indoor harbor observation area and a place to relax, play games with friends, or read alone. Birding from the deck on the second story of the welcome center provides the best viewing advantage for spotting birds in the harbor and around the meadow. Browse the Aquaria with local marine life, natural history artifacts, and their busy songbird feeding station (seasonal). Monthly exhibits in the Trucksess Welcome Center, feature special art and natural history displays. The NJ Audubon Nature Store has nature gifts, field guides, clothing, and children's discovery items. Children's hands-on activities allow them to occupy their time while exploring nature. The Children's Garden is full of fun, exploration and sensory experiences. The Wildlife habitat meadows feature a Monarch butterfly, milkweed, and wildflower garden, a songbird grassland meadow, and a new nature trail and bridge crossing a meandering stream. Theme gardens include butterfly, hummingbird, seaside, drought tolerant, shade, and songbird gardens. You can beachcomb the harbor during low tide and search for shells and other interesting treasures. Picnic tables are available for an enjoyable lunch overlooking scenic Cape May Harbor. And you can witness spectacular sunsets and magical twilight, and watch the changing colors of the sky from the Cape May Harbor waterfront.
The renovated "Harbor Gallery" in the Trucksess Welcome Center hosts new exhibits every month by local artists with a reception held on the first Friday of each month.
Don't miss Winter Wonders on Cape May Harbor, February 25, from 10:30am until noon (free!). Come see what's floating in the harbor or passing overhead! The nature center's second-story deck provides an ideal vantage point to see a variety of diving ducks and other winter visitors. Learn what makes Cape May birding so famous in a relaxed, fun setting. Bring your binoculars if you have them (or borrow a pair of theirs).
On Saturday, February 25, orders are due for Spring Birdseed Sale. Maintaining birdfeeders is a great way to benefit our feathered friends during the cold winter months when food is scarce. Don't miss these great opportunities to stock up on birdseed for the winter and support the Nature Center of Cape May. They order a variety of top-quality birdseed including their own New Jersey Audubon S.A.V.E.TM brand N.J. locally grown black oil sunflower seed, thistle seed, custom blends, suet, and other varieties. Call or stop by NCCM for an order form, and get on their mailing list. Seeds ordered will be available for pickup on March 10.
On Sunday, February 26, check out the Kids Can! Expo, from 11am until 4pm. Celebrate winter with a full day of games, exhibits, live animals, crafts, entertainment, learning, and fun for kids of all ages. Many environmental groups and cultural organizations will be participating and providing activities. Volunteers from the Kiwanis Club of Cape May will be serving good things to eat. Stage performances will take place throughout the day. And don't miss the nature exhibits and live animals. The event will be held at the Cape May City Elementary School, 921 Lafayette Street, Cape May. Admission is $6 per person (children under 3 are free).
For more information, go to njaudubon.org/SectionCenters/SectionNCCM/Introduction.aspx or call 609-898-8848.

If you like birding, check out the programs at Cape May Point State Park and Cape May Bird Observatory (CMBO)! For information on upcoming classes, call 609-884-2159. For more information about the Cape May Bird Observatory, call 609-884-2736 or go to birdcapemay.org.

Absecon Lighthouse, NJ's tallest, is once again offering an educational series, "Kids Light Up The Arts." In an effort to promote the visual and performing arts to children, they are offering special 2-hour art classes from 1 – 3pm on Sunday afternoons through March. This series will collaborate with local artists, performers and crafters to educate and encourage kids to create their own works of art, culminating with an Art Show and reception so students can display their work. Classes will be featured in theatre & puppetry, dance, painting, literature, photography, and other disciplines. Kids should plan on wearing comfortable clothing. Please call 609-449-1360 to reserve your child's participation weekly. Classes are $15 per participant and $95 for the complete series, and include all materials, supplies, and instruction. Materials will be provided for each workshop. Classes include Dance, Sunday February 26; Painting Tiles & Murals, Sunday March 4; and the Art Exhibit & Reception, Sunday March 11. For more information, call 609-449-1360 or visit abseconlighthouse.org.
Also, Historic Absecon Lighthouse offers educational sleepover programs for youth groups focusing on fun, maritime history, and science. Junior Keepers enjoy a nighttime climb for spectacular views of Atlantic City, construct their own lighthouse with craft materials, learn how to use a compass, and learn maritime history through multi-media instruction. This program is $45 per person and is available on select Friday and Saturday nights. Snacks, breakfast, and on-site gated parking included…ghost stories optional! For information on scheduling your youth group, call Absecon Lighthouse at 609-449-1360.
Absecon Lighthouse is located at 31 S. Rhode Island Ave. in Atlantic City. For more information, call 609-449-1360 or visit abseconlighthouse.org.

The Atlantic City Aquarium has a lot to offer! Amid the hum of the tanks and the occasional splash of the Touch Tank, Aquarist Sarita Stroud holds the rapt attention of a group of preschoolers. The typically squirmy set listens intently as Sarita tells them about a mother manatee and her calf. The story not only teaches about the species, it tells why it is important to obey your parents.The scene is repeated each Tuesday morning from September through May, during the Atlantic City Aquarium's Preschool Story Time. Story Time on Tuesdays is an educational event that introduces preschoolers and their parents to various aquatic species. It starts with a story at 11am followed by either an Exotic Animal Show or a Live Diver Feeding Show.
The Exotic Animal Show features the largest species of scorpion in the world and the softest furred mammal in the world. Aquarium handlers discuss their native habitats, their suitability as pets, natural defenses and predatory instincts other interesting facts.
The Live Diver Feeding Show allows visitors to watch, and interact with, a diver in scuba gear as he or she hand feeds the stingrays and sharks inside the 25,000-gallon tank.
The Atlantic City Aquarium is open daily from 10am to 5pm. Admission is $8 for adults, $6 for seniors and $5 for children ages 4-12. Children three and under are free. Located in Atlantic City's Historic Gardner's Basin, the Atlantic City Aquarium offers a fun and educational look into more than 100 varieties of fish and marine animals. For more information on the Atlantic City Aquarium, call 609-348-2880 or visit acaquarium.com. Coupons for discounted admission are available on the website.

Tuckerton Seaport, a working maritime village, is located along the Tuckerton Creek. This one-of-a-kind attraction, in the heart of historic Tuckerton NJ, brings the Jersey Shore's maritime traditions of the past and present to life through people, exhibits and hands-on activities. Discover the Jersey Shore's unique maritime heritage and the interaction between culture and nature on the Barnegat Bay. Experience the rich traditions of the Jersey Shore and its Baymen through the Seaport's recreated and historic buildings, demonstrations, interpretive exhibits, events, festivals, live aquatic displays and more. Decoy carvers, boat builders, basket makers, and baymen entertain, educate and delight visitors of all ages. Stroll the 3/4 mile boardwalk and experience life on the Tuckerton "Crik." Identify birds and plants on our 1/4 mile nature trail. Tour our site and view garveys, sneakboxes, cruising yachts and party boats displayed on land and water.
In February:
Boat Building Skills with Ron Spodofora; Saturday and Sunday, February 25 & 26; 10am-4pm. Fee: $40 Members/ $45 non-members per day. Join boat builder Ron Spodofora and other boat building staff for a series of one day hands-on workshops in Perrine's Boatworks. This class is designed for beginners and boat builders unfamiliar with regional Barnegat Bay boat building methods. It is an introduction to traditional Barnegat Bay boat building tools and techniques, hand and power tools, shop safety and various boat designs of the region. Participants will work with Tuckerton builder Ron Spodofora on one of the traditional boats being built in Perrine's Boat works. Bring lunch and safety goggles. Pre-registration required by the Wednesday before each class.
Tuckerton Seaport, located at 120 West Main Street in Tuckerton, is open daily, from 10am-5pm, rain or shine all year round. Admission is $8 for Adults; $6 for Seniors (62 and over); $3 for Children 6 to 12; Members and children 5 and younger are admitted free of charge. For more information, call 609-296-8868 or go to their website at tuckertonseaport.org.

Long Beach Island Foundation of the Arts & Science has some great things going on!
The Long Beach Island Foundation of the Arts & Sciences is located at 120 Long Beach Blvd. in Loveladies. The Galleries are open to the public all year round, Monday through Friday, 9am-5pm; Saturdays and Sundays, 9am-3pm. For more information, please call 609-494-1241 or go to lbifoundation.org.

The Cape May Mid-Atlantic Center for the Arts continues its exciting tours and events. Here are some of the exciting offerings:
Special Events
Wendel White's Schools for the Colored … with an exhibit highlighting the life and soul of the Franklin Street School (through April 15). This Carriage House Gallery exhibit depicts the landscape and architecture of historically segregated schools in northern states in 50 photographs by nationally renowned New Jersey photographer Wendel White. Also included is an exhibit highlighting the life and soul of Cape May's Franklin Street School. Free admission. Exhibit open Saturday, Feb. 25, from 11 a.m. to 3:30 p.m.

Ongoing Tours and Events

Cape May Family Treasure Hunt Discover the fun of exploring Cape May and uncovering its architectural elements from a kid's perspective. Packet includes clues sheet and map that will take you on a self-guided discovery tour, set to your own pace (answer sheet also included). Available in the Hill House office at the Physick Estate, 1048 Washington St., Mondays through Fridays, from 9 a.m. to 4:30 p.m.; Saturday, Feb. 25 from 9 a.m. to 4:30 p.m. $5 per packet (Only one packet is needed per family). Also available at the Washington Street Mall Information Booth, Saturday, Feb. 25, from 10 a.m. to 1:30 p.m. and 6 p.m. to 7 p.m.

Cape May Lighthouse, Oil House and Museum Shop 1859 structure with 199 steps to watch gallery for a panoramic view of the Jersey Cape and Atlantic Ocean. Museum Shop carries souvenirs, books, videos and other maritime items. Open Saturdays and Sundays from 12 p.m. to 3 p.m. Cape May Point State Park, Lower Township. Admission to the Visitors' Orientation Center and the ground floor of the Lighthouse is free. Tower admission is $7 for adults, $3 for children (ages 3-12).

Carriage House Gallery Shop Located in the Carriage House on the grounds of the Emlen Physick Estate, 1048 Washington St., the Carriage House Gallery Shop is stocked with unique themed items, from teapots, teas, tea-related merchandise, jewelry, books, and decorative items, all with that distinctive Cape May style. Open Saturday, Feb. 25, from 11 a.m. to 3:30 p.m. Carriage House Gallery is fully-accessible and proceeds benefit the on-going restoration and preservation efforts of the Mid-Atlantic Center for the Arts & Humanities (MAC).

Combination Trolley/Physick Estate Tours Guided trolley tour of Cape May's Historic District, followed by a guided tour of Cape May's only Victorian house museum, the Emlen Physick Estate, 1048 Washington St. Offered Saturday, Feb. Feb. 25 at 11 a.m., 12:15 p.m. and 1:30 p.m. Tour leaves from Washington Street Mall Information Booth. $18 for adults, $10 for children (ages 3-12).

Emlen Physick Estate Tour Enjoy this entertaining and educational guided tour of Cape May's only Victorian house museum, the 1879 Emlen Physick Estate at 1048 Washington St. Offered Saturday, Feb. Feb. 25 at 11:45 a.m., 1 p.m. and 2:15 p.m. $10 for adults, $5 for children (ages 3-12).

Historic District Trolley Tours Get acquainted with Cape May on a trolley tour as knowledgeable guides present entertaining and educational stories about the nation's oldest seashore resort. Offered Saturday, Feb. 25 at 11 a.m., 12:15 p.m. and 1:30 p.m. Tour leaves from Washington Street Mall Information Booth. $10 for adults and $7 for children (ages 3-12).

Self-Guided Audio Tour of Cape May Discover the Historic District of Victorian Cape May at your own pace with Acoustiguide Inform hand-held units. Tour comes complete with a map and index for 96 historic buildings on 69 sites. Available in the Hill House office at the Physick Estate, 1048 Washington St., Mondays through Fridays, from 9 a.m. to 2:30 p.m.; Saturday, Feb. 25 from 9 a.m. to 2:30 p.m. Rental fee is $10 per unit.

Self-guided Wine Trail Spend the afternoon touring the wineries of Cape May County. Visit Natali Vineyards and Hawk Haven Vineyard & Winery and taste wines at each. Admission is $8 and includes a map with the wineries listed and a tasting glass. Offered Saturdays from 12 p.m. to 5 p.m. Purchase tickets in advance at the Washington Street Mall Information Booth or the Hill House office or the Carriage House Visitor's Center at the Physick Estate, 1048 Washington St., during hours of operation.

Winery Cellar Tour and Tasting Spend an afternoon at the award-winning Cape May Winery. Includes a barrel tasting accompanied by cheese and fruit and a complimentary tasting glass. Offered Saturday at 3 p.m. $20 per person. Purchase tickets in advance at the Washington Street Mall Information Booth or the Hill House office or the Carriage House Visitor's Center at the Physick Estate, 1048 Washington St., during hours of operation.

Schedules are subject to change. Please go to www.capemaymac.org for the most current schedule. The Mid-Atlantic Center for the Arts (MAC) is a non-profit organization dedicated to the preservation and interpretation of Cape May's Victorian heritage. MAC also fosters the performing arts. MAC membership is open to all. For information about MAC's year-round schedule of tours, festivals, and special events, call 609-884-5404 or 800-275-4278, or visit MAC's Web site at capemaymac.org.

Camden Children's Garden has limited winter hours in January, February and March (call to make arrangements for a visit, birthday party, evening rental or to schedule a Distance Learning Lesson). The Garden office will remain open. The Garden will re-open on Friday, April 6.
Camden Children's Garden is located on the waterfront in Camden. The Garden is closed Thanksgiving, Christmas and New Year's Day. Admission is $6 per person, and free for children two and younger. There is a modest additional fee for the three amusement rides. School Group rates are available, as well as family memberships. Additional information is available online at camdenchildrensgarden.org, or by calling 856-365-TREE.

Historic Cold Spring Village is closed for the season. However, they are already planning their 2012 season of events, beginning with Feasting on History on May 1, 2012.
Historic Cold Spring Village is a non-profit, open air living history museum that portrays the daily life of a rural South Jersey community of the Early American era. Its mission includes the preservation of 26 historic Cape May County buildings, history education and heritage tourism. The Village is a museum for all seasons. During the summer months, interpreters in period clothing discuss and demonstrate the trades, crafts and lifestyles from the "age of homespun." From October to May, the emphasis is on teaching history through school trips to the Village, classroom visits by the education department and interactive teleconferences with schools throughout the United States.
The Village is located on Route 9, three miles north of Victorian Cape May and a mile and a half west of the southern end of the Garden State Parkway. For more information, call 609-898-2300, ext. 10 or visit the Village website at hcsv.org.

The Battleship New Jersey Museum and Memorial is open for guided and audio tours on Saturdays and Sundays in February and March, from 9:30am to 3pm.
The Battleship will always open for scheduled group tours, special events and meeting space, and overnight encampments throughout January and during weekdays in February and March. For more information or to schedule a visit, call 1-866-877-6262 ext. 144.
Located on the Delaware River, along the Camden Waterfront across from the City of Philadelphia, the Battleship offers the award-winning Overnight Encampment program. Scouts, youth organizations and families can enjoy dinner and breakfast served from the crew's galley, a tour of the battleship, a ride on the flight simulator and the chance to sleep in the same bunks that the crew of the USS New Jersey once did. Reserve your bunk today! Call 1-866-877-6262 ext. 203. For more information, call 866-877-6262 or visit the Battleship at battleshipnewjersey.org.

Pay It Forward
Ways you and your family can reach out and make our South Jersey community an even better place! (If you have an event you'd like us to include here, e-mail the details to editor@southjersey.com)

Saturday, February 25

Hainesport Parent's Night Out - MARDI GRAS: Crescent Shrine, Westampton, 7pm until midnight, including dj, dancing, door prizes, 50/50, baskets auction, premium prize auction. For more information, call 609-234-7033.

The Moorestown High School community service club invites all to attend Soup for the Soul 2012! Soup for the Soul is an annual charity event that raises money for the Food Bank of South Jersey. This fully student-run event encompasses a buffet style meal in which a ticket will buy all-you-can-eat soup and bread donated by local restaurants. Your ticket to Soup for the Soul will also grant you tickets to be used toward various raffle prizes donated by local businesses and artists, and access to live entertainment, provided by local performers. During this cold time of the year, what could be a better way to warm up than by enjoying a steamy bowl of soup with members of your community, while also supporting a great cause? Soup for the Soul will be held at the First Presbyterian Church in Moorestown on from 11am to 2pm.

The Ninth Annual Pool, Pump, and Pedal for a Healthy Heart benefiting the American Heart Association is planned for 7 am to noon on Saturday, February 25, at the William G. Rohrer Center for Health/Fitness, 2309 Evesham Rd. in Voorhees. Virtua's Pool Pump and Pedal incorporates many different activities appealing to participants - regardless of age and ability - while maintaining the original focus of promoting group exercise and raising funds for the AHA. For more information, call 856-325-5346 or email hweiler@virtua.org.

Take a fantastic and exciting "journey" with into the French Quarter on February 25 at 7pm when Samost Jewish Family & Children's Service hosts an evening filled with all the extravagant food, wild abandonment, and merriment that only a night in New Orleans can deliver. Revelers will enjoy delicious hors d'oeuvres and dinner prepared by Betty the Caterer, an open bar, and jazz as well as your music favorites played by Miami. Guests will also enjoy the opportunity to bid on a variety of luxurious auction packages featuring travel, entertainment, restaurants, jewelry, and sports memorabilia. The purchase of a grand prize raffle ticket offers the chance to win one of three prizes. Raffle tickets are $10 each or 12 tickets for $100 and are available for purchase in advance. You do not have to be present to win. All the fun is as near as Congregation Beth El in Voorhees. Tickets are $100 each or become an agency sponsor with a minimum donation of $500 and get at least two tickets to Stepping Out. Invitations have been sent out, but you can also purchase them by phone at 856-424-1333 or online at www.jfcssnj.org/steppingout. For more information about this event, please contact Beth at 856-424-1333, ext. 1179 or email specialevents@jfedsnj.org. Don your favorite blue jeans and your shiny purple, green, and gold beads. Adorn yourself with a costume mask, party hat or even a feather boa and as they say in the Big Easy, "Laissez les bon temps rouler…let the good times roll!"

© SouthJersey.com 2012. All rights reserved. This article or parts thereof may not be reprinted or reproduced by any other party without the express written consent of SouthJersey.com. For more information, please call 856-797-9910.

To see our extensive listing of South Jersey events, including local community events, programs at your local libraries, kids events, craft events, fairs and festivals, plays, and many more, check out our Events Calendar here.

Have an event that you want listed in our events calendar? Add your event here.

To see our extensive listing of South Jersey events, including local community events, programs at your local libraries, kids events, craft events, fairs and festivals, plays, and many more, check out our Events Calendar here.

Have an event that you want listed in our events calendar? Add your event here.


Author: R. Cohen

Archives
---
What's the BIG idea?
On the Move: November, 2013
Things to Do
Executives of the Year
Take 5: Employee Training
Conference Room: Opportunities Abound
Southern NJ Perinatal Cooperative
Close of Biz: Putting it on Ice
Things To Do
Stone Cold Competition
Pitman
Strong Bones for Life
Tapestries of Hope
The Space Below
Speak Out South Jersey!
More...