Indian Culture Center Opens in Evesham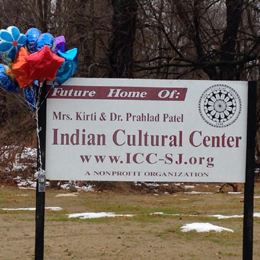 After nearly two decades of effort, the dream of opening a cultural center for South Jersey's growing Indian community has finally come to fruition.

"Everybody is just feeling a sigh of relief," says Jay Parikh, spokesman for the Indian Cultural Center of South Jersey. He says its been more than 10 years since land was donated to build the center and more than four since their ground breaking ceremony. But finally, after unexpected delays, obstacles and fundraising, the center is open.

"We are very overjoyed and are ready to present this to the community," says Parikh. He says they received their occupancy permit on Friday.

Located in Evesham Township, New Jersey, off of Route 73, the 20,000 square foot building sits on 18 acres. It includes a 570-seat assembly hall, complete with an industrial kitchen and teched-out stage. On the second floor, there are classrooms, meeting rooms, space to play games and to build a library.

"We have about 3500 families in this area from India and we wanted to bring all the religious customs together under one roof," says Parikh, noting that the Indian community was forced to use school gymnasiums to hold events since there was no place large enough to accommodate the group.

Article continues below

---
advertisement


---
"We will use this facility for weddings, receptions, social gatherings, social activities, religious events," he says, "but it's open for everyone to reserve and rent. But members — those who donated to build this place — get first priority."
The ICC will celebrate the opening Sunday with a religious housewarming ceremony to bless their new facility.
"We call it "vastu pujan." It's basically invoking the blessing of the God," says Parikh. 'We are saying come to this place and give your blessing so we can prosper."
The housewarming starts at 10 a.m., followed by lunch.
Author:
Archives
---
Paulsboro
In the Neighborhood: Haddonfield
Pitman
Turning Over a New Leaf
Bordentown Township
Ocean City: A History
East Greenwich
Mount Laurel
Evesham Township
In the Neighborhood: Moorestown
Cinnaminson
In the Neighborhood: Marlton
Gloucester Township
Margate
A Cohesive Community
More Articles