Zaffron Mediterranean Cuisine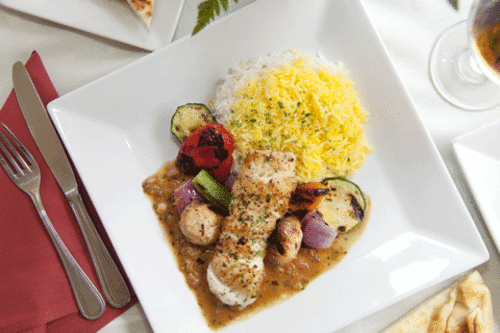 …A Dining Review from the pages of South Jersey Magazine…
Escape Abroad: Zaffron Mediterranean Cuisine
113 Kings Hwy. E.
Haddonfield
(856) 429-2800
3 forks
A stroll down Haddonfield's Kings Highway in the spring and summer is its own kind of healing. The street is always bustling, but still retains plenty of charm, peace and pleasantry. We'll take any excuse to get out to Kings Highway on a warm evening.
Enter Zaffron Mediterranean Cuisine. Located at the spot of the former Animo Juice—which has since moved farther down the road—this eatery completely gutted the space to create an all new dining room, complete with simple art on the wall and only a handful of tables. The long windows that once lined the space's entrance are gone, replaced with several outdoor tables that put guests right in the heart of Haddonfield without being stuck on the busy sidewalk.
It's a family affair at Zaffron: Opened by Mediterranean native Rocco Farahmand, you can typically find him or daughters Erica and Josephene on hand to guide guests through a menu that has both familial and cultural inspirations. Zaffron teamed up with Hawk Haven Vineyard & Winery out of Rio Grande to serve wine accompaniments, but on a particularly beautiful evening, it's not hard to find people strolling in, bottle in hand, ready to try Kings Highway's newest joint.
The menu has plenty of traditional Mediterranean inspiration, from countries like Greece, Turkey and even southern Italy. Kebabs and hummus join plenty of grilled seafood and fresh, earthy veggies. Like baba ghanouj, a rustic, cold dip made from roasted eggplant, garlic and lots of extra virgin olive oil. It was a creamy, flavorful starter that really benefitted from the olive oil bite. Any excuse to dive into their house-made pita bread was good enough for me, which was without a doubt some of the freshest, softest pita I've ever tried. Portion control went out the window as the first basket of pita arrived to the table. Then the second, then the third…
Stuffed grilled calamari was an innovative appetizer—which loaded whole calamari up with diced peppers and served it on a bed of house-made hummus—but it suffered slightly in execution. The calamari's stuffing, for one, didn't stay together and fell all over the plate with one touch.
The lamb shank entrée was marinated and roasted with parsley, garlic and rosemary and served with roasted, seasonal vegetables and saffron rice. While the lamb itself was tender, a bit more salt and an accompanying sauce would have totally transformed this dish. The vegetables and rice, however, were loaded with Mediterranean flavors and a bit of smokiness from the grill, and quickly became the star of the entrée.
Pan-seared Chilean sea bass was a beautiful cut of flaky fish, spiced and served in a rich lemon, white wine sauce with the same saffron rice and vegetables as the lamb shank. The bright, acidic flavors from the sauce helped keep this dish light and seasonal, and the fish was cooked to perfection. When combined with a forkful of rice and veggies, it created a bite that was quintessentially cohesive.
One of the evening's best plates was a dish that was praised by the Farahmand family all evening. Hazelnut crème brûlée is made in-house, and arrives in a generous ramekin topped with chopped hazelnuts. The earthy hazelnuts were a thoughtful complement to the perfectly prepared, creamy custard. While the serving size seemed overwhelming originally, it did not last long after that first, wonderful crack into the outer shell.
While Kings Highway offers plenty of outstanding eateries, you won't find anything quite like the cuisine coming out of Zaffron's kitchen. Its unique Mediterranean approach is classic, but still modern, fresh and truly tasty.
Published (and copyrighted) in South Jersey Magazine, Volume 12, Issue 2 (May, 2015).
For more info on South Jersey Magazine, click here.
To subscribe to South Jersey Magazine, click here.
To advertise in South Jersey Magazine, click here.
Article continues below
---
advertisement


---
Author:
Nancy Donovan; Photo by Alison Dunlap
Archives
---
Who's Who in Health Care
Crowd Pleaser
The Big Impact of Small Businesses
Feeling Festive
Mainland's Historic Football Season
A Rooting Interest
Eagles Continue to Fly High
Raising the Bar
Thanksgiving Football Continues
Hotstovers to honor All-SJ Baseball and new HOF inductees
South Jersey Football Games of the Week
The Phillies make the right move with Aaron Nola
Kingsway Field Hockey Finishes Strong
Should Castellanos return for a third season with the Phillies?
South Jersey Football Games of the Week
More...