NJ`s Economy One of the Strongest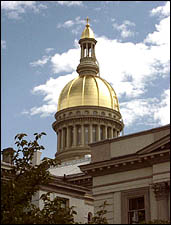 New Jersey's economy is one of the strongest in the nation, according to the Washington D.C.-based Corporation for Enterprise Development, an independent strategy group. This week, the nonprofit group listed New Jersey and just seven other states on the "honor roll" of its economic development report card for 2003.
"Our plan is to create an economy that has a job for everyone," said Governor James E. McGreevey. "We've made tough choices for the right investments: in transportation, education and our ports – and to enhance our business incentive programs to help existing businesses grow and attract new companies to our state. Thanks to our work, New Jersey continues to lead the nation in job creation. The CED's report card shows we will continue to create jobs for our families, and make New Jersey a national leader in the 21st century."
New Jersey has outperformed the nation in job growth all year. New Jersey has gained 31,800 jobs this year, while the nation as a whole lost 192,000. For six straight months, the state's unemployment rate has been lower than the nation's.
To continue that success, Gov. McGreevey's Jobs for New Jersey plan includes five goals for the next 5 years: the creation of 200,000 new jobs; the relocation or expansion of 500 businesses into New Jersey; $6 billion in new private/public investments; 300,000 new business filings; and the training of 150,000 workers.
The Corporation for Enterprise Development's Report Card for the States, found online at http://drc.cfed.org, weighed 68 factors under the categories "Performance," "Business Vitality" and "Development Capacity" to create its state-by-state assessment.
New Jersey's overall score was a B. That ranking placed New Jersey on an "honor roll" with seven other states. New Jersey earned an A in "Business Vitality," up from a B last year. That high score reflected New Jersey's strong entrepreneurial energy and the competitive power of its existing businesses, according to the report.
New Jersey ranks 11th among the states in job growth due to new business, and 9th in technology industry employment. And New Jersey ranks 3rd for the personal income workers derive from in-state businesses that compete with out-of-state businesses.
In pointing out where New Jersey needs improvement, the report agrees with Governor James E. McGreevey's emphasis on literacy and higher educational goals.
"We have always recognized that good jobs depend upon a good education, which is why this Administration is committed to providing our children with the skills to compete in 21st century economy," said McGreevey. "Our efforts to target early literacy, build 21st century classrooms, and ensure our teachers are the best they can be, are laying the foundation for a highly-skilled workforce. By restructuring our higher educational system we will further cement our ability to dominate the growth industries of the new century, providing our businesses with the workforce they require, and our families with good, high-paying job opportunities for years to come."
Article continues below
---
advertisement


---
Related Articles
---
Author:
Press Release - State of New Jersey
Archives
---
Colleges After COVID
A TALE OF THREE WEDDINGS
Keep it Moving
A Golden Opportunity
A New Kind of Seller's Market
The Man of the Hour
TOP DENTISTS 2021
Best of the Shore
Rowan baseball finishes No. 7 nationally
Bishop Eustace's Anthony Solometo now awaits MLB draft
Sixers season ends in disappointment
A contract that hasn't worked out with Scott Kingery and the Phillies
High seeds were winners in SJ Public school softball titles
Familiar foes meet in SJ Baseball Public School championships
Serving Up Something Special
More...