Historic Smithville Park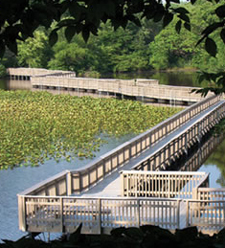 Historic Smithville Park in Eastampton has as its centerpiece a circa 1840 Greek Revival Mansion. It encompasses 280 acres of upland forest, wooded wetlands, historic village, and Smithville Lake. This piece of history, complete with unique and beautiful architecture, sits within one of the few remaining "intact" Victorian Industrial-era villages of our region. Because of its access and proximity to a beautiful stretch of the Rancocas Creek, Smithville Lake, and hiking trails, Historic Smithville Park offers its diversity of visitors a variety of activities and experiences, including canoeing, fishing, picnicking, historical tours, wildlife observation, hiking, biking, and nature trails.
The outdoor recreation facilities are being expanded. Planned projects and new additions include new trails and improvements for a total trail length of 4.4 miles; a 600-foot floating walkway on Smithville Lake (Opening Spring 2004); picnic areas with playgrounds and group shelters; drinking fountains; rustic gazebos; a canoe landing with a small picnic area; additional parking facilities and restroom facilities.
Also, there are currently some major projects going on to preserve the historic value of Smithville, including the design and construction of the new Smithville Museum and Visitor's Center, the design and construction of the Smithville Village/Park Avenue Streetscape, and the restoration of #6/7 Park Avenue.
Special Events
Historic Smithville Park hosts a number of exciting events and exhibits throughout the year. For a full calendar of events, click here
Hours
The park is open from 8am to dusk, 365 days a year. The Mansion grounds are open weekdays from 8am until 5pm. Mansion tours are provided (by the Friends of the Mansion at Smithville) from May to October, on Wednesdays and Sundays, at 1, 2 and 3pm. Group tours of the Village or Mansion can be arranged by calling (609) 265-5068.
General Information
Please do not pick the flowers! Smoking, food and beverages are not permitted in the historic buildings. Handling of artifacts and interior photography and videotaping are not permitted. There are restrooms in the Mansion Annex, and inside the garden walls. There are also portable restrooms in the picnic area of the park.
For more information, click here.
Historic Smithville Park is located on Smithville Road in Eastampton, NJ. For more information, call (609) 265-5068.
For an extensive list of South Jersey Attractions, with links to websites and other information, check out our Attractions page.
Article continues below
---
advertisement


---
Author:
R. Cohen
Archives
---
Planning for the Unpredictable
A Chain Reaction
South Jersey H.S. Football Games of the Week
Leading Business Attorneys 2021
South Jersey High School Girls' Soccer Preview
On the Right Track
No Easy Games For The Eagles
Eastern and Cinnaminson are top girls' and boys' seeds in South Jersey Soccer Coaches Tournament
Healthy People, Healthy Business
South Jersey highschool football games of the week
Best of Home and Garden
Back to School
Ready to Take Flight
Bishop Eustace's Danny O'Rourke a model of stability
Who's Who in Real Estate
More...