Gov. Awaits Possible Lawsuit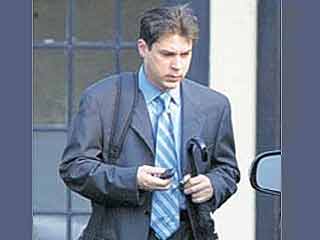 Gov. Jim McGreevey's staffers and the media are waiting to find out when, or if the man who had a sexual relationship with New Jersey's top official files a sexual harassment lawsuit at the Mercer County Courthouse in Trenton.
According to a number of legal experts, the lawsuit would most likely be filed in Mercer County, but it is possible for the suit to be filed at any courthouse in the state. Two sources told NBC 10 News that they believe that relationship was with former aide Golan Cipel (pictured, left), an Israeli citizen. Almost two years ago, Cipel left his $110,000 consulting job with McGreevey's administration.
Sources said that if a lawsuit is to be filed, it would probably happen Friday because of the statute of limitations, which runs out on Saturday. However, because the deadline lands on a weekend, there might be a grace period allowed.
The lawsuit was not filed by the end of the day on Friday, but Cipel's lawyer, Allen Lowy, read a statement from his client during a brief news conference in New York Friday afternoon. The statement said, in part, "While employed by one of the most powerful politicians in the country, New Jersey Gov. McGreevey, I was the victim of repeated sexual advances by him."
Cipel did not attend the news conference.
Read the full text of Cipel's statement.
NBC 10 News has also confirmed through sources that the U.S. Attorney's Office received a call Thursday from someone representing the governor, who said the former aide was attempting to extort millions of dollars from the governor in exchange for his silence about an alleged affair.
The Federal Bureau of Investigations also received a phone call Thursday and they are making initial inquiries into the allegations, the source said.
McGreevey has been quoted as saying he met Cipel, 33, on a trip to Israel in 2000.
In February 2002, just after the governor took office, Cipel was hired as New Jersey's Homeland Security Adviser, making $110,000 a year.
The next month, Cipel was reassigned after reporters and others questioned his lack of qualifications and it became clear Cipel was ineligible for federal security clearance.
But Cipel stayed on the payroll as counselor to McGreevey until August 2002, when Cipel resigned from the McGreevey administration.
Article continues below
---
advertisement


---
Author:
Copyright 2004 by NBC10.com. All rights reserved. This material may not be published, broadcast, rewritten or redistributed.
Archives
---
Just Getting Started
Early story lines in the South Jersey boys' basketball season
South Jersey Soccer Coaches Association names the best of the best
Is Jalen Hurts the Eagles QB of the Future?
South Jersey Coronavirus (COVID-19) Developments (January 14)
Big Season for Timber Creek grad Devin Leary of N.C. State
Camden-Lenape highlights the best of South Jersey boys' basketball
Just Getting Started
Growkowski, Jalen Hurts the two big keys in Eagles-Bucs playoff
Women to Watch 2022
Bringing out the Best
Top Children's Physicians 2022
Girls Basketball Tournament recap
Top Attorneys 2021
Stealing the Show
More...