Cipel Speaks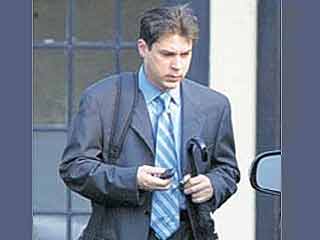 The Israeli man at the center of New Jersey Gov. James E. McGreevey's resignation over a gay affair said in an interview published Sunday that he is straight and had no idea at first that his boss is a homosexual.
Golan Cipel told the Israeli daily newspaper Yediot Ahronot that McGreevey repeatedly made unwanted advances. Cipel said he informed the governor at one point that he planned to sue him for sexual harassment, and that lawyers were negotiating a settlement when McGreevey resigned last week.
"It doesn't bother me that it is said I am gay, but I really am not. I'm straight. On the other hand, to accuse me of being an extortionist? Someone here has lost his mind," Cipel was quoted as telling Yediot.
McGreevey, who is married, announced his resignation Thursday, acknowledging that he is gay and had an affair with a man.
Sources within the McGreevey administration named Cipel as the lover and said he had demanded millions of dollars to stay quiet.
In a news conference Friday, Cipel's attorneys denied the claims, saying McGreevey's attorney had offered to pay if Cipel didn't file a lawsuit. Allen Lowy, one of Cipel's attorneys, did not immediately return a call from The Associated Press Sunday afternoon seeking comment. A doorman and front desk attendant at Cipel's New York apartment said Cipel was not at home and refused to take a message for him before asking an Associated Press reporter to leave the premises.
Sources in McGreevey's administration said Saturday that Cipel originally demanded $50 million but the figure dropped to $5 million as negotiations progressed.
McGreevey appointed Cipel as New Jersey's $110,000-a-year homeland security adviser in 2002, without a background check or official announcement. The appointment drew criticism, and Cipel was reassigned a few months later and soon after left government.
The Israeli reporter, Yair Lapid, who interviewed Cipel for Yediot said the 35-year-old spoke rapidly throughout the interview and appeared frightened and emotional.
Cipel said he wanted to forget about McGreevey after he left New Jersey and took a job in New York, but that the governor continued to make unwanted contact.
"At first, it didn't occur to me that he was homosexual. The man looked happily married, he has children and his wife was very active in the campaign and election," Cipel said.
But on long nights of campaigning, Cipel said "he hit on me over and over. I got to a point where I was afraid to stay with him alone."
"These are all false allegations by someone who's trying to exploit his relationship with the governor," McGreevey spokesman Micah Rasmussen said Sunday. "The fact that Mr. Cipel has chosen to tell yet another story to journalists 7,000 miles away, has to call into question the accuracy of anything he says."
Cipel was quoted as saying he identified with the "feelings of victimization" women feel when they are sexually harassed. He said he felt trapped.
"It didn't occur to me that it could also happen to a man, and it certainly didn't occur to me that it could happen to me," Cipel was quoted as saying. "Think about how scary it is when we are talking about a powerful man like the governor of the state of New Jersey."
Cipel said his lawyers contacted McGreevey's attorneys and informed them that he planned to sue the governor. Negotiations on a settlement began, Cipel said.
"They made a few proposals, but before we answered them, he decided suddenly to resign," Cipel said, adding the governor was convinced they were about to file the lawsuit.
"He preferred to admit he was homosexual rather than stand opposite accusations of sexually harassing a subordinate. If you ask me, McGreevey resigned because he knew that the facts surrounding the harassment against me would come to light and he knew I could prove it," Cipel said.
Cipel said he would stay in New York to see the case through. "I could have gotten on the first plane home, but I am staying here until justice is done," Cipel was quoted as saying.
Article continues below
---
advertisement


---
Author:
NBC10/AP
Archives
---
South Jersey Happy Hour Guide
Whole Hearted
Fully Focused
Giant Steps Forward
Defying History
Names to Know
The King of Rambling
6 Tips on a Restart for Your Finances
Staying the Course
A Burning Desire
Getting Personal
On the Home Front
Positive Energy
On the Move
Colleges and COVID-19
More...