Man Killed at ATM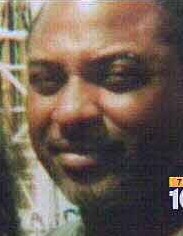 The search is on for robbers who killed a man at a Trenton automatic teller machine over $20. Ronald McNeil's fiancée, Gerilyn Peterson, said she would do anything to turn back the hands of time. McNeil left her house around midnight and never returned.
"He didn't deserve what he got. Now my greatest fear is that he suffered," Peterson said.
McNeil was shot and killed outside of a Fleet Bank on Hermitage Street after making a withdrawal.
NBC 10 News talked to a witness who did not want to be identified. She said she saw the whole encounter.
"The dude was coming out the back, the other dude was coming from right here at the corner of the bank, and he ran around and grabbed him, grabbed him by the shirt, and just shot him. Bam!" the witness said.
According to the unidentified woman, the gunman and a woman ran away from the bank and over a bridge. McNeil had been shot once in the head. McNeil was the father of four children. Police said they have no suspects.
Peterson said she plans to put up a reward for information leading to McNeil's killer. She wants him behind bars.
"They have people that say, 'Wanted dead or alive.' Dead isn't good enough because that's too easy of a way. It won't bring Ron back," Peterson said.
"I think that's a reflection of the desperation of a generation we're dealing with, and it's a generation we need to get a handle on," said Bonnie Watson Coleman, McNeil's friend.
Peterson said that, as she remembers the happy times with McNeil, she has a message for others.
"If you have someone you're at home with, if they just go to the store, you make sure you leave them with love and a kiss, because you don't know if they're coming home," Peterson said.
It was not immediately known if there was a surveillance camera on the ATM. Anyone with information on the case should contact the Trenton police.
Article continues below
---
advertisement


---
Author:
Copyright 2004 by NBC10.com. All rights reserved. This material may not be published, broadcast, rewritten or redistributed.
Archives
---
South Jersey Happy Hour Guide
Whole Hearted
Fully Focused
Giant Steps Forward
Defying History
Names to Know
The King of Rambling
6 Tips on a Restart for Your Finances
Staying the Course
A Burning Desire
Getting Personal
On the Home Front
Positive Energy
On the Move
Colleges and COVID-19
More...