Woman Interrupts First Lady's Speech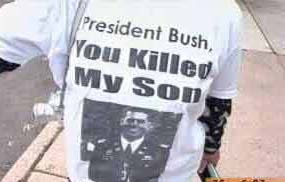 First lady Laura Bush made a campaign stop in New Jersey Thursday.
The visit comes as her husband, President George W. Bush, gains strength against John Kerry in the Garden State.
"There is a lot of intrigue with this race in New Jersey. Imagine if we were competing at full throttle, and that's why the first lady came here today," said Sen. Joseph Kyrillos Jr., chairman of New Jersey's Republican party.
The firehouse trip was a first visit by Bush/Cheney campaign to New Jersey that wasn't a fund-raising event. The visit didn't go exactly as planned. One woman was arrested and removed from the event.
Bush talked about more tax relief for businesses, healthcare reform and defeating terrorism. Many people in the crowd had lost relatives on Sept. 11, 2001.
"It's for our country, and our children and our grandchildren that we do the hard work of confronting terror and promoting democracy," Bush said. During Bush's salute to the men and women in Iraq, Sue Sapir Niederer, of Hopewell, N.J., was pulled outside the firehouse after she staged a war protest. Sapir Niederer's son, Army 1st Lt. Seth Dvorin, 24, was killed in Iraq. He died in February while trying to disarm a bomb. Niederer was wearing a T-shirt with the words "President Bush You Killed My Son".
As shouts of "Four More Years" subsided, Sapir Niederer, standing in the middle of the crowd of about 700, continued to shout about the killing of her son. Secret Service and local police escorted her out of the event, handcuffed her and placed her in the back of a police van.
"Excuse me, what are you charging me with," Sapir Niederer repeated to officers as they arrested her.
Sapir Niederer was charged with defiant trespassing, even though she had a ticket to the rally.
As the first lady continued speaking, several people shouted back at Sapir Niederer. One woman yelled, "Your son chose to fight in that war."
Hamilton, a sprawling bedroom community of 90,000 near Trenton that is home to a large number of state employees, has traditionally been a swing community in local, state and national elections.
Article continues below
---
advertisement


---
Author:
Copyright 2004 by
NBC10
. All rights reserved. This material may not be published, broadcast, rewritten or redistributed.
Archives
---
South Jersey Happy Hour Guide
Whole Hearted
Fully Focused
Giant Steps Forward
Defying History
Names to Know
The King of Rambling
6 Tips on a Restart for Your Finances
Staying the Course
A Burning Desire
Getting Personal
On the Home Front
Positive Energy
On the Move
Colleges and COVID-19
More...