FBI To Interview Cipel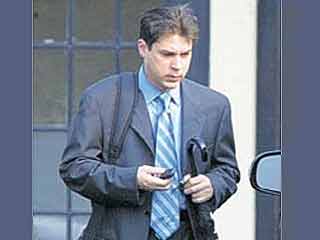 FBI agents will soon travel to Israel to interview the man who claimed Gov. James E. McGreevey sexually harassed him, authorities said Tuesday.
Golan Cipel is to be interviewed sometime in the next week-and-a-half, said Michael Drewniak, a spokesman for the U.S. Attorney's Office. He declined to specify what topics would be addressed.
"There's a lot of area to cover," Drewniak said Tuesday.
Cipel, a one-time McGreevey aide, left his New York home for his native country last month, shortly before his lawyer announced that Cipel would not sue the governor.
An FBI investigation was already under way, prompted at least in part by complaints from McGreevey's lawyer that Cipel had demanded cash to avoid a lawsuit. Cipel's side has denied any extortion.
The talks between the parties ended Aug. 12 when McGreevey announced that he is gay, had engaged in an extramarital affair with another man and would resign Nov. 15.
Top aides to the governor said Cipel was the man with whom McGreevey was involved. Cipel has insisted he is not gay.
FBI Special Agent Sandra Carroll said agents from the FBI's South Jersey office would travel to Israel for the interview.
Carroll could not say when the interview would take place. "They're still finalizing the details," she said Tuesday.
The upcoming interview was first reported Monday by The New Jersey Law Journal.
Cipel lawyer Alan Lowy declined to comment Tuesday. "I am not discussing any matter regarding Mr. Cipel," Lowy said, referring inquiries to a public relations firm in Israel that has represented Cipel.
A message left Tuesday for the public relations firm was not immediately returned.
Last month, in announcing that Cipel would not sue, Lowy said his client would tell federal authorities what happened in the weeks after his Lowy contacted McGreevey's office and alerted them to a possible lawsuit.
McGreevey lawyer William E. Lawler said he believes the FBI is conducting a "comprehensive" probe.
"We want them to interview him. We were the ones that asked they conduct an investigation," Lawler said. "I have no doubt that they'll ask the right questions."
Lawler said he was with McGreevey Aug. 20 when two FBI agents interviewed the governor for 90 minutes at Drumthwacket, the governor's official residence in Princeton. McGreevey did not speak under oath, Lawler said.
Cipel was a former public relations official who had little security experience when McGreevey appointed him as a security adviser in early 2002. Cipel was reassigned in March 2002 after news reports that he was unable to get a security clearance because he lacked U.S. citizenship. Cipel left state government in August 2002.
Article continues below
---
advertisement


---
Author:
NBC10/AP
Archives
---
South Jersey Happy Hour Guide
Whole Hearted
Fully Focused
Giant Steps Forward
Defying History
Names to Know
The King of Rambling
6 Tips on a Restart for Your Finances
Staying the Course
A Burning Desire
Getting Personal
On the Home Front
Positive Energy
On the Move
Colleges and COVID-19
More...