Suspect Competent for Trial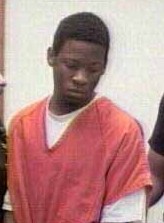 The suspect in a horrific murder spree in South Jersey was found competent to stand trial in a court hearing Monday.
Llewelyn James was 16 years old in 2002, when he was accused of killing six people in Winslow Township, N.J., the largest mass killing in Camden County in 50 years.
James is accused of killing four people, including his aunt, at a home in Winslow Township, N.J., on Feb. 4, 2002.
Police said that the next night, he allegedly killed two more people in Lindenwold, N.J.
"He had to reload the handgun with another magazine. During that time, he struck one of the victims with a baseball bat that was there, to hold that victim at bay while he reloaded. Each of the victims had at least one bullet wound to the head," said Jim Lynch, the assistant prosecutor for Camden County.
James will be tried as an adult, but his defense attorney said that he should not be tried at all. James has an IQ of 70, which is borderline for mental retardation. The defense said that James is not competent to stand trial.
However, in court Monday, Dr. Peter Paul, a court-appointed forensic psychologist, said the defendant is competent to stand trial at this time.
Authorities said the original four homicides were over an argument. The next night, James tried to buy some marijuana, but he couldn't get the marijuana from that person and shot him. That person lived.
James then shot another person, who was an innocent bystander and then shot another person because he thought that person saw him shoot the innocent bystander.
James has a court date the first week in January. He is being held on $5 million cash bail.
James cannot be tried for the death penalty because his case was waived over as a juvenile.
Article continues below
---
advertisement


---
Author:
Copyright 2004 by NBC10.com. All rights reserved. This material may not be published, broadcast, rewritten or redistributed.
Archives
---
South Jersey Happy Hour Guide
Whole Hearted
Fully Focused
Giant Steps Forward
Defying History
Names to Know
The King of Rambling
6 Tips on a Restart for Your Finances
Staying the Course
A Burning Desire
Getting Personal
On the Home Front
Positive Energy
On the Move
Colleges and COVID-19
More...