No Dice in Contract Talks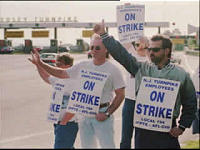 Talks aimed at ending a two-week-old strike by casino-hotel workers ended after only 45 minutes Friday, with both sides unwilling to budge.
About 12 representatives of the seven struck casinos accepted an invitation to meet with union leaders, but negotiators ran up against the same sticking point that drove them apart in the first place -- contract length.
The casinos are offering a five-year contract for service workers represented by Local 54 of the Hotel Employees and Restaurant Employees union.
But Local 54 and its national affiliate, UNITE HERE, want a three-year contract whose expiration date coincides with that of service workers in Las Vegas.
Casino executives maintain that common expiration dates would give the union the power to strike both U.S. casino capitals at once, thereby increasing its bargaining power during contract talks.
"Until the union accepts the fact that this has to be a five-year deal, it makes no sense for me to articulate to you what was offered," Harrah's Entertainment executive Dave Jonas said in an interview afterward.
"They said, `We don't want to talk about anything except five years,"' said Robert McDevitt, president of Local 54.
About 10,000 service workers -- cocktail servers and hostesses, pastry cooks and cart attendants -- walked off the job Oct. 1 at Harrah's Atlantic City, Showboat Casino-Hotel, Resorts Atlantic City, Bally's Atlantic City, Caesars Atlantic City, the Atlantic City Hilton and Tropicana Casino and Resort.
The talks Friday were the first since the start of the strike, which has forced casinos to use executives and non-union workers to fill in for the strikers. Gamblers, meanwhile, have had to endure no room service, limited restaurant availability and sometimes-dirty bathrooms.
The bottom-line impact on the casinos isn't clear yet. The state agency that reports on casino finances does so on a monthly basis, and October's revenue figures will not be released until early next month.
Until then, quantifying the amount of business lost is difficult.
But there are indications that the loss of rank-and-file workers, the presence of around-the-clock pickets and the broadcasting of radio commercials urging people to avoid the seven casinos is hurting business.
A mid-month traffic analysis by the South Jersey Transportation Authority, which operates the Atlantic City Expressway, the main route into Atlantic City, showed that vehicle counts at the Pleasantville Toll Plaza -- the last one heading into Atlantic City -- were down 6.5 percent for the month from October 2003.
"It appears traffic is slightly down due to the strike in Atlantic City. However, it is impossible to determine with certainty if there are less customers at the casinos or if the traffic loss is simply the result of a reduction in the number of commuters heading to the midtown casinos," said Sharon Gordon, communications director for the Authority.
Casinos are withstanding the disruption in business, according to Wall Street analysts.
"The bulk of the revenues are fine," said Eric Hausler, of Susquehanna Financial Group. "It's not like they're shut down, but the diminished level of service has a cascading effect on their business."
Disruptions like these can lead to pent-up demand that would allow the casinos to compensate for lost business later, after the strike ends, he said.
"People gotta get their gaming," Hausler said.
Employees need paychecks, too, and some have crossed picket lines to get them, unable to make do on the $200 in strike pay they receive weekly. About 1,000 members of Local 54 have returned to work, by the casinos' count.
The union, which has already established a food bank to help strapped strikers cope, has also formed a strike assistance committee.
"The committee will help you get food, negotiate with creditors and make your strike pay last," said a flier handed out to members Friday.
"These people aren't pro athletes. They can't last more than a couple of weeks without a paycheck," said Roger Gros, editor of Global Gaming Business magazine.
"I suspect the union is going to have to seriously think about what they're going to do, especially if more people start crossing the picket line. This, potentially, could end the union in Atlantic City," Gros said.
In a note to investors this week, Deutsche Banc casino analyst Marc Falcone suggested that casinos may be getting the upper hand.
"We believe that the Atlantic City union is starting to feel the pressure of a longer than expected strike and that it is becoming increasingly difficult to keep employees on strike without pay when a majority of their concerns have been met, as the issue of contract term is primarily a benefit for the union leadership," Falcone said.
But union leaders, who printed up T-shirts emblazoned with the phrase "One Day Longer" on the back for strikers, say their members will tough it out.
On Saturday, thousands are expected for a rally and march organized by the union. Singer Wyclef Jean and other celebrities will attend, according to union officials.
Article continues below
---
advertisement


---
Author:
Copyright 2004 by NBC10.com. All rights reserved. This material may not be published, broadcast, rewritten or redistributed.
Archives
---
A Budding Business
Whole Hearted
Fully Focused
Giant Steps Forward
Timber Creek's Leary heads to Illinois
Defying History
Names to Know
The King of Rambling
6 Tips on a Restart for Your Finances
Staying the Course
Getting Personal
On the Home Front
Positive Energy
On the Move
Colleges and COVID-19
More...