`NJ After 3` Has Begun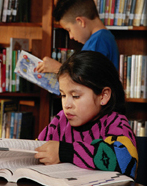 On Monday, Governor James E. McGreevey kicked off opening day of NJ After 3, expanding quality after school for children all across the state. Today's opening day marks the first phase of the NJ After 3 program Governor McGreevey proposed during his State of the State address in January.
"Last January, we laid out a vision to keep our schools open from three to six so children can have more time for learning and less time for trouble; and to give hard-pressed mothers and fathers the peace of mind that when they are at work, their children are in a safe and productive environment," said McGreevey. "Today that vision has become a reality through NJ After 3, the first statewide non-profit partnership dedicated to expanding quality after school. As we open up programs all across the state, I am proud that in this first phase alone, we have given out $5 million in grants, for 21 programs to serve 4,200 children across New Jersey."
Governor McGreevey initially proposed New Jersey After 3 in his State of the State address. He created the corporation as a non-profit partnership between the corporate community, the public sector, the private sector, and the non-profit community, to come together and strengthen existing quality after-school programs and expand access to quality programs for New Jersey's children. The Corporation is responsible for raising and re-granting public and private funds to program operators, quality assurance, fiscal monitoring, and training the program providers. NJ After 3, Inc. is led by Executive Director Mark Valli.
"NJ After 3 serves as a dynamic force for the expansion of creative, fun and educational after-school programs for kids all over New Jersey," said Valli. "Today we are expanding high-quality after-school opportunities for kids from Plainfield to Paterson, from Clifton to Cliffside Park. And we will continue to work tirelessly to continue to expand the number of students that we reach. We will also work with existing networks of after-school programs to provide coordination, training, support and technical assistance to further expand our impact."
Recent statistics demonstrate the importance of creating quality after-school programs. According to the U.S. Department Of Labor, Bureau of Labor Statistics, between 1955 and 2001, the percentage of working mothers with children under age 18 grew from 27 to 72 percent. Additionally, a recent study by the After-School Alliance found that 14.3 million students must take care of themselves after the school day ends.
Studies also indicate that children left at home are at risk from 3 to 6 p.m. Juvenile crime peaks between 3 and 6 pm on school days (Source: Fight Crime, Invest in Kids) and the rate of juvenile violence is four times greater from 4 to 7 p.m. than it is from 10 p.m. to 6 a.m. (Source: Snyder and Sickmund, 1999)
By contrast, in cities that have enacted after-school programs, students' academic achievement has improved. Of the 40 schools in the citywide after-school program run by the Chicago Public Schools, 30 schools showed gains in students' reading scores, and 39 schools showed gains in math scores. In NYC, 86% of parents with children in the after-school program agreed that the after-school activities help their children to get their homework done, and do better in school.
Community-based providers began applying this summer. Programs eligible for grants must meet the following criteria: Applicants must have a pre-existing relationship with a public school; Programs must be open 5 days a week; Preferred student-adult ratio will be 10:1; Programs must be school based, but if programs are held away from the school, there must be free transportation to and from the program; No child can be denied due to lack of family resources; Programs must be focused on enrichment, but have a homework help component; and a snack must be offered.
In this first phase of the program, 21 partners were selected for grants, to serve 4,200 across the state. The 21 are:
* Plainfield YMCA, Plainfield
* Focus Hispanic Center for Community Development, Newark
* Children's Home Society of NJ, Trenton
* Boys & Girls Club of Hudson County, Jersey City
* NJ Community Development Corporation, Paterson
* Glassboro Child Development Centers, Glassboro
* Boys & Girls Club of Trenton, Trenton
* Urban League of Essex County, Newark
* Paterson YMCA, Paterson
* The Work Family Connection Florence Avenue School, Oldwick
* Kimball Medical Center, Lakewood
* Jewish Family Services, Teaneck
* Lester A. Drenk Health Center, Hainesport
* El Club Del Barrio, Newark
* Young Scholars Institute, Trenton
* Communities in Schools of Newark, Newark
* Boys & Girls Club of Burlington County, Willingboro
* Communities in Schools of New Jersey, Newark
* Boys & Girls Club of Clifton, Clifton
* The Work Family Connection Chancellor Ave School, Oldwick
* Educational Information Resource Center, Sewell
Article continues below
---
advertisement


---
Author:
Press Release-Micah Rasmussen
Archives
---
Power 50
Cryptocurrency: Seeing Through the Hype
(Almost) Business as Usual
Putting the Success in Succession
Phillies' Realmuto is heating up
SJ pitcher is 37th pick in MLB draft
Mainland grad fully enjoys MLB draft
Millville's Kenndy moving up the minor league ladder
Phillies not in a bad position at the All-Star break
Memorable season for Bishop Eustace baseball
TOP DENTISTS 2021
Another distinguished award for Rowan baseball program
Help Wanted
A TALE OF THREE WEDDINGS
Who's Who in Health Care
More...