Baby Not Intended Target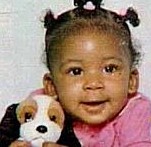 A 2-year-old girl riding in a sport utility vehicle is fighting for her life after being hit by a stray bullet in South Jersey.
The shooting of Yahnajeah Kirkland took place Thursday night on the 800 block of Ferry Avenue in Camden.
"This is among the most horrible, the most tragic kinds of cases that we have to investigate," said Vincent Sarubbi, the Camden County prosecutor.
Authorities said it all happened in a split second. Neighbors said they heard gunshots.
"It was three -- one behind another one. It was real loud," said Rosie Martinez, a neighbor.
Police said they don't know who shot the gun, why that person was shooting or who the intended target was. But they did say that the target was not the little girl or any of the other people in the SUV.
Yahnajeah was sitting in the back seat of a silver SUV that happened to be passing by when the shooting started.
"That bullet passed through the skull of the 2-year-old in the area below the ear in the back section of the head," Sarubbi said.
Police said Yahnajeah was sitting next to another child, who was not hurt. The girl's mother was sitting in the passenger seat of the vehicle and the mother's friend was driving. They immediately took the child to a hospital. She is currently in critical but stable condition.
Investigators said that it appeared one person shot the gun, but they believe other people were involved.
"There has to be a point in time when we have to draw the line and say, 'Enough is enough,'" Sarubbi said.
Article continues below
---
advertisement


---
Author:
Copyright 2004 by NBC10.com. All rights reserved. This material may not be published, broadcast, rewritten or redistributed.
Archives
---
A Budding Business
Whole Hearted
Fully Focused
Giant Steps Forward
Timber Creek's Leary heads to Illinois
Defying History
Names to Know
The King of Rambling
6 Tips on a Restart for Your Finances
Staying the Course
Getting Personal
On the Home Front
Positive Energy
On the Move
Colleges and COVID-19
More...