Election Results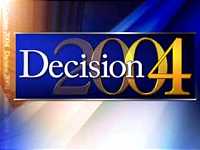 Sen. John Kerry defeated President George W. Bush in the battleground state of Pennsylvania, giving him 21 electoral votes Tuesday night. But it was not enough to put him over the top to win the presidency.
New Jersey Elections
While polls showed a tight race in New Jersey between Kerry and President Bush, voters proved them wrong. Kerry's win in New Jersey is based on a statistical analysis from voter interviews.
Opposition to the Iraq war, and dismay over its course, helped John Kerry capture New Jersey's 15 electoral votes, according to an Associated Press exit poll.
Middletown resident Kristin Breitweiser, who lost her husband in the World Trade Center attacks, voted for Kerry and campaigned for him. She says Bush has made New Jersey and the nation less safe.
About half of those casting ballots in the state and nation Tuesday said they opposed the war, and the Massachusetts senator got nine in 10 of their votes in New Jersey, the poll found. A solid majority of New Jersey voters also thought that the Iraq war is going badly, and about four in five of them voted for Kerry.
However, terrorism was also an important issue in New Jersey, which lost nearly 700 residents in the Sept. 11 attacks. It was cited as the top issue for about one-fourth of state voters, and more than four in five of them chose President Bush.
Many Kerry supporters were lukewarm about the candidate: about two in five said their vote for president was mainly against his opponent, a feeling shared by just one in five Bush voters.
Dondi Boyd of Newark said he voted for Kerry more as a slap at Bush than in support of Kerry.
Al Gore carried the Garden State by a 16-point margin in 2000.
Pennsylvania Elections
Kerry won by a 5 percent margin over Bush Tuesday in the state of Pennsylvania, where some polling places had to stay open late to accommodate lingering lines of voters.
With 91 percent of precincts reporting, Kerry had 2,541,612 votes, or 52 percent, and Bush 2,287,985, or 47 percent.
Voter turnout across the state was high following intensive voter-registration drives and just as vigorous get-out-the-vote efforts by tens of thousands of volunteers. The 8 p.m. deadline for closing the polls had to be extended in at least seven counties. As of 11 p.m. Tuesday, some polls were still open.
Pennsylvania was the fifth-largest prize in the national election and both candidates waged a grueling, eight-month campaign in which they reached out to Pennsylvanians as diverse as soccer moms, laid-off factory workers and Amish farmers. Interviews with Pennsylvanians leaving the polls indicated that Kerry did well in the four suburban counties surrounding Philadelphia, a key swing region, and held a slight edge over Bush among first-time voters, who accounted for about 15 percent of the votes cast.
In state races, Republican Sen. Arlen Specter won a fifth term in office, but it was a major horse race. With 73 percent of the vote counted, Specter was projected as the winner over Democratic Rep. Joseph Hoeffel, 49 percent to 45 percent. Hoeffel was greatly outmatched in fund raising and name recognition by Specter. Republicans' five-seat edge in Pennsylvania's U.S. House delegation was in doubt early Wednesday as a freshman GOP incumbent was struggling to beat back a tough Democratic challenger in a suburban Philadelphia swing district.
The state's other 15 House incumbents won re-election as Republicans kept two open seats in Tuesday's election and Democrats a third.
With 93 percent of precincts reporting in the 6th Congressional District in Philadelphia's western suburbs, Republican freshman Rep. Jim Gerlach and Democratic challenger Lois Murphy were nearly tied. Murphy had 135,093 votes, while Gerlach had 135,062.
Murphy, an ally of Democratic Gov. Ed Rendell, was seeking to capture one of two GOP-held seats that were viewed as highly vulnerable to switching parties.
Republicans held onto the other vulnerable seat, in the open 8th District seat north of Philadelphia, where GOP Bucks County Commissioner Mike Fitzpatrick defeated Democrat Ginny Schrader, who has never held elected office. The seat initially was believed to be an easy GOP keeper until Republican U.S. Rep. Jim Greenwood announced in August he would retire at the end this year.
With 99 percent of precincts reporting, Fitzpatrick prevailed with 55 percent to Schrader's 43 percent.
Democrats held their ground by winning the open 13th District in parts of northeast Philadelphia and Montgomery County - a nasty race marked by name-calling and finger-pointing between the candidates.
The battle for that seat, being vacated by retiring Democratic Rep. Joe Hoeffel, was the most competitive of 11 House contests in the country pitting two women against each other. Democratic state Sen. Allyson Y. Schwartz defeated Republican Melissa Brown, an eye surgeon making her third bid for the seat. With 99 percent of precincts reporting, Schwartz had 56 percent to Brown's 41 percent.
In the campaign's closing days, Brown attacked Schwartz as a "radical" liberal and Schwartz called Brown "sleazy" for the way she's campaigned for federal public housing reforms.
Local roots were a top issue in the third open seat - the race to succeed retiring GOP Rep. Pat Toomey in the Lehigh Valley's 15th District. With 98 percent of precincts reporting, hometown candidate Republican state Sen. Charlie Dent defeated district newcomer Democratic businessman Joe Driscoll, 58 percent to 40 percent.
In another high-profile race, in central Pennsylvania's 17th Congressional District, Democratic Rep. Tim Holden scored a seventh term against Republican attorney Scott Paterno, son of Penn State football coach Joe Paterno. With 99 percent of precincts reporting, Holden had 59 percent to Paterno's 39 percent. Republicans outnumber Democrats by a 3-2 margin in the district.
Republican Tom Corbett held a lead in the race for attorney general as the GOP appeared to maintain its 24-year lock on the office. Democrats won the state's other two "row offices," treasurer and auditor general.
The outcome in the attorney general's race remained too close to call Wednesday morning, but Corbett expressed optimism that his lead would remain intact.
With 98 percent of precincts reporting, Corbett led with 2,577,729 votes, or 50 percent, to Democrat Jim Eisenhower's 2,497,854, or 49 percent - a margin of 79,875 votes.
Democratic Auditor General Robert Casey Jr. has won the race for state treasurer. After two terms as auditor general, Casey, the son of former Gov. Robert Casey, was hopeful that another statewide office would keep him in the public eye -- because his sights are ultimately on the governor's office.
Delaware Elections
John Kerry has won Delaware's three electoral votes, according to voter interviews conducted for the Associated Press.
Kerry relied on Delaware's strong Democratic base and rode a wave of anti-war sentiment to victory.
While receiving strong support from women and blacks, Kerry also got a big boost in Delaware from voters who said they were casting ballots against Bush. Edison Media Research and Mitofsky International conducted the interviews.
Meanwhile, Gov. Ruth Ann Minner finished the final campaign of her 30-year political career on top. The Democrat defeated Republican challenger Bill Lee to win a second term.
Minner said that if there's a message to be found from the results, she believes it's that people would rather hear vision and plans for the future than a list of complaints.
Lee said he is disappointed for a lot of people more than he's disappointed for himself. He said he called Minner to congratulate her and tell her she ran a great campaign, and she thanked him. But, he said, it wasn't a warm conversation.
The race between Minner and Lee was a contentious affair marked by a last-minute blitz of negative campaign ads from both sides.
Also Tuesday, Republican Rep. Michael Castle cruised to a seventh term over token Democratic opposition.
Number Of Voters May Be Record In Pennsylvania
A possible record number of voters cast their votes today at local polls, based on turnout projections.
Long lines formed early at senior centers, schools and houses of worship Tuesday as election officials waited to see if a record number of voter registrations would translate into a record number of votes cast in the 2004 general election.
There were early signs that the turnout would be big.
In Pennsylvania, by 7:15 a.m., the queue to get into the voting booths at Temple Beth Zion-Beth Israel in Philadelphia stretched for half a city block.
At the Garnet Valley Middle School in Glen Mills, Pa., a suburb in Delaware County, the line to vote was 150 people long. The wait to pull a lever was 30 minutes.
In Doylestown, that wait was nearly two hours early in the day, according to witnesses. Similar waits were reported in New Jersey.
Arthur Mills, an 80-year-old World War II veteran who has cast ballots for Franklin Roosevelt and John F. Kennedy and voted in every election since the 1940s, said the lines were long for a reason.
"I think this is the most significant election I've ever participated in," he said, after voting for Bush. "The challenges we're faced with are greater than ever before. We're fighting a hidden enemy everywhere, and we've never faced that before."
Spurred by the attention lavished on Pennsylvania as one of the keys to the outcome of this year's race for the presidency, the state reached a record 8.3 million registered voters, up 6.5 percent from nearly 7.8 million in 2000.
Analysts believe that the state could see its highest percentage of eligible voters turn out in a presidential election since the voting age was lowered from 21 to 18 in 1971. The post-1971 record was set in 1972, when 56 percent of eligible voters cast ballots in Republican Richard Nixon's victory over Democrat George McGovern.
Article continues below
---
advertisement


---
Author:
Copyright 2004 by NBC10.com. All rights reserved. This material may not be published, broadcast, rewritten or redistributed.
Archives
---
South Jersey Happy Hour Guide
Whole Hearted
Fully Focused
Giant Steps Forward
Defying History
Names to Know
The King of Rambling
6 Tips on a Restart for Your Finances
Staying the Course
A Burning Desire
Getting Personal
On the Home Front
Positive Energy
On the Move
Colleges and COVID-19
More...