Accused Man Has Stroke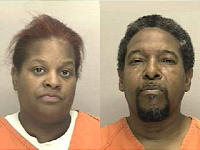 His pastor says a man accused of starving his four adopted sons in Camden County had a massive stroke.
According to the Web site savethejacksons.org, Raymond Jackson (in center of picture) stayed home from church to care for one of his daughters Sunday. When the rest of the family returned home, the 51-year-old was unresponsive.
A secretary at Come Alive New Testament Church in Medford said Rev. Harry Thomas was at the hospital and Jackson was in a coma.
Jackson and his wife, Vanessa, are awaiting trial on aggravated assault and child endangerment charges.
Prosecutors claimed they systematically starved their four adopted sons until the eldest was found rummaging through a neighbor's trash for food last year.
The Jacksons said the children had eating disorders. In this week's edition of New York magazine, the couple said they were the victims of lies by the eldest child.

Author:
NBC10/AP
Archives
---
South Jersey Happy Hour Guide
Whole Hearted
Fully Focused
Giant Steps Forward
Defying History
Names to Know
The King of Rambling
6 Tips on a Restart for Your Finances
Staying the Course
A Burning Desire
Getting Personal
On the Home Front
Positive Energy
On the Move
Colleges and COVID-19
More...