Gloucester City Marine Remembered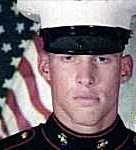 Corp. Marc Ryan, of South Jersey, was killed Monday during a combat mission in Ramadi.
Tuesday, his friends and family in Gloucester City grieved his loss.
Ryan, 25, had already served in Iraq twice before. His loved ones urged him not to go back, but Ryan insisted, despite the dangers. He said it was something he had to do.
"He died doing something that he loved," said Chris Ryan, Marc's brother.
Relatives said Ryan, a weapons specialist, was so committed to his country, he decided to re-enlist in the Marines rather than leave the military last May.
"We asked him, 'Why did you do it? And he said, 'Too many of my brothers are getting killed over there and I have to go back there and do something,'" Chris Ryan said.
"Corp. Ryan was killed in action from an explosion while conducting combat operations in al-Ramadi," said Maj. Brian Bilski, of the U.S. Marine Corps.
Ryan was a member of the Marines' 2nd Battalion. He predicted an attack on his unit when he was quoted in a recent Time magazine article. He joined the Marine Corps more than four years ago, following in the footsteps of his father and grandfather. He also served two tours in Afghanistan.
Ryan's brother is a local firefighter and many of his colleagues joined Ryan's grieving relatives Tuesday outside the family's home. Ryan's sister, Lauren, wore a shirt that belonged to her fallen loved one.
"He never quit. He went strong. Mark, I love you," Lauren Ryan said.
In Gloucester City, many people knew Ryan for his work on the gridiron. He was an All-South Jersey linebacker at the local high school. A flag flew at half-staff at the school Tuesday.
No funeral date has been set, but NBC 10 News was told the service would be held at the Gloucester City High School.
"He was a young man who exemplified the best of what the Marines are -- pureness of spirit, a great heart, loyalty, Semper Fi. A young man who has had these things in all the years I've known him," said Tom McGinnes, of Gloucester City High School.
Article continues below
---
advertisement


---
Author:
Copyright 2004 by NBC10.com. All rights reserved. This material may not be published, broadcast, rewritten or redistributed.
Archives
---
Bishop Eustace's Danny O'Rourke a model of stability
Ready to Take Flight
South Jersey Football Games of the Week
Eagles saved their season with win over Carolina
A Difficult Loss
Top Physicians 2021
Phillies wasted lights-out seasons from Bryce Harper and Zack Wheeler
Another strong season for Olympic American Girls' Soccer
South Jersey Football Games of the Week
'You Do Not Have to Suffer'
Egg Harbor Township Football Showing Great Improvement
Phillies face a difficult, but not impossible final week
Continuing the Difficult Climb
South Jersey Coronavirus (COVID-19) Developments - Booster Shots (September 27)
South Jersey H.S. Football Games of the week
More...