Probe Focuses on Dock Area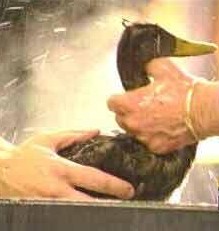 Investigators trying to learn what caused the gash in an oil tanker, spilling thousand of gallons of heavy crude into the Delaware River, are focusing on possible hazards near the dock.
The U.S. Coast Guard said that the Athos One had an uneventful week-long journey from Venezuela until it began listing, and spilling oil, as it tried to dock near a Paulsboro, N.J., refinery nine days ago.
They said that two Coast Guard personnel had boarded the vessel, for security reasons, for the last 90-mile segment, up the Delaware. They found nothing amiss before getting off just before the spill.
The Coast Guard said that it finished a week-long sonar scan of the dock area on Friday, but won't say if it found any suspicious objects underwater.
Citgo, which is responsible for maintaining the river bottom near its terminal, said that a sonar survey in October found no obstructions.
The Coast Guard said that divers will return to the area to continue the search for the culprit.

Author:
Copyright 2004 by NBC10.com. All rights reserved. This material may not be published, broadcast, rewritten or redistributed.
Archives
---
Planning for the Unpredictable
A Chain Reaction
South Jersey H.S. Football Games of the Week
Leading Business Attorneys 2021
South Jersey High School Girls' Soccer Preview
On the Right Track
No Easy Games For The Eagles
Eastern and Cinnaminson are top girls' and boys' seeds in South Jersey Soccer Coaches Tournament
Healthy People, Healthy Business
South Jersey highschool football games of the week
Best of Home and Garden
Back to School
Ready to Take Flight
Bishop Eustace's Danny O'Rourke a model of stability
Who's Who in Real Estate
More...