Probe Focuses on Dock Area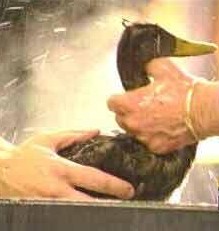 Investigators trying to learn what caused the gash in an oil tanker, spilling thousand of gallons of heavy crude into the Delaware River, are focusing on possible hazards near the dock.
The U.S. Coast Guard said that the Athos One had an uneventful week-long journey from Venezuela until it began listing, and spilling oil, as it tried to dock near a Paulsboro, N.J., refinery nine days ago.
They said that two Coast Guard personnel had boarded the vessel, for security reasons, for the last 90-mile segment, up the Delaware. They found nothing amiss before getting off just before the spill.
The Coast Guard said that it finished a week-long sonar scan of the dock area on Friday, but won't say if it found any suspicious objects underwater.
Citgo, which is responsible for maintaining the river bottom near its terminal, said that a sonar survey in October found no obstructions.
The Coast Guard said that divers will return to the area to continue the search for the culprit.

Author:
Copyright 2004 by NBC10.com. All rights reserved. This material may not be published, broadcast, rewritten or redistributed.
Archives
---
South Jersey Happy Hour Guide
Whole Hearted
Fully Focused
Giant Steps Forward
Defying History
Names to Know
The King of Rambling
Staying the Course
A Burning Desire
Getting Personal
6 Tips on a Restart for Your Finances
On the Home Front
Positive Energy
On the Move
Colleges and COVID-19
More...