Drumthwacket Manager Investigated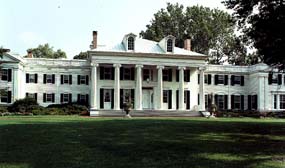 A manager at the governor's mansion in Princeton is denying she misused her position and was paid for time she didn't work.
Olga Nini disputes the contentions levied by a former caretaker at the mansion, known as Drumthwacket.
The caretaker, 62-year-old Robert Picone, says Nini gave favored treatment to a cook and that the cook hired Nini's children for private catering. He also accuses Nini and the cook of being paid in full for weeks when they had taken time off.
The allegations are being probed by the state Environmental Protection Department, which runs the mansion, and the Executive Commission on Ethical Standards.
The 50-year-old Nini has been the residence manager at the mansion, Drumthwacket, since 2002, and currently earns $64,000 a year there.

Author:
NBC10/AP
Archives
---
Bishop Eustace's Danny O'Rourke a model of stability
South Jersey Football Games of the Week
Eagles saved their season with win over Carolina
A Difficult Loss
Top Physicians 2021
Phillies wasted lights-out seasons from Bryce Harper and Zack Wheeler
Another strong season for Olympic American Girls' Soccer
South Jersey Football Games of the Week
'You Do Not Have to Suffer'
Egg Harbor Township Football Showing Great Improvement
Phillies face a difficult, but not impossible final week
Continuing the Difficult Climb
South Jersey Coronavirus (COVID-19) Developments - Booster Shots (September 27)
South Jersey H.S. Football Games of the week
Something to Build On?
More...