Drumthwacket Manager Investigated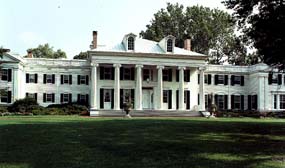 A manager at the governor's mansion in Princeton is denying she misused her position and was paid for time she didn't work.
Olga Nini disputes the contentions levied by a former caretaker at the mansion, known as Drumthwacket.
The caretaker, 62-year-old Robert Picone, says Nini gave favored treatment to a cook and that the cook hired Nini's children for private catering. He also accuses Nini and the cook of being paid in full for weeks when they had taken time off.
The allegations are being probed by the state Environmental Protection Department, which runs the mansion, and the Executive Commission on Ethical Standards.
The 50-year-old Nini has been the residence manager at the mansion, Drumthwacket, since 2002, and currently earns $64,000 a year there.

Author:
NBC10/AP
Archives
---
South Jersey Happy Hour Guide
Whole Hearted
Fully Focused
Giant Steps Forward
Defying History
Names to Know
The King of Rambling
6 Tips on a Restart for Your Finances
Staying the Course
A Burning Desire
Getting Personal
On the Home Front
Positive Energy
On the Move
Colleges and COVID-19
More...