Two Die in Ultralight Crash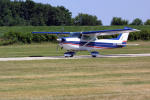 Two people died Monday afternoon in an ultralight aircraft crash in South Jersey.
The crash took place at about 3:45 p.m. just a few miles from the Woodbine Airport, along Fiddler Hill Road in Cape May County.
Preliminary reports indicated that a Coast Guard helicopter might have reported the crash to police.
An ultralight aircraft is supposed to be only a one-person device, but there are ultralights that can carry an instructor and a student. Operators normally carry parachutes on board.
There is no word yet on the victims' identities or why the aircraft went down.

Author:
Copyright 2004 by NBC10.com. All rights reserved. This material may not be published, broadcast, rewritten or redistributed.
Archives
---
South Jersey Happy Hour Guide
Whole Hearted
Fully Focused
Giant Steps Forward
Defying History
Names to Know
The King of Rambling
6 Tips on a Restart for Your Finances
Staying the Course
A Burning Desire
Getting Personal
On the Home Front
Positive Energy
On the Move
Colleges and COVID-19
More...