The HERO Campaign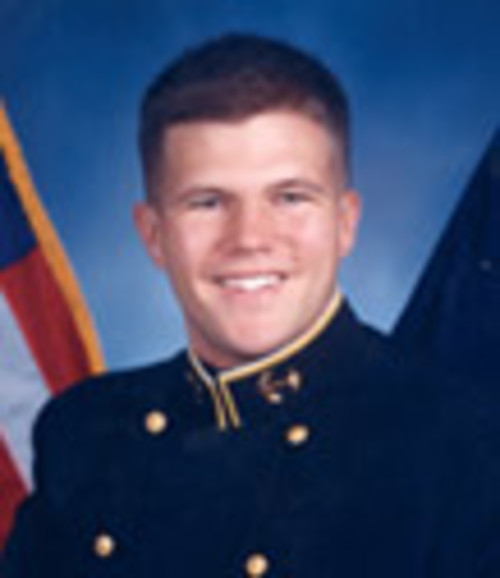 The HERO Campaign is a grassroots campaign that was started here in South Jersey and remains important to the community. The purpose of the Campaign is to encourage people to participate in designated driving programs throughout our state and nation. In cooperation with schools, businesses, law enforcement agencies, and other community-based organizations, they encourage you to help keep drunk drivers off our highways.
In the early morning hours of Saturday, July 22, 2000, Ensign John Elliott and his girlfriend, Kristen Hohenwarter, were traveling home from Annapolis, MD to New Jersey for the birthday celebration of John's mother. A car swerved into John's oncoming lane, striking John's car head-on, killing both John and the driver of the other car and seriously injuring Kristen.
The person who struck John's car had been arrested by the New Jersey State Police three hours earlier, and was charged with Driving While Intoxicated (DWI). Two hours after his arrest, police released him. He then resumed driving. One hour later, his sport utility vehicle swerved into the oncoming lane, hitting John's car, killing them both.
Several thousand people attended John's viewing and the memorial service held the next day in his hometown church. Family, friends, members of the community and classmates from the Naval Academy waited hours in the rain to say goodbye to John and share his family's sorrow. As if heaven shared their grief, the rain continued the next day as a thousand mourners filled Central United Methodist Church to pay their final respects and hear stirring tributes from John's pastor, father and close friends.
A second memorial service was held at the Naval Academy. There he was laid to rest among admirals and naval heroes in the hallowed Naval Academy Cemetery overlooking the Severn River in Annapolis.
Ensign John Robert Elliott was everyone's best friend, a natural leader and president of his high school class. Just two months prior to his tragic death, John graduated with merit from the Naval Academy, earning a BS in Systems Engineering. He served as a squad leader, platoon commander and a reading tutor in the local school system. He also was a member of the regimental championship racquetball team. All four years at the Academy John served as a Human Education Resource Officer (HERO), selected by his classmates to be a peer counselor, advisor and mentor for members of his company. Upon graduation, John was named the outstanding HERO in his class, and eagerly anticipated entering Naval Flight Officer School that September.
John is survived by his sister, Jennifer, and parents Bill and Muriel. Their lives have changed forever. The family has dedicated itself to honoring John's life by working to ensure that other families will never have to experience the same loss they have. A granite cross and plaque has been placed at the site where John was killed, on Route 40 in Upper Pittsgrove Township, Salem County.
The Jersey Shore HEROES Program
The Jersey Shore HEROES Program will partner with bar and tavern owners, package goods stores, law enforcement, colleges and state and local governments to promote the use of safe and sober designated drivers at the Jersey Shore this summer. The campaign will promote the Jersey Shore as a safe, responsible, family-friendly vacation destination.
For more information about Jersey Shore HEROES,call 609-626-3880, or contact info@herocampaign.org.
If you would like to help support this organization and their cause, you can make a donation on their website or through the US mail. Your tax-deductible contribution will help them to save lives through the HERO Campaign For Designated Drivers. You can make a donation on-line using a credit card, on their website. Or, Send your tax deductible contribution, made payable to "The Hero Campaign," to the John Elliott Hero Foundation, P.O. Box 700, Somers Point, NJ 08244. The HERO Campaign for Designated Drivers® is an official program of the John R. Elliott Foundation, an IRS 501 (c)(3) not-for-profit corporation, (Tax I.D. number 22-3760241).
They are headquartered at The Richard Stockton College of New Jersey, 101 Vera King Farris Drive, Galloway, New Jersey 08205.
609-626-3880 (phone)
609-626-6054 (fax)
For more information on the HERO Campaign for Designated Drivers, visit them on the web at herocampaign.org.
10/12/15
© SouthJersey.com 2015. All rights reserved. This article or parts thereof may not be reprinted or reproduced by any other party without the express written consent of SouthJersey.com. For more information, please call 856-797-9910.
For more on local Organizations, visit our South Jersey Organizations page.
Article continues below
---
advertisement


---
Author:
Editor; Margo Harvey
Archives
---
Family Fun
Live from the White House
Collingswood
Stepping Up to the Plate
Local Story
Lingering Questions
Still Fresh
Under the South Jersey Sun
Riverside Retreat
Against All Odds
Like a Girl
Going Her Own Way
Fall In
Aiming to Please
Walk of Fame: Natalie Hope Sommermann
More...