Moorestown Friends School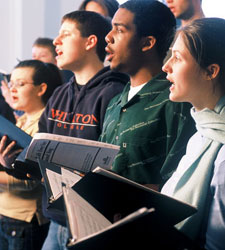 Moorestown Friends School is a day school founded by the Religious Society of Friends (also known as Quakers) in 1785. Today, the school enrolls 724 students from Preschool through Grade 12. Moorestown Friends School is a community dedicated to the pursuit of educational excellence for a diverse student body within an academically rigorous and balanced program emphasizing personal, ethical and spiritual growth.
Moorestown Friends School is proud of its long history of excellence in the Quaker Tradition. Their school celebrated its 200th anniversary in 1985 and looks forward to marking its 225th anniversary in 2010. Today, Moorestown Friends School boasts a 44-acre campus that also includes seven all-purpose playing fields, two baseball diamonds and five tennis courts. Facilities include four gymnasiums, a fitness center, a 450-seat air-conditioned auditorium, a Music Computing Center, an art studio and wood shop.
The school is located in the heart of downtown Moorestown, N.J., where a vibrant retail district is nestled among homes that witnessed the Revolutionary War. Money magazine has named Moorestown, N.J. the Best Place To Live in the U.S. in an August 2005 article that includes quotes and photos of several Moorestown Friends School families and alumni.
Academics at Moorestown Friends School involves students actively engaging in the quest for knowledge, teachers building a learning community that encourages exploration and the entire community seeking ways to improve the world around us.
At every level, students at Moorestown Friends School are challenged to think and apply what they are learning. A rigorous, college-preparatory education gives students the foundation to be active learners. Teachers encourage cross-curricular connections and cultivate critical thinking in classroom discussions and independent projects.
Students learn communication skills through a writing program that begins with journals in Kindergarten and culminates in college-level research reports in Upper School. The science and math curriculum builds from counting the first 100 days of PreKindergarten to mastering biology, chemistry and calculus.
Their students' participatory experiences at every step in the educational process - including hands-on projects and an extensive program of field trips - help build a lifelong passion for learning. Through a coordinated curriculum and strong faculty support, students have the opportunity for exploration and self-discovery.
Moorestown Friends provides students with a safe environment in which they can expand their minds, their hearts and their souls.
Congratulations to Katy Rinehart, Director of College Guidance and Chair of the Moorestown Friends School English Department. She appears in the 2007 edition of U.S. News and World Report - America's Best Colleges. The Moorestown resident is quoted in a Q & A article titled "Parents, What's Your Preferred Cruising Altitude?" She responds to questions on the college/university application essay and the role of parents in the college admissions process.
Moorestown Friends School's Jazz Swing Choir and the Jazz Ensemble placed first in their division at the EPN Festival of Music competition, held the weekend of May 19 in Toronto. The 11-member Jazz Swing Choir, directed by Choral Music Teacher Edmund Robertson, placed first and received a rating of "excellent." Members of the choir are seniors Ashley Alter of Collingswood, Jared Smith of Lumberton, Christine Liang of Sewell and Whitney Wolf of Moorestown; juniors Anna Tate of Medford, Andrew Bernard of Merchantville, Julie Steinberg of Mount Laurel and Katherine Hoelz of Moorestown; sophomore Kevin Schlagle of Maple Shade and freshmen April Gompers of Moorestown and Celestine Mignott of Voorhees.
The 18- member Jazz Ensemble, directed by Instrumental Music Teacher George Stalle, also placed first and received a rating of "excellent." Senior Jazz Ensemble members are Sean Fenton of Lumberton (baritone sax), Ruben Vargas of Camden (baritone horn), Nathan Harper of Port Republic (bass clarinet), Rob Leili-Marrazzo of Allentown (trumpet) and Wes Jones of Mount Holly (drums). Junior Jazz Ensemble members are Andrew Thompson of Mount Holly (tenor sax), David Sheffield of Mount Laurel (piano) and Emily Hummel of Lumberton (flute). Sophomore members are Joey Alter of Collingswood (alto sax), Glenn Smyth of Riverton (tenor sax), Tim Cook of Moorestown (trumpet), Kevin Muratore of Medford (guitar), Wyatt Cain of Moorestown (bass) and Ryan Kirkpatrick of Mount Laurel (piano). Freshmen members are Janak Bhatt of Medford (alto sax), Maeve Kelly of Crosswicks (French horn) and Scott Goldstein of Cherry Hill (trombone) and eighth-graders are Joey Wittman of Maple Shade (drums) and Justin Spencer-Linzie (trombone.)
Congratulations also go out to Junior Andrew Bernard of Merchantville who was named best accompanist among the 25 participating groups at the festival.
Congratulations to Alex Levy, a Moorestown Friends School junior and Voorhees resident, who was accepted to attend the intensive New Jersey Scholars Program at the Lawrenceville School this past summer. He spent five weeks in residence at the school, learning with other students about this year's topic, Africa.
Moorestown Friends senior Richard "RJ" Durante of Moorestown has been honored by the Burlington County Board of Freeholders for his volunteer work on the steering committee of the Youth Service Initiative Conference. Durante was one of three students who received a congratulatory proclamation from Freeholder Vince Farias during National Volunteer Week (April 23 to 29).
Twelve students have been selected for world language honor societies at Moorestown Friends School. Named to the French Honor Society were sophomores Kira Adams of Willingboro, Emily Jones of Mount Holly and Julie Martin of Riverton and junior Kyle Nocho of Voorhees. Named to the Spanish Honor Society were sophomores Jennifer Briones of Mount Laurel, Shaina Karasin of Moorestown, Richard Rinaldi of Shamong and Kevin Schlagle of Maple Shade and juniors Anthony Cordisco of Moorestown, Jackie Draper of Marlton, Sarah Katz of Haddonfield and Anni Weisband of Moorestown.
Thirteen Moorestown Friends students will be inducted into the Cum Laude Society, a national honor society for academically challenging independent schools. The thirteen include seniors Caitlin Baiada of Moorestown, Danielle Chung of Moorestown, David Fischer of Cherry Hill, Nathan Harper of Port Republic, Benjamin Jones of Mount Holly, and Alexandra Stark of Moorestown. Juniors selected for the honor are David Bankes of Mount Holly, Andrew Bernard of Merchantville, Sanjay Bhatt of Medford, Anthony Cordisco of Moorestown, Laurien Gilbert of Mount Laurel, Alexander Levy of Voorhees and David Sheffield of Mount Laurel.
Four Moorestown Friends School seniors have been named finalists in the National Merit Scholarship Program based on their academic performance, a recommendation from the school's Director of College Guidance and their test scores on the PSAT (Preliminary Scholastic Achievement Test) and SAT (Scholastic Achievement Test). They are among 15,000 students nationwide to earn the prestigious distinction, which will allow them to compete for a select set of National Merit Scholarships to colleges and universities. Named, as finalists were Ryan Mulligan of Westampton, Mario Ponticello of Medford, Nina Schuchman of Mount Laurel and Ben Spielberg of Westmont. Less than one percent of U.S. high school seniors receive the distinction.
If you are interested in learning more about Moorestown Friends School mark your calendars for their open house. Moorestown Friends School will host an Open House for prospective students and families on Sunday, October 15, from 2 – 4 p.m. Those interested in more information about the Open House or admission to Moorestown Friends School should contact the MFS Admissions office at 856-235-2900 or admiss@mfriends.org.
Moorestown Friends School is located on 110 E. Main Street in Moorestown. For more information call (856) 235-2900 or visit them online at www.mfriends.org.
For more information about what's going on in our local schools and what today's students are up to, visit our South Jersey Schools page.
Article continues below
---
advertisement


---
Author:
Margo Harvey
Archives
---
The Long Journey in a High School Football Season
Four South Jersey Regional Football Champions
A Familiar Voice
Men of The Year 2021
Joining the Family Business
Giving Kids a Shot
Deck the Halls
High School Football Regional Championship preview
South Jersey Coronavirus (COVID-19) Developments (December 1)
There is still a place for Thanksgiving football
Eagles soap opera continues
A Familiar Voice
Executives of the Year
Observations of the South Jersey Football Teams in championship play
'Lifeblood of the Economy'
More...