Big Brothers Big Sisters of Atlantic and Cape May Counties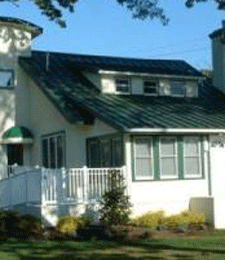 Big Brothers Big Sisters is America's leader in one-to-one youth service, with over a century of proven success in creating positive friendships that benefit children, volunteers, families, neighborhoods and communities.
Big Brothers Big Sisters of Atlantic & Cape May Counties is a voluntary non-profit agency serving Atlantic and Cape May Counties in New Jersey. It is an autonomous corporation affiliated with Big Brothers and Big Sisters of America. The organization depends entirely upon donations, grants, and fund raising for its operating budget. Big Brothers Big Sisters of Atlantic and Cape May Counties currently serves 481 children. Their goal is to provide successful mentoring relationships for all children in Atlantic and Cape May Counties who want and need them.
In 1965, The Big Brothers Association of Atlantic County was founded to help fatherless boys. In the mid 1970's, the services expanded to include girls. In 1981, Big Brothers Big Sisters of Atlantic County was granted full membership status with Big Brothers Big Sisters of America. The membership expanded in 1988 to include Cape May County, and is now known as Big Brothers Big Sisters of Atlantic & Cape May Counties.
Big Brothers Big Sisters of Atlantic & Cape May Counties has made a difference in the lives of young people in the community for over 41 years. They have no permanent funding; it is through donations from civic-minded individuals and businesses - as well as their volunteer Big Sisters and Big Brothers - that they have been able to service children for almost four decades.
Big Brothers Big Sisters is designed to build a match based on shared interests, personality and your volunteer preferences. A volunteer applies, a match coordinator interviews them in person, a background and reference check is performed for child safety, then they review the kids in the volunteer's area who need a Big Brother or Big Sister and find the best fit. Making the right match is important to their commitment to form lasting relationships.
Matches come together through their two essential programs:
Community-based Mentoring: This is the traditional Big Brothers Big Sisters relationship, where Bigs and Littles get together on their own for as little as an hour a week to share fun activities they both enjoy. It doesn't require a special occasion or expensive activities; just a few hours every month to share the simple things you already like to do. Things like shooting hoops, playing a board game, sharing a pizza, taking a walk in the park, or just hanging out and talking.
Site-based Mentoring: Bigs and Littles meet once a week in schools, libraries and community centers to read together, play sports or computer games, or simply talk - just as friends do.
BBS of Atlantic & Cape May Counties also runs a program, Amachi: Mentoring Children of Prisoners. Research suggests that 70 percent of children of incarcerated parents will themselves at some point be incarcerated - unless they have positive adult intervention. That is why mentoring children of prisoners is a key component of Big Brothers Big Sisters' goal to reach more kids, especially those who may face significant risk factors. Amachi, a West African word that means "who knows but what God has brought us through this child," is the name of an initiative that connects children of prisoners with mentors recruited through local religious congregations. They screen and match members of congregations with children who have been identified and enrolled by their custodial parent or guardian. An onsite volunteer coordinator provides a point of contact for ongoing volunteer support and information. Because the church, synagogue, or mosque is a common meeting ground, there are enhanced opportunities for group events involving matches, or for support and training activities for volunteers.
There are many ways for you to get involved in this organization. If you have a few extra hours consider becoming a volunteer. Being a Big Brother or Big Sister is one of the most rewarding and enjoyable things you will ever do and just four hours a month can change a young person's life. For more information on volunteering visit their website.
They are also in need of donations. Big Brothers Big Sisters needs your support. They receive 75% of their funding from private donations. Support from individuals like you is vital to provide mentors for children in your community.
Your place of business can donate time, talent and/or dollars to help them reach their goal of providing a successful mentoring relationship to every child who needs and wants one.
For more information, please call today to learn how you can help 609-653-8250.
They also have some upcoming events that will benefit the organization. Call or email to be invited to their next Little Moments ... Big Magic event: 609-653-8250 or events@bbbsatlanticcape.org. Mark your calendars for the following events:
Bowl for Kids' Sake
April 21-22, 2007 and April 27 & 29, 2007
A great way to have fun and help kids! If you care about kids and can spare a little time for fun, then Bowl for Kid's Sake is right up your alley! Check their website for more information to be published as it is announced!
Wine Tasting Dinner
June 2007
Miniature Golf Tournament
September 9, 2007
BBBS of Atlantic & Cape May Counties is located on 519 Shore Road in Somers Point, NJ. For more information call (609) 653-8250 or email info@bbbsatlanticcape.org. Visit them on the web for all the latest information www.bbbsatlanticcape.org.
For more on local Organizations, visit our South Jersey Organizations page.
Article continues below
---
advertisement


---
Author:
Margo Harvey
Archives
---
Planning for the Unpredictable
A Chain Reaction
South Jersey H.S. Football Games of the Week
Leading Business Attorneys 2021
South Jersey High School Girls' Soccer Preview
On the Right Track
No Easy Games For The Eagles
Eastern and Cinnaminson are top girls' and boys' seeds in South Jersey Soccer Coaches Tournament
Healthy People, Healthy Business
South Jersey highschool football games of the week
Best of Home and Garden
Back to School
Ready to Take Flight
Bishop Eustace's Danny O'Rourke a model of stability
Who's Who in Real Estate
More...