Robins' Nest, Inc.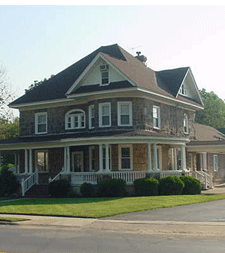 Robins' Nest, Inc. is a South Jersey organization that is dedicated to helping the youth of our area. Robins' Nest was founded in 1968 to address the needs of abused and neglected adolescent girls. Within a year, the agency opened New Jersey's first community-based group home for girls to provide a more compassionate alternative to institutional care or incarceration. In 1983, the techniques that had brought Robins' Nest success in the residential program were used in the design of a strength-based family treatment program. This innovative in-home program expanded the agency's services to boys and girls of all ages. During the past two decades, Robins' Nest has continued to respond to the unmet needs of children with the development of a wide variety of innovative and effective in-home treatment programs.
Most of their programs are done out of the home, but they offer a wide variety of services that encourage and empower children to become responsible members of the community. The Robins' Nest mission is to insure the safety of children and enhance their well being in a family setting. They have a caring group of individuals who make sure that the girls and boys enrolled in the programs are improving. Robins' Nest also advocates for children with founders and the general public.
Because each child is unique and each life path is different, Robins' Nest tailors its services to meet the individual needs of each child. Robins' Nest provides solutions to the complex problems of families. The agency's broad array of services include: early intervention programs for first-time parents designed to prevent child abuse; intensive in-home services for troubled children and their families aimed at avoiding out-of-home placement; services for foster children that help them flourish and secure a permanent home of their own; clinical services to help foster and adoptive children adjust to their new homes; and outpatient therapy for children and adults.
On October 6, 2006, Robins' Nest celebrated the grand opening of Life Link Home, which will house youth who have "aged-out" of foster care. Each year nearly 300 of the 12,500 New Jersey youth in foster care turn 18 and are forced to leave the foster care system. They typically do not have the financial resources or necessary life skills to fend for themselves, leaving many homeless and unsure of where to go for help. Life Link Home will provide them with the skills and self-confidence they need to thrive in adulthood by providing a safe, supportive residential environment.
Robins' Nest provides a wide array of services in the child's own home. For chronically troubled families, traditional therapy in a clinician's office is often ineffective since many of them also need concrete services, such as assistance with housing, household management, and parenting skills. Robins' Nest therapists are able to see the "whole picture" when they are providing services directly in the home. Also, due to the rural nature of New Jersey's southern counties, transportation is often a barrier to services. With in-home treatment services, children in these rural locations can receive the treatment that they need. Robins' Nest provides services in Burlington, Camden, Gloucester, Salem, Cumberland, Atlantic and Cape May counties in New Jersey.
In 2004, Healthy Families home-visiting services helped 389 high-risk first-time parents and their babies. By providing support and education which emphasizes positive relations between the parents and child and promotes the family's well-being, home visitors establish a trusting relationship with families, making certain that parents can meet their baby's basic needs, attain vocational skills needed for viable employment, and acquire safe housing. Not only do home visitors ensure that the baby's medical needs are met, but they teach parents how to foster their baby's emotional and intellectual development.
There are plenty of outpatient options available to those who would find this kind of support more suitable to their needs. Whether coping with grief, emotional problems, or parent-child conflicts, children and families can receive culturally sensitive outpatient services at the Danellie Counseling Center. Experienced, licensed clinicians specializing in child and adolescent therapy provide clients with the means to get back on track by acknowledging their strengths and developing focus and awareness. The Center offers individual, group and family therapy for children and adults as well as marital counseling. In addition, the Center's Lean on Me program provides specialized services for children who are suicidal, suffer from eating disorders, or have been sexually abused. Any member of the community can benefit from Robins' Nest's expertise in providing services to children and families by contacting the Danellie Counseling Center.
Much of the pain that these children must endure is indescribable, but it is preventable. The wounds of parental abuse and neglect, sexual abuse, poverty and mental illness are both deep and long lasting. Without professional help, these vulnerable children are likely to develop serious acting-out behaviors, become withdrawn and depressed, and, unfortunately, repeat the cycle of abuse with their own children. Without the help from the caring community, the vision that Robins' Nest has would never be accomplished. There are many different ways in which individuals, families, civic groups, churches/synagogues and for-profit organizations can get involved and help Robins' Nest. Whether you have a few hours to give, are able to make a financial contribution or have a special skill or talent to share, the organization as well as the children of South Jersey could truly use your help.
If you have the extra time, consider volunteer opportunities at Robins' Nest. This wonderful organization has volunteer openings for whatever skill you may posses and feel like contributing. What can you do to make a difference for children in Southern New Jersey? Robins' Nest has many ways you can get involved. Robins' Nest volunteers impact the lives of children everyday by mentoring, speaking at community events, planning fundraising events, maintaining the agency grounds, working in the main office or serving as committee or board members. If you would like to become a Robins' Nest volunteer or know someone who would, explore their website. They are currently in need of volunteers to be part of "Love-in-Action" mentor program. Mentors offer guidance, support and a positive role model to children in southern New Jersey. Call (609) 457-3738 for more information.
For additional information be sure to visit them on the web at www.robinsnestinc.org. Their mailing address is Robins' Nest, Inc., 42 S. Delsea Drive, Glassboro, NJ 08028. You can reach them by phone at (856) 881-8689.
For more on local Organizations, visit our South Jersey Organizations page.
Article continues below
---
advertisement


---
Author:
Margo Harvey
Archives
---
Bishop Eustace's Danny O'Rourke a model of stability
South Jersey Football Games of the Week
Eagles saved their season with win over Carolina
A Difficult Loss
Top Physicians 2021
Phillies wasted lights-out seasons from Bryce Harper and Zack Wheeler
Another strong season for Olympic American Girls' Soccer
South Jersey Football Games of the Week
'You Do Not Have to Suffer'
Egg Harbor Township Football Showing Great Improvement
Phillies face a difficult, but not impossible final week
Continuing the Difficult Climb
South Jersey Coronavirus (COVID-19) Developments - Booster Shots (September 27)
South Jersey H.S. Football Games of the week
Something to Build On?
More...