Albert Music Hall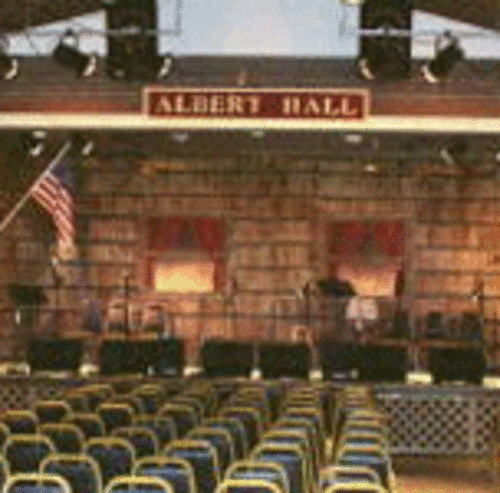 In the 1950s, deep in the woods of Waretown, NJ, the Pinelands Cultural Society (PCS) found its roots. Every Saturday night, in Joe and George Albert's small, secluded deer cabin in the Waretown pinelands, a handful of musicians would gather to pick and sing until the wee hours of Sunday morning.
New songs and old songs and many of their own creations would ring out to a few friends who would venture down the long sandy lane through the pines. Their cabin was known as the "Home Place" by the few lucky people who went there.
In the summer, the cabin windows were opened and wild deer wandered around the yard. In the winter, you would find a roaring fire in the old cast iron cookstove and plenty of hot coffee and homemade cake. The cabin was lighted by several gas lamps, and water was provided by an old hand pump in the kitchen. There was no electricity.
The "Home Place" soon became widely known by word-of-mouth. Newspaper and television reporters were soon covering the Saturday night events. Hundreds of people were finding their way to the cabin to listen to the music of the pine barrens. The list of musicians was also growing, and it was not unusual to find musicians entertaining outside while waiting their chance to get in.
Fiddle player George Albert died and Joe Albert, still living in the cabin, was finding it hard to handle the growing crowds with the accompanying problems. And so it was... the music stopped at the "Home Place". The visitors missed it. Joe missed it, but no one missed it more than the musicians. After a lapse of six months or so, a few pickin' pineys decided to do something about it.
They rented a big bare room at the Waretown Auction. They gathered up some of the "Home Place" musicians, charged a small fee to the public, and Saturday night's "Sounds of the Jersey Pines" once again belonged to the folks of Waretown and the surrounding areas.
The Pinelands Cultural Society (PCS), formed around the original few from the "Home Place," was the outcome of this venture. Today there are hundreds of musicians who have been a part of the "Sounds of the Jersey Pines". The Society's goals include preservation and stimulation of interest in our pinelands musical heritage. To meet this goal, the PCS planned to build a new music hall.
The Hall would be a place for aspiring musicians, young and old, to learn and perform. It would be a place where music can be given back to the people. The building would be called Albert Music Hall, after the two Albert brothers who opened their hearts and home to a handful of musicians so many years ago.
The "Sounds of The Jersey Pines" has rung out every Saturday night since November 1974. Their first temporary home was at the Waretown Auction. Although the building was destroyed by a disastrous fire in July 1992, Saturday night performances continued uninterrupted in the parking lot in front of the ruins.
By late summer, PCS was able to temporarily present Albert Hall shows in the Frederic A. Priff Elementary School in Waretown.
On May 18, 1996 ground was broken for the Pinelands Cultural Society's new Albert Music Hall building at 131 Wells Mills Road in Waretown. The 6000-square-foot building was dedicated and officially opened on January 5, 1997. Over 1,100 persons attended to hear a special "Ceremonial Set" followed by 44 bands playing two song sets. Joe and George Albert's dream had come true !
A 45-space parking lot and 4-bay garage/storage facility behind the Hall was completed and the adjacent Pickin' Shed expanded to 600 sq. ft. in October 2004.
Don't Miss The Experience!
Bring the whole family for an evening of live country, bluegrass, and pinelands music each Saturday night at 7:30pm (doors open at 6:30pm). They've got great lineups year-round!
For a full schedule, click here.
There are also a number of exciting events throughout the year.
For a full calendar of events, go to alberthall.org/events.html.
Are you are a musician? Bring your instrument and swap your songs with others. There is plenty of pickin' room on the Albert Music Hall porch, in the Pickin' Shed, and around the grounds. The special melodies and lyrics of old time songs and more recent hits can always be heard.
Acoustic instruments such as fiddles, guitars, banjos, mandolins, dobros, upright basses, dulcimers, spoons, and wash tub bass, played by musicians from the tri-state area, convey the history and special magic of the music. Performing groups change every 30 minutes. Come by and help to continue and preserve this unique and beautiful tradition.
(Photo and content courtesy of Pinelands Cultural Society/Albert Music Hall)
Albert Music Hall is located at 131 Wells Mill Road (Rt. 532) in Waretown (1/4 mile west of the Route 9 traffic light). For more information, visit their website at alberthall.org or call 609-971-1593.
9/8/15
© SouthJersey.com 2015. All rights reserved. This article or parts thereof may not be reprinted or reproduced by any other party without the express written consent of SouthJersey.com. For more information, please call 856-797-9910.
For an extensive list of South Jersey Attractions, with links to websites and other information, check out our South Jersey Attractions page.
Article continues below
---
advertisement


---
Author:
R. Cohen
Archives
---
Advertise with SouthJersey.com
Shawnee High School
Acting Natural
Middle Township High School
Audubon High School
Cumberland Regional High School
African American Heritage Museum
Apple Pie Hill
Attractions: N. Pemberton RR Station
Johnson's Corner Farm
Lumberton's Air Victory Museum
Lucy the Margate Elephant
Tuckerton Seaport & Baymen's Museum
Emlen Physick Estate
Cape May's Washington Street Mall
More...