The Animal Orphanage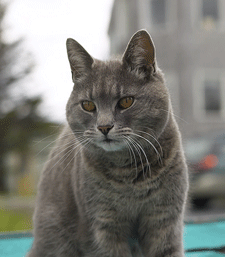 The Animal Orphanage in Voorhees prides itself in the tender loving care the 17 staff members and 100 active volunteers give to each animal in their facility. This facility is a non-profit animal shelter that runs solely on private donations and fundraising. Their mission is to "rescue unwanted and neglected cats and dogs in parts of the South Jersey area… provide housing and medical attention to these homeless animals, and place them in loving homes," according to their website,
www.theanimalorphanage.org
. Euthanasia is not practiced here.
The Animal Orphanage is celebrating 20 years in operation. In 1988, two local animal lovers, John Roshkoph and Scott Russell, current owner of Dog Days Camp for Canines in Marlton, opened up the facility with the generosity of the late Henry Bloom. Bloom left the property and building on Cooper Road to be converted into the successful animal shelter it is today. Executive Director of the Animal Orphanage for the past five years, Maria Clark said in a phone interview, "we don't just warehouse the animals, but keep them sane and calm with personal attention."
Clark explained that the "animal welfare movement has come a long way in 20 years," and the staff along with a "tremendous volunteer base" work on rehabilitating the animals. The Orphanage started a K-9 Coaching program where workers train with one to two dogs at a time, helping them become more adoptable and obedient. Barbara Kahn of Wonder Dogs in Berlin donates her time working with the volunteers to prepare them for the K-9 Coaching program. "It's been an amazing accomplishment having Barb here," said Clark, who has adopted five pets from the Animal Orphanage.
The Animal Orphanage has daily visiting hours (Monday - Friday, noon -7pm; Saturday and Sunday, noon-5pm. closed on major holidays) where folks can take their time walking through the cat and dog rooms, fill out an adoption application, and ask questions. A behavior assessment is performed on each animal so they can be placed with the most suitable family. The Orphanage is not a clinic, but all animals must be spayed and neutered. Sheila Maier of Somerdale Veterinary Hospital performs 95% of the procedures at a reduced rate and sponsors fund others, said Clark. A vet visits once a week to make sure the cats' and dogs' health is in tiptop shape.
Although the Orphanage has the most help in the summertime, Clark said May through October is the most difficult time of year because "animals are coming in faster than they go out." Clark said "crisis management" is a daily struggle. "It's an emotional high and low throughout the day for the employees." A high would be watching a beloved animal go home with a great family; a low would be handling an animal that came in after a fight or has been left behind after a move. Another struggle is finding space for animals, as they do not turn any away. Surrenders are taken by appointment.
"I get tremendous satisfaction when teaching humane education in schools…that's where my heart is," said Clark. She often travels to local schools teaching children pet responsibility and proper care.
The public has been very positive and appreciative about the Orphanage's presence. "The building is old, but really clean…and we make sure our animals always look good," said Clark. Clark expressed the building is in dire need of "a facelift to help enrich the lives of the animals here." The main focus of re-modeling would be a community cat room and replacing the cages with cat condos. "This would be an added adoption feature so people can see how loving the cats are," said Clark about installing a community cat room.
The website states over 2,000 animals are adopted from the shelter each year. The adorable photos on the website of loving animals waiting for adoption make it difficult to say no. The website also offers further information about adopting, donating, upcoming events, and "Happy Tail" stories about animals in their new families.
For more information, visit www.theanimalorphanage.org or call the main office at 856-627-9111.
Updated 5/19/08
For more on local Organizations, visit our South Jersey Organizations page.
Article continues below
---
advertisement


---
Author:
Alicia Hartgrove
Archives
---
Planning for the Unpredictable
A Chain Reaction
South Jersey H.S. Football Games of the Week
Leading Business Attorneys 2021
South Jersey High School Girls' Soccer Preview
On the Right Track
No Easy Games For The Eagles
Eastern and Cinnaminson are top girls' and boys' seeds in South Jersey Soccer Coaches Tournament
Healthy People, Healthy Business
South Jersey highschool football games of the week
Best of Home and Garden
Back to School
Ready to Take Flight
Bishop Eustace's Danny O'Rourke a model of stability
Who's Who in Real Estate
More...