Cape May Whale Watcher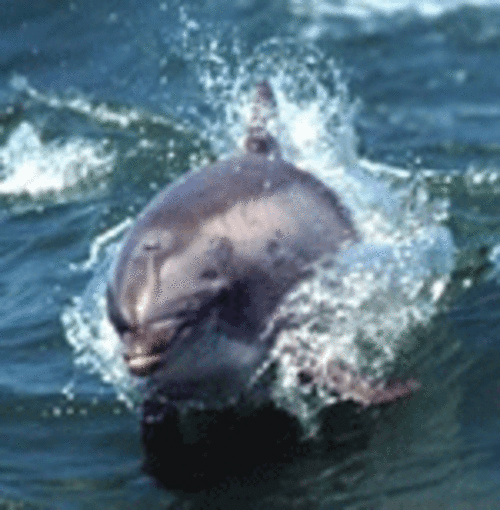 Imagine that you are cruising along about twelve miles off the coast of Cape May, New Jersey. The sky is clear and blue as lazy clouds roll by; the smell of the calm sea and the warmth of the summer sun help you to let go of thoughts of deadlines and responsibilities, the hustle and bustle of everyday life. Just as you are sublimely relaxed, a series of silvery fins slices through the waters and you see them—-bottle nosed dolphins, lively and intelligent mammals baring themselves to the sunlit surface for your viewing pleasure. Or, perhaps you catch sight of something larger: the awe-inspiring tail of a Humpback or Finback whale, some of the largest and most beautiful of the ocean's creatures.
Such a wonderful and out-of–the-ordinary mini adventure, and many others including history cruises in conjunction with the Mid-Atlantic Center for the Arts, are made possible by the Cape May Whale Watcher fleet, which sails from March to December from the Miss Chris Marina Dock, at 2nd Avenue and Wilson Drive in Cape May. The Cape May Whale Watcher, their original boat, is now the second largest and most spacious whale and dolphin watching boat in South Jersey. Recently refit and air conditioned, it is more than 110 feet in length, 23 feet wide, has two decks, cabin seating for 80 passengers a capacity of 300 passengers up to 20 miles offshore.
The largest and most spacious whale and dolphin watching boat in South Jersey is the Spirit of Cape May, which is more than 110 feet in length, 28 feet in width, has two large decks, cabin seating for 100, and a capacity of 405 passengers.
The cabins of both vessels have a large bar area, and air conditioning and heat, so the views of marine life made possible by the vessels are not limited to clear, sunny days.
In addition to the exciting tours, and some great school and group trips, Cape May Whale Watcher offers daily fishing, boat and kayak rentals, kayak tours, bird watching tours, as well as a gift shop, picnic area and free parking.
The Whale Watcher offers a variety of times and tours, including 3 trips daily in season, May through October.
The Dolphin Watch "Around Cape May," leaves at 10am and returns around noon. Passengers enjoy a continental breakfast as they cruise along Cape May's coast, experiencing not only the sights of Bottlenose Dolphins, but also some of Cape May's history. Prominent landmarks include the Cape May Lighthouse, the Concrete Ship 'Atlantis,' and Delaware Bay. The captain's commentary is not only informative, but humorous. Tickets are $30 for adults; $20 for children aged 7-12; and children aged six and under ride for free with adult.
There is also a 1pm Whales and Dolphins "Cetacean Spectacular," which returns around 4pm. This trip takes you into the Delaware Bay and the Atlantic Ocean. The Delaware Bay Estuary is a sanctuary for many species of Marine Life. This cruise is, of course, well narrated, and you will experience and learn about local history as well as about many types of marine life. The cost for adults is $40; children 7-12 are $25; children under age six are free with adult.
There is also a 2-hour "Around Cape Island Dolphin Watch and Sunset Cruise." This cruise is designed to catch the best of the evening light as you search for bottlenose dolphins. Catch sunset and twilight and sunset over the Delaware Bay. Enjoy a cold or hot beverage from the ship's snack bar. Ice cold draft beer, wine by the glass and cocktails are available. Commentary from your naturalist/captain adds to your enjoyment. All-you-can-eat Pizza and Hot Dogs are included with a regular ticket. An adult ticket costs $30; children aged 7-12 ride for $20; and children aged six and under ride for free with adult. There is a buffet upgrade available on select evenings, but you must ask about it before you make your reservation.
If you are enthralled by lighthouses, or just enjoy their mystique and splendor, you will definitely want to go on a "Delaware Bay Adventure"! This special cruise is limited to just a few outings: Saturday, May 23; Wednesday, June 3; Saturday, September 19; and Saturday, October 17. The Cape May Whale Watcher will take you to see a series of 19th and 20th century lighthouses in the Delaware Bay. All automated, most of them are still in operation. The cruise will include breakfast buffet (danish, fresh fruit, donuts, toasted bagels, coffee/juice) and Captain's lunch buffet . The Grand Lighthouse Cruise is 6-7 hours and includes seven lighthouses: Brandywine Shoal, Fourteen Foot Shoal, Miah Maul Shoal, Crossledge Shoal, Elbow of Crossledge, Ship John Shoal and Cape May. The cost of this trip is ON SALE now for $85 per adult; $70 for children age 12 and under.
There are a few other cruise options as well. Please cruise the website for detailed information on cruises, events, prices, times and availability.
For more information, or to reserve your personal adventure (reservations are recommended), call 609-884-5445 or go to capemaywhalewatcher.com. With sightings guaranteed (check out their guarantee!), a fulfilling experience is waiting. Make plans now!
Article date: 4/15/15
© SouthJersey.com 2015. All rights reserved. This article or parts thereof may not be reprinted or reproduced by any other party without the express written consent of SouthJersey.com. For more information, please call 856-797-9910.
For an extensive list of South Jersey Attractions, with links to websites and other information, check out our South Jersey Attractions page.
Article continues below
---
advertisement


---
Author:
Editor; Courtney Thomas
Archives
---
Advertise with SouthJersey.com
Shawnee High School
Acting Natural
Middle Township High School
Audubon High School
Cumberland Regional High School
African American Heritage Museum
Apple Pie Hill
Attractions: N. Pemberton RR Station
Johnson's Corner Farm
Lumberton's Air Victory Museum
Lucy the Margate Elephant
Tuckerton Seaport & Baymen's Museum
Emlen Physick Estate
Cape May's Washington Street Mall
More...