South Jersey Winters - Ice Skating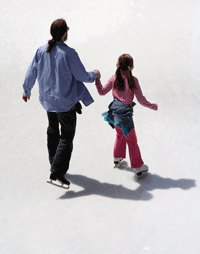 Many of the memories I have from growing up in South Jersey are from the winter. I remember wandering through the woods during snow fall; my brother, sister and I used to play hide and seek and used our snow tracks to find each other. Sledding was another winter favorite that we would never miss. When I was little, there were two "pits" that were excellent for sledding (even though by now those spots have probably been covered with housing developments): they were in walking distance from my house and entertained us for hours. Another extravaganza that always occurred whenever it snowed was fort building and creating the biggest snowmen possible, always trying to see if he would come to life. Snow days were the best! From the moment it was announced that school would be canceled for the day, until the sun went down, my siblings and I would spend the day enjoying the snow. It seemed as if the cold snow never had an effect on me; I would spend endless hours in bitter temperatures with wet gloves, but I never stopped playing in the snow because of it. Our childhood festivities would only end when the sun was going down or my mother called us in because she feared all of us getting frost bite. Our day would end and we couldn't have been happier and in bliss for the day that was filled with snow angels and hot cocoa.
Unfortunately we don't always get that much snow here in South Jersey, even though we still have to put up with the cold. One alternative that was available to us when there wasn't snow on the weekends, was to go ice skating. It was a rare treat when we got to go, because it required a ride and money—things that weren't always easily accessible. It was always a blast when we got to go, especially during winters in which we hadn't seen any snow. Walking into the ice rink always had a special feeling with the inside of a building being cold and everyone so excited. We would walk up to the desk and would be handed a pair of ice skates just our size, and couldn't wait to crisscross the long laces of the skates and tie them up! The next part was what was tricky! Getting our skating legs; the first five to ten minutes of having the skates on and getting on the ice was always so scary and spent attached to the side of the rink. Once I got used to the grooves being cut into the ice by the blades, I could really get going and speed across the ice, pretend as if I was an ice ballerina and only occasionally falling down. The experience of ice skating was always very freeing and gave me a feeling of flying.
Whenever I get the chance to go ice skating now, it gives me a nostalgic feeling of family, friends, and the holiday spirit. It reminds me of my winters spent as a child with hopes of Santa and winter-time fun. As I become older, I don't like the snow and cold as much, but whenever I get the chance to stop, slow down, and think about how innocent this time was for me, I remember that the holidays are about more than the most expensive, nicest gift.
Here are a few spots where you, your family and friends can ice skate this season, and create some warm memories of your own! Each venue's website will have information about hours, pricing, programs and special events.
Hollydell Ice Arena
601 Hollydell Drive
Sewell, NJ 08080
856-589-5599
hollydell.com
The Igloo Ice-Rink
3033 Fostertown Road
Mt Laurel, NJ 08054
856-638-0801
frontdesk@skateigloo.com
skateigloo.com
Flyers Skate Zone-Atlantic City
501 North Albany Avenue
Atlantic City, NJ 08401
609-441-1780
flyersskatezone.com
Flyers Skate Zone-Pennsauken
6725 River Road
Pennsauken, NJ 08110
856-488-9300
flyersskatezone.com
Flyers Skate Zone-Voorhees
601 Laurel Oak Road
Voorhees, NJ 08043
856-309-4400
flyersskatezone.com
Updated 12/3/14
© SouthJersey.com 2014. All rights reserved. This article or parts thereof may not be reprinted or reproduced by any other party without the express written consent of SouthJersey.com. For more information, please call 856-797-9910.
For an extensive list of South Jersey Attractions, with links to websites and other information, check out our South Jersey Attractions page.
Article continues below
---
advertisement


---
Author:
Erin Pierson
Archives
---
In Good Health
2017 Executives of the Year
Superior Sandwiches
Raise a Glass
Impressive New South Jersey BBall HOF class
The Promise of Public Transportation
Empowering the Next Generation
Singles: January 3
River Revitalization
Spreading Cheer
Singles: December 27
Winter Retreat
Are Holiday Parties Back in Favor?
Support System
Singles: December 20
More...