The Wetlands Institute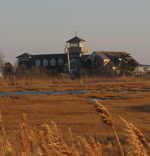 The Wetlands Institute's goal is to "promote appreciation, understanding and stewardship of wetlands and coastal ecosystems through our programs in research, education and conservation." Founded in 1969 by Herbert Mills, the Executive Director of the World Wildlife Fund, the Institute is a "not-for-profit organization promoting appreciation of wetlands and coastal ecosystems."
The Wetlands Institute is located in Stone Harbor, and it is a research facility that also has attractions and educational programs available for families and visitors of all ages. They offer special presentations, field trips, guided tours, summer programs, internships, and dinner presentations. They also host the Wings 'n Water festival in September, which has been named one of the top 100 events in North America and Best Event in Jersey at the Governor's conference on Tourism.
The building is designed to look like a turn-of-the-century cedar shake Coast Guard station, and is positioned at the edge of 6,000 acres of coastal wetlands. Surrounding the building and the main walkway are Marion's gardens--award winning gardens that have arrays of flowers and plants labeled for convenience that usually host a myriad of birds, insects and other wildlife.
Inside the Institute, there are many exhibits revealing the thorough research behind the facilities.
"For the exhibits, we work with an exhibit designer," Ilene Eberly Coordinator of Research and Conservation explained. "You tell them your concept. At the Wetlands, our mission and focus is to go over the threats that destroy the environment, and promote the local species in the area. [The exhibits] give us a way to show our research, like the numbers in the Terrapin Station are frequently updated with the numbers we generate here."
The Coastal Exhibit building holds the aquarium and touch tank, with a vast assortment of sea creatures, from sea horses, fish and crabs, to an octopus named Lois. The exhibits in the Coastal Room are hands-on and attention arresting, and are designed to foster a love and appreciation of the coastal systems and wetlands that help the planet.
"The wetlands are a great storm barrier, and filter pollution from water," Phil Broder, Director of Education at the Wetlands Institute explained. "Cape May is, I believe, the second biggest fishing port on the East Coast. Two-thirds of the seafood they catch spends its time in the wetlands around here. So the industry is totally dependent on the coastal wetlands."
Another great exhibit the Institute houses is the Terrapin Station, which is dedicated wholly to the life of the diamondback terrapin. The Wetlands Institute has a large ongoing conservation program to help these turtles, and the exhibit depicts the life and troubles of these creatures and how the Institute is helping. Some of the ways they aid terrapins are through putting up road netting to prevent terrapins from being run over by cars, research and development on terrapin excluders that help prevent them from being killed in commercial crab traps, and tagging terrapins to study their habits.
In addition to these exhibits, there are marsh trails with guided and self-guided tours, an observation tower that extends 40 feet over the building, summer kayaking tours, and the Tidepool Museum Shop. The Tidepool Museum shop has unique gifts for all ages, but also has a large selection of nature books, field guides, and natural history books. All the profits made from the shop go toward supporting the research and missions of the Wetlands Institute.
The main objective of the Wetlands Institute is to spread a love of the animals and species that are in danger and need help, so the educated people will want to take a stand and help. "We promote high-profile animals. They aren't always cute and cuddly," Eberly explained when talking about the animals they feature at the Wetlands Institute. "We want to help foster love for these animals, to help people understand their problems."
Currently, the main focus is the Terrapins, but they also feature other animals like Horseshoe crabs and Red Knots.
If you love the creatures that the Wetlands Institute works so hard to protect, you can help by adopting a terrapin. There are 5 different levels of adoption: for $10, $30, $50, $100 and $500 dollar donations. Each level comes with an adoption certificate, conservation brochures and a photograph of the terrapin (plus more, depending on which level of adoption you choose). The money goes toward documentation of data, road patrols to remove female terrapins from roads before they get hit by vehicles, rehabilitating the terrapins if they are hit, rescuing injured terrapins, hatching eggs, releasing baby terrapins, and publicizing the needs of the terrapins.
There are many opportunities to volunteer in many different capacities at the Wetlands Institute. For the creatively inclined, the Institute needs quilters to help put together the yearly raffle quilt; volunteers to help at the Wings 'n Water Festival; and people to help cook and teach crafts at special events. There is a need for more traditional help, like maintenance people to help with various projects, clerical assistance in the office with answering phones and putting together bulk mailings, and sales people to help with admissions and in the gift shop. Last, but not least, if you enjoy the outdoors and sea creatures, there are opportunities for people to work as docents (guides to lead visitors on salt marsh, beach and bird walks) and aquarists (to help care for the aquariums).
The Wetlands Institute is involved in a variety of programs, including The Coastal Conservation Research Program with the Richard Stockton College of NJ, Diamondback Terrapin Conservation, SEANET, and various shore bird protection research programs.
The Wetlands Institute receives more than 40,000 visitors each year, and is hailed as "The Natural Place to Have Fun!" They promote "the conservation and preservation of coastal ecosystems by providing a fun and educational experience for families, school groups and vacationers of all ages."
According to Broder, "The Wetlands Institute, bottom line is: People look to protect things they love. So our job is to start creating love. We have a great team, and great group of people that make this happen. We can certainly use more help!"
The Wetlands Institute is located at 1075 Stone Harbor Blvd. in Stone Harbor (08247). They can be reached by phone at 609-368-1211.
Summer Hours (May 2 though October 12) are
Monday through Sunday: 9:30am to 4:30pm
Tuesday, Wednesday, Thursday from June 17 to August 28: Special evening hours until 8 pm
Open Martin Luther King Day, President's Day, Independence Day and Labor Day 9:30 am to 4:30 pm
Winter hours (October 13 through April) are Tuesday through Saturday, 9:30am to 4:30pm. Admission is $7 for adults (ages 12 and up); kids (ages 2-11) are $5.
For more information, or to become a member, volunteer, or view their calendar of events, visit their website at www.wetlandsinstitute.org.
Photo by Jessica Westerland
5/24/14
© SouthJersey.com 2014. All rights reserved. This article or parts thereof may not be reprinted or reproduced by any other party without the express written consent of SouthJersey.com. For more information, please call 856-797-9910.
For more on local Organizations, visit our South Jersey Organizations page.
For an extensive list of South Jersey Attractions, with links to websites and other information, check out our South Jersey Attractions page.
Article continues below
---
advertisement


---
Author:
Jessica Westerland
Archives
---
More football commitments trickling for South Jersey football players
Former Glassboro Star George Johnson Almost Vaulted Team to NFC Title Game
A Running Start
For the Love of the Game
Usual Powers on Top in Wrestling
The South Jersey Fab Four
Lighting the Way
Setting the Stage
Big Words: Twins!
Ready to Grow
Home of the Brave
How Can I Ever Thank You?
One of All-Time Best Coaches Resigns
Walk of Fame: Ella Hampton
Jersey Fresh
More...