Cape May Winery and Vineyard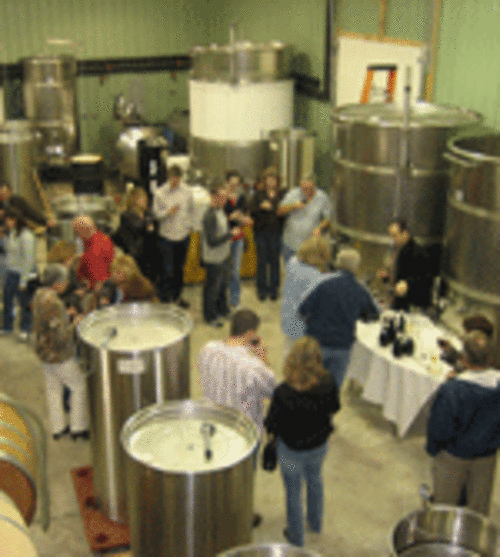 Cape May Winery is happily nestled within a few miles of the Atlantic Ocean and the Delaware Bay. Those waters foster moderate temperatures, which allow the Cape May Winery to extend their growing season and produce top quality wines, and their tours give visitors an exclusive chance to see the process of how this wine is made.
The Winery is run by Wine Maker Darren Hesington and Owner & Proprietor Toby Craig. Craig hopes to "take Cape May Winery and Vineyard to new levels as well as make Cape May County a wine destination."
The Cape May Winery runs tours, events, wine tastings, vineyard walks and many other events year-round.
"We are uniquely different and we are committed to quality," Hesington explains. "Our philosophy is if you are a wine drinker, we will have a wine you like. We really do cater to customers; we believe when you come in, you just don't come for a tasting but for a wine experience."
Visiting the Winery
Tours of Cape May Winery run approximately an hour and a half and include a tour of the facility and vineyard. You will learn from "vines to wines" how they make their wine. Tours include a wine tasting, with a taste right out of an oak barrel, fruit & cheese tray to enjoy as well as a souvenir wine glass to keep as a memory of your experience. Tours are $20 per person. They cannot accommodate children under 15 on the Winery Tours. Reservations are recommended by calling ahead as Tours sell out from time to time. Winery tours are held daily June 15 through October 13 and then every Saturday afternoon throughout the winter. They begin promptly at 3pm. Additional tours are usually added during the holidays, and special tours are held daily from December 26-30 at 3pm. Please call 609-884-1169 for more information.
Special Occasions and Unique Opportunities
Do you want to become more connected with the wine that you are drinking? Why not try a" hands on" approach to making your own wine? Cape May Winery and Vineyard is offering a blend-your-own wine experience that allows guests to play "wine maker" for the day. Blending experiences, usually lasting 2 hours, begin with an initial tasting of their veniferas, then the blending follows. Have fun spending time with your friends and family while making your very own combination of Cape May Wine. Enjoy a complimentary cheese platter while you decide on a wine blend, name of your wine and design a personalized label. At the end of the experience you'll place your orders. A one-case minimum is required for purchase at each blending party. Cape May Winery will prepare the wine and make the custom labels. The wine will be available for pick up in two weeks. The experience is $30 per person. The cost of the wine depends on the blend and includes the wine and label. This is great for gift giving: anniversaries, birthdays, bridal parties, corporate gifts, mothers day and fathers day. Minimum groups of 8 are required for the Blending Experience. For reservations, call 609-884-1169 at least one week in advance.
The Winery also does personalized labels for cases of wines, for occasions and gifts.
Take Some Home with You!
The Wine Shop is open Sundays through Thursdays from noon until 6pm, and Fridays and Saturdays from noon until 7pm. It is closed only Thanksgiving Day and Christmas Day.
There is a Case Club Buyer membership, which is available to those who purchase at least one case of wine per year. For 1st year members, after you purchase your first two cases at the 10% discount, any cases purchased thereafter will be discounted at 15%. For your 2nd, 3rd and 4th year membership, the first case purchased that year will be discounted at the 10%, then any cases purchased thereafter will be discounted at 15%. Once you've reached your 5th year, any cases purchased that year are discounted at 15%. This membership also gives you discounts on events, invites to new release parties, invitations to their FUTURES events, free admission to tours, and 10% off merchandise.
Cape May Winery and Vineyard offers a variety of wines for every taste. The full list and prices are available on their website.
How to Get There
Cape May Winery and Vineyard is located at 711 Townbank Road in Cape May. The Wine Shop is open daily, year-round, from noon until 5pm, closed Thanksgiving Day and Christmas. For more information or to make a tour reservation, call 609-884-1169 or go to capemaywinery.com.
Updated 9/10/14
© SouthJersey.com 2014. All rights reserved. This article or parts thereof may not be reprinted or reproduced by any other party without the express written consent of SouthJersey.com. For more information, please call 856-797-9910.
For an extensive list of South Jersey Attractions, with links to websites and other information, check out our South Jersey Attractions page.
Article continues below
---
advertisement


---
Author:
Jessica Westerland
Archives
---
In Good Health
2017 Executives of the Year
Superior Sandwiches
Raise a Glass
Impressive New South Jersey BBall HOF class
The Promise of Public Transportation
Empowering the Next Generation
Singles: January 3
River Revitalization
Spreading Cheer
Singles: December 27
Winter Retreat
Are Holiday Parties Back in Favor?
Support System
Singles: December 20
More...