Millville Army Air Field Museum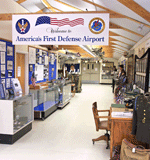 The Millville Army Air Field Museum exists to preserve U.S. military aviation history, up to and including events like the Middle East conflict, and also to honor veterans and promote aviation for future generations. The Museum programs and tours focus on educating about Millville's vital role in aviation history and the history of the P-47 Thunderbolt –one of the main fighters for the U.S. in World War 2.
The Millville Airport was opened on August 2, 1941, and was dedicated "America's First Defense Airport" by local, state, and federal officials. After less than a year, construction of the military facilities began and, by 1943, the Millville Army Air Field opened as a gunnery school for fighter pilots. Gunnery training began with Curtiss P-40F "Warhawk" aircraft, but soon after the P-40s were replaced by the Republic P-47 "Thunderbolt." During the three years that it was an army base, thousands of soldiers and civilians served there, with about 1,500 pilots receiving advanced fighter training in the Thunderbolt.
The Millville Army Air Field Museum website has the pictures and histories of the 14 pilots that died while training at Millville, as well as partial lists of the men that trained at the airfield. There is a mural painted by Samuel Donovan at Millville City Hall to represent and honor these fallen men and all the men that fought in WWII for their country, as well as the P-47 aircraft that they flew.
After the war, the base was declared unneeded by the government, and was returned to the city of Millville. Most of the airport buildings were converted to apartments for the veterans returning from the war.
Times changed. In the early 1970s, Lewis B. Finch, the Millville Airport Manager, eliminated the last apartments that were former base buildings. He was looking forward to major industrial development at the airport, and increased traffic.
Enter Michael Stowe, and the beginning of the Army Air Field Museum. He was a local who, like the other locals, had known that the airport used to be an army base. He didn't know any details about its history, but he started to explore underground bunkers just south of the airport.
Stowe began to find related artifacts and collected these and more information for more than 10 years. In 1983, he came to city officials and asked about obtaining a permanent place at the Millville Airport to display the pieces he found. This original collection of artifacts and airfield data "remains the cornerstone of the Millville Army Air Field Museum."
Today, the museum maintains the historic buildings and historical material, and runs events and a membership program to raise money to keep "the museum moving forward in its mission to preserve Millville's aviation history and honor all veterans."
The Millville Army Air Field Museum does not charge a membership fee for those who served at Millville Army Air Field; they are given a complimentary life membership in the museum. This applies to all military and civilian personnel assigned to the Millville Army Air Field 1941-1946, and to any US Navy veterans serving at the Millville Airport 1947-1958.
The Museum also pays homage to the Millville Flying Club. The members had planned and lobbied for an airport in Millville and played in essential part it the final decision to build the airport in Millville back in the early 1940s.
Their goals had been, "To promote progress in aviation in Millville, to provide facilities for its members for proper flying and ground instruction, to acquire one or more airplanes and other equipment, and to develop and maintain an adequate airport in Millville."
They accomplished these goals and helped the community by sponsoring an air circus with air acrobatics, including local and professional fliers, free airplane rides to the public, and a line-up of events that ended with a bomb-dropping contest and a parachute jump. They helped the community by looking for a missing person in the Delaware Bay, and monitoring rising flood waters. They used every opportunity to promote aviation and were essential in the start of the Millville Air Field.
The Millville Army Air Field Museum runs a variety of different events to keep the tradition of passing on a love and appreciation of aviation alive today. They have the Millville Wheels and Wings Airshow, in which assorted planes and antique cars are on display and are performing acrobatics in the air for the audience.
There are also educational programs, like Veterans Appreciation Day, in which students dress up in period WWII clothes and interact with area veterans on Veterans Day Weekend. There is the ACE Veterans History Project, partnered with the Millville School system that allows students to interview veterans and videotape their oral histories for archiving in the National Library of Congress.
The Museum is open from 10am to 4pm Tuesday through Sunday. Monday visits may be scheduled by appointment. To schedule a group tour, call Lisa Jester at 856-327-2347 or send email to ljester@p47millville.org
For more information about the Millville Army Air Field Museum and its events, see their website at p47millville.org or contact them at 1 Leddon Street, Millville Airport, Millville, NJ 08332; 856-327-2347.
Photo by Steve Edwards.
4/5/15
© SouthJersey.com 2015. All rights reserved. This article or parts thereof may not be reprinted or reproduced by any other party without the express written consent of SouthJersey.com. For more information, please call 856-797-9910.
For more South Jersey History, visit our South Jersey History page.
For an extensive list of South Jersey Attractions, with links to websites and other information, check out our South Jersey Attractions page.
Article continues below
---
advertisement


---
Author:
Jessica Westerland
Archives
---
Advertise with SouthJersey.com
Shawnee High School
Acting Natural
Middle Township High School
Audubon High School
Cumberland Regional High School
African American Heritage Museum
Apple Pie Hill
Attractions: N. Pemberton RR Station
Johnson's Corner Farm
Lumberton's Air Victory Museum
Lucy the Margate Elephant
Tuckerton Seaport & Baymen's Museum
Emlen Physick Estate
Cape May's Washington Street Mall
More...