Penny Angel's Beagle Rescue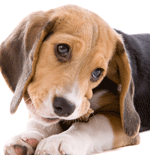 Penny Angel's Beagle Rescue exists for one sole purpose: to rescue beagles. They are dedicated to "placing unwanted beagles in forever homes with loving families;" and they also "provide fostering, medical rehabilitation and adoption services for abused, neglected and homeless beagles."
Penny Angel's Beagle Rescue is a non-profit, all-volunteer organization. They rescue beagles from shelters, stray beagles, and beagles from homes that cannot keep their dog. They work with purebred beagles and beagle mixes in all of New Jersey and the tri-state area.
This organization is built on a love and dedication to beagles, and it all started in 1990 with one beagle named Penny. Joan Kerr drove to her local shelter around Thanksgiving looking for a dog to give a home for the holidays. She met and fell in love with Penny, a stray the shelter had just taken in. Soon after Penny was adopted, Joan sadly discovered she had heartworms, but also was pregnant. Penny had nine puppies at Christmas and lived a few more years, giving Joan Kerr and her husband Ken many happy memories.
Joan made a promise after Penny died, "to help other beagles get a second chance at life." She realized there were many beagles in shelters with no chance of adoption that were older, heartworm positive, and labeled unable to be adopted. "Now, my husband and I take them home and have them vaccinated, altered and treated for heartworm if necessary. Some of the older ones only live a year or two, and as heartbreaking as it is for us, I know in my heart that we give them the best years of their lives. We are willing and have been dedicating our lives to this cause."
There are many ways you can help Penny Angel's Beagle Rescue. If you cannot take on the responsibility of owning a dog permanently, you can become a foster family for a beagle. Lack of space is an issue that can sometimes force the Beagle Rescue to turn away beagles, because 99% of the beagles adopted through Penny Angel's make their homes with either the Kerr's or the volunteers for a period of time. Foster families give the rescued beagles a place to stay where they can be loved and cared for before they are adopted. Penny Angel's Beagle Rescue pays for the expenses involved for medical care and routine vet visits, and sometimes food and heartworm preventative.
If you don't want to have an animal in your home, but you would love to work with the beagles, you can volunteer. If your Saturday afternoons are open, there are adoption days held every Saturday at the Mays Landing Pet Smart from 11am to 3pm. People aged 13 and older are needed to walk the Beagles. You can walk the beagles, help them gain socialization skills and practice with walking on a leash, and help deliver them safely to their new adopted family.
"We have a wonderful group of Volunteers. Without them there would be no Penny Angels," Joan said. "We are a very strong family at Penny Angel's and we treasure each and every volunteer."
Penny Angel's Beagle Rescue also needs donations, both monetary and of supplies. They are always in need of dog food, biscuits and treats. They need ear cleaning supplies, shampoos, leashes, harnesses and different sizes of collars.
If you are interested in adopting a beagle, their website has a link that gives you a list all of the beagles available for adoption. There are pictures and descriptions of all about the beagles, including their temperament and other facts about them, like if they are good with other pets, and where they came from.
There is a "beagle of the week" featured on the website, and they also explain beagle breed facts to help you discover if a beagle is the right dog for you. There is information about adoption fees, and also adoption questionnaires and forms available on the website for you to download and submit if you do decide to adopt a beagle.
Joan and Ken Kerr have dedicated their lives to educating people about beagles in hopes that the beagle adoptions will result in a "happy ending" for all.
"My husband and I have devoted our lives to the beagles," Joan said. "Many sacrifices are made when you do rescue. Your life is totally devoted to the care and rehabilitation of the beagles. They are not just taken in and adopted out, many need to know they are loved and will never be hurt or abused. Some need medical treatment; others need to learn how to love."
Beagle adoptions
every Saturday
11am-3pm
PetSmart in Mays Landing
Penny Drive
Support the beagles of PABR
Bring your spare change to Petsmart
Saturdays, 11-3 pm
You can contact them through their website, pennyangelsbeaglerescue.com
or at
Penny Angel's Beagle Rescue
P.O. Box 2161
Ventnor, New Jersey 08406
609-965-9476
Updated 5/3/15
© SouthJersey.com 2015. All rights reserved. This article or parts thereof may not be reprinted or reproduced by any other party without the express written consent of SouthJersey.com. For more information, please call 856-797-9910.
For more on local Organizations, visit our South Jersey Organizations page.
Article continues below
---
advertisement


---
Author:
Jessica Westerland
Archives
---
Family Fun
Live from the White House
Collingswood
Stepping Up to the Plate
Local Story
Lingering Questions
Still Fresh
Under the South Jersey Sun
Riverside Retreat
Against All Odds
Like a Girl
Going Her Own Way
Fall In
Aiming to Please
Walk of Fame: Natalie Hope Sommermann
More...