Red Bank Battlefield Park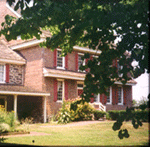 South Jersey has a reputation. It is known as an area of sprawling suburban development; it is the center of the hustle and bustle of crowded shopping malls and densely populated housing developments. South Jersey is home to commuters who lead fast-paced lives. They undergo day-to-day battles with traffic and children; they are unstoppable forces that rarely take time for themselves. South Jersey, then, is home to the "modern." It is known for perpetually moving forward, for never letting up, and for always progressing. Most people, then, don't think of rich American history when they consider South Jersey; however, South Jersey has come to defy its mold in Gloucester County's Red Bank Battlefield Park, which is home to some of the richest revolutionary history in the nation. Contained on the park's grounds is the James and Ann Whitall House, which was home to two of early America's most prominent South Jersey residents.
Red Bank Battlefield Park flawlessly combines the natural with the historic. Visitors can experience a variety of activities and tours on the park's grounds, but perhaps the most striking attraction is the area's simple view. Located on the Delaware River, the park features some of the most incredible elements of nature, including open space. In a location where, it seems, almost every inch is marked with the label "business" or "residential," it is truly refreshing to see groves of trees, walkways, picnic pavilions, and playgrounds. The park also offers its piers as "conversation areas" for visitors, who can relax and enjoy a breathtaking view of the Delaware River.
The James and Ann Whitall House, which is showcased on the Red Bank Battlefield Park grounds, gives visitors a true sense of early American architecture and cultural history. The house, built in 1748 and characterized by the 18th century Georgian style, was inhabited by the Whitall family for 114 years. The Battle of Red Bank, which proved to be a decisive victory for American troops, took place on the modern-day park grounds. During this period, the Whitall House was converted into a hospital for the sole purpose of tending to wounded soldiers. Ann Whitall, who has become a prominent historic figure in her own right, stayed at the house to care for American troops. Though the Whitalls were forced to vacate during the height of battle, they returned in April of 1778.
For almost a century after their return, the family worked at the Red Bank Plantation. It had become a multi-faceted center for business, as it contained all of the resources necessary to be successful fisherman and farmers, among other commercial enterprises. In 1872, the federal government purchased the property, which is now under the control of the Gloucester County Board of Chosen Freeholders. The Whitall House underwent few changes throughout its long and storied history and therefore reflects accurately the progression of American history – from revolutionary to present day.
The James and Ann Whitall House is open seasonally, from April through mid-October, Thursday through Sunday, from 1pm to 4pm. One Sunday a month, the House and Fort offer special programs focusing on an aspect of the park's history. Ever wonder how people made clothes in the 1700s? What was it like to be a Revolutionary soldier? How did women prepare meals? Why is Fort Mercer so important to Revolutionary history? Heritage Days are always family friendly and filled with great activities for everyone to enjoy.
At Red Bank Battlefield Park, visitors have a chance to stop their lives for a few hours or a day, but they can also stop time and go back to an era of simple enjoyment–when entertainment wasn't a Broadway performance, but a quiet evening at home; when moving meant a Sunday stroll and not bumper-to-bumper traffic. Check it out!
For more information, call the museum curator at 856-853-5120, Weekdays 8:30am to 4pm; or the Gloucester County Parks and Recreation main office at 856-251-6710; or visit them on the web, here.
7/18/15
© SouthJersey.com 2015. All rights reserved. This article or parts thereof may not be reprinted or reproduced by any other party without the express written consent of SouthJersey.com. For more information, please call 856-797-9910.
For an extensive list of South Jersey Attractions, with links to websites and other information, check out our South Jersey Attractions page.
For more South Jersey History, visit our South Jersey History page.
Article continues below
---
advertisement


---
Author:
R. Cohen, Meredith Bajgier
Archives
---
In Good Health
2017 Executives of the Year
Superior Sandwiches
Raise a Glass
Impressive New South Jersey BBall HOF class
The Promise of Public Transportation
Empowering the Next Generation
Singles: January 3
River Revitalization
Spreading Cheer
Singles: December 27
Winter Retreat
Are Holiday Parties Back in Favor?
Support System
Singles: December 20
More...