Sam Azeez Museum of Woodbine Heritage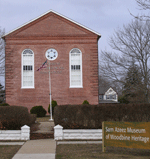 Woodbine may not be one of the most well known South Jersey towns, but to the people that have visited or live there, it is a quiet town with filled with a lot of history. The Sam Azeez Museum of Woodbine Heritage keeps this history alive in the community.
The Sam Azeez Museum ("the SAM") is inside the Woodbine Brotherhood Synagogue. This synagogue was built by the early Woodbine Colonists, and is being restored as well as being used to house the museum.
Woodbine was purchased more than one hundred years ago by the wealthy German businessman and philanthropist, Baron de Hirsch. He then established a fund to assist the immigrating Russian Jews coming to America in the 1890s. In his article "My views on Philanthropy" that he wrote in 1891 he said, " I have the certainty that he who frees thousands of his fellow-men from suffering and an oppressed existence, and helps them to become useful citizens, does a good work for all humanity."
The Russian Jews needed to leave Russia because after Tsar Alexander III's father died, because he decided to blame the Jews so he could force them to leave. Stirring up hate against them was encouraged so the ideas of revolution would be forgotten. So the government said that "beating Jews was a service to God and country." Hundreds of Jews were killed, and the ones that weren't killed had their property destroyed. Emigration was their only hope.
Baron de Hirsch didn't just believe in "giving handouts which only makes so many more beggars." He wanted immigrants to become useful members of society. Woodbine was the original location of the experimental agricultural-industrial colony envisioned by the Baron de Hirsch Fund trustees. They hoped to give the immigrants a chance to pursue the agricultural lifestyle that they had been denied in Russia.
However, because of poor soil conditions, Woodbine soon became better know as a factory town, the manufacturing center of Cape May County. However, "education, religion, tolerance and inclusion were values shared by the community as it grew, diversified and continued."
This past is what The Sam Azeez Museum of Woodbine Heritage was created for: "to remember and record this past while also actively collecting the materials to preserve its continuing heritage."
There is a welcome poem on their website that proclaims: "Built brick-by-brick in 1896, this building shows the spirit of Woodbine's first generations- the Russian Jewish families who came here to start new lives. As immigrants, they were different. And life wasn't easy. But they cared deeply about their children…and the community. We saved this place so we could tell their stories. Welcome."
Inside the museum there are many exhibits detailing many different aspects to the growth of Woodbine. There is a timeline from 1880-2003. They have exhibits with old pictures and information on The Baron de Hirsch Agricultural School that was founded there and the Woodbine Brotherhood Synagogue. There is also information on the immigrants as well as sports, culture and education through the years, and influential and successful people that came from Woodbine.
There is a gift shop with various books and posters available about Woodbine. They also have a CD available, called The Voices of Woodbine, A Century of Woodbine: An Oral History Project of the Philadelphia Jewish Archive Center.
Michael Azeez wanted to save the synagogue where he and his father worshipped, and while maintaining and restoring the sanctuary he had the idea of starting a museum. He dedicated it to his father, Sam Azeez because Sam "grew up in Woodbine. An achiever, inventor and entrepreneur, he had a strong desire to share the impact the town had on him." Michael made that dream a reality.
The SAM is a 501(c)(3) nonprofit organization funded completely through private donations.
Museum Hours
June 9-Sept 30: Wednesday, Thursday, Friday, Sunday: 10am-4pm.
October 1–June 14: Wednesday, Thursday, Friday, Sunday: 10am-4pm.
Closed December 25 and January 1.
Group tours are available by appointment.
The Sam Azeez Museum of Woodbine Heritage is located at 610 Washington Ave in Woodbine.
For more information, call 609-861-5355 or go to thesam.org.
Updated 8/12/14
© SouthJersey.com 2014. All rights reserved. This article or parts thereof may not be reprinted or reproduced by any other party without the express written consent of SouthJersey.com. For more information, please call 856-797-9910.
For an extensive list of South Jersey Attractions, with links to websites and other information, check out our South Jersey Attractions page.
For more South Jersey History, visit our South Jersey History page.
Article continues below
---
advertisement


---
Author:
Jessica Westerland/Editor
Archives
---
In Good Health
2017 Executives of the Year
Superior Sandwiches
Raise a Glass
Impressive New South Jersey BBall HOF class
The Promise of Public Transportation
Empowering the Next Generation
Singles: January 3
River Revitalization
Spreading Cheer
Singles: December 27
Winter Retreat
Are Holiday Parties Back in Favor?
Support System
Singles: December 20
More...