Tuckerton Seaport & Baymen's Museum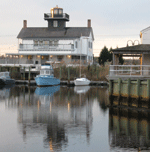 Hugging the coast and estuaries of the Tuckerton Creek is Tuckerton Seaport, a maritime village of 40 acres with 17 recreated historic buildings, a lighthouse, boatworks building and more, all connected by trails and a boardwalk. Tuckerton Seaport has a maritime forest, wetlands trails, and a marine railway—all beautifully maintained to support their goal of bringing the rich Jersey Shore marine heritage to life.
The Tuckerton Seaport exists to "preserve, present and interpret the rich maritime history, artistry, heritage and environment of the Jersey shore and the unique contributions of its baymen." They do this through their educational exhibits, demonstrators and artists.
Visitors can walk along the picturesque waters of the Tuckerton Creek and meet the kind of people who lived along the Barnegat Bay such as decoy carvers, boat builders, basket makers, quilters, commercial fishermen, artists and other baymen and women. Visitors can take part in workshops that teach these trades and others.
The Seaport hosts art shows, carving clubs, basket making and quilting workshops. You can also learn about boat building, terrapins, Origami, Haiku writing and more. And, of course, there are shops for the kids and adults.
There are many exciting and historically accurate exhibits and hands-on features at the seaport including Skinner-Donnelly Houseboat, Joe Dayton's Sawmill, Parsons Clam & Oyster House, Hurley Conklin's Carving Shop and more!
Tucker's Island Lighthouse is a reproduction of a lighthouse that was built on Tucker's Island in 1868. You can see photos of the lighthouse from 1927 when it fell into the ocean, as well as exhibits on New Jersey maritime history and the people who lived it. Enjoy stories of shipwrecks, lighthouse keepers and the U.S. Lifesaving Service. Also here is the state's largest surfing museum with many surfboards and surf memorabilia on display. Then climb to the tower and see a birds-eye view of the Seaport and Lake Pohatcong and the Tuckerton Railroad exhibit featuring a working model train.
At the recreated Perrine's Boat Works (modeled after the original boat works that ran from 1900 to 1956), visitors will find tradition bearer boat builders making or restoring sneakboxes and garveys and a rich history of master boat builders Perrine, Heinrichs and Spodofora. Apprentice programs are available.
A permanent exhibit is the "Life on the Edge" housed in the Tuckerton Yacht Club and it belongs to The Jacques Cousteau National Estuarine Research Reserve Interpretive Center. "The Borough of Tuckerton and Tuckerton Creek is located in one of the least disturbed places on the northeast coast of the United States. The Reserve encompasses habitat in and around the estuary where fresh water from the Mullica River and saltwater from the Atlantic Ocean mix in the Great Bay. Named for the famed Ocean Explorer Jacques Cousteau, the reserve conducts scientific research, hosts a variety of education and interpretive programs and encourages stewardship of these unique natural resources."
At the "Life on the Edge" exhibit, visitors can "go back in time to explore New Jersey's environmental past, present and future within the Jacques Cousteau National Estuary."
The Jersey Shore Folklife Center researches, documents, supports and presents the diverse communities and traditions of the Jersey Shore and the Pinelands. Through daily demonstrations, educational programs, classes and exhibits the Jersey Shore Folklife Center celebrates the profoundly creative spirit of the region, its traditional arts; and its occupational and recreational folklife. The New Jersey Shore Folklife Center building is located at Kelly's Oyster House. See folk art exhibits daily and view demonstrations by traditional artists including basketmaking chair caneing, painting, and glassmaking.
These are just some of the incredible reasons to come to the Seaport and spend at least a day enjoying some South Jersey history.
Upcoming Events October 22, 23 & 24: Haunted Seaport, 6-9pm
Pirates and sea captains long lost at sea stroll the boardwalk for a night of screams. Haunted Tucker's Island Lighthouse, hayrides, black light mini golf, phragmites maze, food, refreshments, entertainment and a non-scary pumpkin patch for the little ones. Fun for the whole family! Admission $8, Hayride $5 (free for members) with paid admission. Black Pearl Pirate Boat Rides ($10 additional)
November 28: Community Gathering, Noon – 4pm
Tuckerton Seaport in partnership with The Jetty Rock Foundation, Southern Ocean County Chamber of Commerce, WJRZ 100.1, Real Mom Radio, and Ocean Tents invites all local families, regardless of need, to come together on Thanksgiving Weekend to enjoy a meal together and give thanks. This community meal will be hosted on the Seaport's grounds under a huge heated tent. We will have entertainment and plenty of family activities, including make-and-take crafts perfect for the holidays. This community event and activities will be offered at no cost.
December 1, 2015 – January 7, 2016: Festival of Trees, daily 10am – 5pm
Roll out the holly and share in some holiday cheer at the Tuckerton Seaport Festival of Trees. The event will feature dozens of trees, each decorated for a local non-profit organization. Free.
December 4-6: 13th Annual Christkindlmarkt, Friday, 4-8pm; Saturday, 10am – 5pm; Sunday, 10am – 4pm
A True Christmas Village Atmosphere! Holiday market and fair under huge heated tents. Santa (of course!), craft & gift vendors, fabulous food court, horse drawn cart rides, kiddie rides, trackless train, make & take crafts, hot Gluhwein, rolling chair sleigh rides on the boardwalk, entertainment and lots of holiday fun. Wine tasting and sales by Valenzano winery. The Festival of Trees will be open for viewing. $3 admission, free for members. $5 onsite VIP parking / free offsite parking with free shuttle bus.
December 27: Annual "The Affair at Cedar Bridge", (rain date Jan. 3, 2016), 2pm
The celebration of the last documented land battle of the Revolutionary war (1782). Experience a re-enactment of this battle at Cedar Bridge Tavern Historic Site, 200 Old Halfway Rd. Barnegat, NJ. This event is free to the public
January 1, 2016 : Fire & Ice Family Fun Celebrating the First Day of the New Year, 1-6pm
Ice cutting demo, ice sculpture, children's activities, make & take crafts, bonfire and food vendors. Top the day off with fireworks over the lake.
Click here for the entire events calendar for 2014.
Special Considerations
The Seaport is a fully accessible site. An American Sign Language interpreter can be provided without charge upon a two week advance request. Visitors may also use one of our folding wheelchairs. The Seaport provides large print materials upon request, has accessible parking and entrances, and adapts classes and programs to assist individuals with special needs. For accommodations, please contact us at 609-296-8868 at least two weeks prior to any program.
When You Go
Tuckerton Seaport & Baymen's Museum is located on Tuckerton Creek in Historic Tuckerton, 120 West Main Street, Tuckerton, New Jersey.
The Seaport is open daily 10am to 5pm, all year round, rain or shine!
Admission is very reasonable! General admission is $8 for adults, $6 for seniors, children ages 5-12 are $5. Under 5 and Members are free. There are a number of different membership options available.
For more information, call 609-296-8868 or go to tuckertonseaport.org. Tuckerton Seaport is located at 120 West Main Street, Tuckerton.
10/7/15
© SouthJersey.com 2015. All rights reserved. This article or parts thereof may not be reprinted or reproduced by any other party without the express written consent of SouthJersey.com. For more information, please call 856-797-9910.
For an extensive list of South Jersey Attractions, with links to websites and other information, check out our South Jersey Attractions page.
Article continues below
---
advertisement


---
Author:
Editorial Staff, SouthJersey.com
Archives
---
Advertise with SouthJersey.com
Shawnee High School
Acting Natural
Middle Township High School
Audubon High School
Cumberland Regional High School
African American Heritage Museum
Apple Pie Hill
Attractions: N. Pemberton RR Station
Johnson's Corner Farm
Lumberton's Air Victory Museum
Lucy the Margate Elephant
Emlen Physick Estate
Cape May's Washington Street Mall
Maple Shade High School
More...