World War II Lookout Tower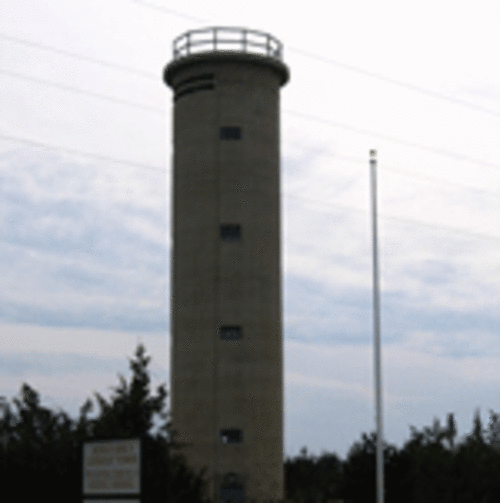 Jutting up into the sky out of the scrub brush and sand is Cape May Point's WW II Fire Lookout Tower, a lone tribute to Cape May's contribution in the war. For years it stood forgotten, its concrete form scoured by sand, wind and sun. Passersby and many other people have wondered what there was to this tower, formidably perched on Sunset Boulevard and overlooking the beach.
The tower is actually called Fire Control Tower no. 23. It was built in 1942, and was part of a chain of 15 towers that made up the Harbor Defense of the Delaware system known as Fort Miles. Of the 15 towers, 4 were in New Jersey, and the other 11 in Delaware. The Fort Miles system stretched from North Wildwood, N.J. to Bethany Beach, DE.
Of the four in Cape May County, the two in North Wildwood and Wildwood Crest were torn down. The third can be found inside the Grand Hotel in Cape May, the top of its tower still visible above the roof. When the Grand Hotel was built the owners chose to preserve the landmark by building around it, instead of tearing it down. Besides Tower no. 23 there is one other tower restored and open to the public in Cape Henlopen State Park Delaware.
These towers were used to spot and fire upon enemy ships trying to enter the Delaware Bay in WW II, because those ships could have headed up to Philadelphia. The chain of towers had fire ranges that overlapped, to protect a larger territory. Many of them were also accompanied by gun batteries, barracks and support buildings. The largest guns and the headquarters were located on the Delaware side because the shipping channel hugs the southern shore of the Delaware Bay.
Our Fire Lookout Tower no. 23 and the others were designed to target German battleships but not submarines. There were giant underwater nets to prevent submarines from entering the Delaware Bay, and American aircraft and Naval vessels to destroy any U-boat threats. There were never any battles fought in the Delaware Bay or any German ships or U-boats entered the bay. However there were many ships destroyed by U-boats in the waters off of Cape May.
Fire Lookout Tower no. 23 was built on site, using a sliding tube shaped form. First a ring of reinforced concrete was poured, and once the ring dried the tube form was slid upwards and the process repeated. The top of the tower was done separately with its own mold, and together the whole building process took less than 3 days. The tower's height is 100 feet, smaller than the Cape May Point Lighthouse at its 157 feet.
Cape May was very important in WW II, and had a lot of war activity. Cape May harbor had a Naval Air Station, a Coast Guard base and an airport. Naval Air Station Wildwood, now the Cape May Airport, trained aircraft carrier pilots. Cape May Shipbuilders built Navy tugboats and dredges, and the Northwest Magnesite plant, which made an ingredient used in firebricks for steel mills, was located across Sunset Boulevard from Fire Control Tower No. 23.
The Mid-Atlantic Center for the Arts (MAC) listed the tower on the New Jersey Register of Historic Places on May 29, 2003, and on the National Register on Nov. 17, 2003. They then began renovations, including building spiral staircases in the tower so that the public can safely climb to the top, constructing a wooden walkway and deck around its base, replacing the missing windows and doors, outfitting the watch room and viewing platform at the top, installing panels to illustrate its history and recreating historical details, such as the original wooden ladders.
Today, you can go up into the WW II Fire Lookout Tower Number 23, and see for yourself what it would have looked like to help protect our shores from attack long ago.
Visit it on Sunset Boulevard in Cape May Point.
For more information, click here, or go to capemaymac.org and click on the Attractions tab on the top-left side of the homepage, then click on World War II Lookout Tower.
You can contact MAC at
609-884-5404
800-275-4278
Mid-Atlantic Center for the Arts
P.O. Box 340
1048 Washington Street
Cape May, NJ 08204
9/18/15
© SouthJersey.com 2015. All rights reserved. This article or parts thereof may not be reprinted or reproduced by any other party without the express written consent of SouthJersey.com. For more information, please call 856-797-9910.
For more South Jersey History, visit our South Jersey History page.
For an extensive list of South Jersey Attractions, with links to websites and other information, check out our South Jersey Attractions page.
Article continues below
---
advertisement


---
Author:
Editor/Jessica Westerland
Archives
---
A TALE OF THREE WEDDINGS
Timber Creek's Leary heads to Illinois
One of Us
Truer Words Have Been Spoken
A Thriving County
Executive Q&A
A Man of Many Faces
Super Women
Vocal Leader
Seeking Acceptance
The Business of Health Care
Mommy's Gone Viral
Singles: December 13
2017 Men of the Year
The Weekender
More...