Leaming's Run Gardens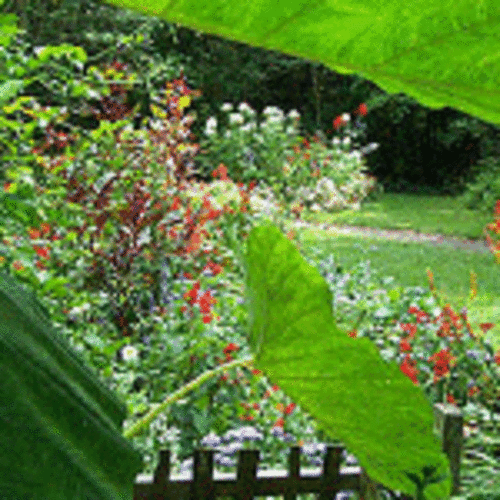 Every now and then in the spring and summer, when the weather is just right, there could be nothing better than simply getting out and taking a walk. What is even better is having the scenery of lush gardens around you, full of vibrant flowers and plants, making you feel like you're living in a painting. Sound enchanting?
Leaming's Run Gardens features a collection of 25 themed gardens, a fernery, and a shady bamboo grove. It also houses bridges, ponds and nooks to add to these intricate gardens.
Colonial Farm
What's great about this attraction isn't just the gardens it provides, but also its history. There is a colonial house on site from the 18th century where the family that started these gardens lived. It displays the problems faced by whalers who first settled Cape May County and continues to be the last remains of the example of a whaler's home in New Jersey. It still produces tobacco and cotton, just as it did in 1695. And outside of the one room log cabin, a vegetable garden thrives, laced with herbs. There are even farm animals.
Roots
Leaming's Run Gardens acquired its name from the stream that flows through the vicinity. Jack and Emily Aprill purchased the land in 1957 which included 50 woodland acres and the historic Thomas Leaming House, one of the oldest homes in Cape May County. The graves markers from the Leaming family are outside of the house as well. The family designed and brought these gardens to life over a period of five years. It was their goal to share a beautiful place full of gardens for people to visit, all while preserving the natural environment.
Not only is Leaming's Run a great historical attraction, it is a great educational landmark as well. Containing a variety of plant, insect, and animal life, it makes for a great trip to learn about the ponds fish, eels, frogs and turtles. Or perhaps the rare native plants and mushrooms, oaks, hollies, pines, ferns. Butterflies, dragonflies and hummingbirds also can be found all over. In fact, August is the perfect time to come and see the ruby-throated hummingbirds that pit stop here on their migration south each year.
If You Go...
From June 14 - September 7, open daily from 10am until 4pm.
From September 8 - September 27, open Fridays, Saturdays, and Sundays from 10am until 3pm.
Closed for season after September 27. Admission is $8 for adults (over 18), $6 for ages 14-18, $5 for children 5-13, and free for children 6 and under.
Pets are not permitted in the gardens.
They offer a wide range of group tours and activities for all ages and interests. Garden clubs, senior groups, and school groups in particular enjoy visiting Leaming's Run. Call 609-465-5871 for more information. The gardens and restrooms are wheelchair and stroller accessible, however the paths are hard-packed dirt and gravel and may be muddy after heavy rain. No food is sold on the premises, but there are several restaurants within five miles, and there is a picnic area on the premises.
Come and experience the largest annual garden in the United States. Take advantage of the beautiful summer weather by getting out and touring these beautiful gardens. Just don't forget your sunscreen, camera, binoculars, insect repellant and comfortable shoes!
Leaming's Run is located at 1845 Route 9 in North Cape May Court House (Swainton). For more information, call 609-465-5871 or go to http://leamingsrungardens.com.
8/22/15
Photo by Mike Rousch.
© SouthJersey.com 2015. All rights reserved. This article or parts thereof may not be reprinted or reproduced by any other party without the express written consent of SouthJersey.com. For more information, please call 856-797-9910.
For an extensive list of South Jersey Attractions, with links to websites and other information, check out our South Jersey Attractions page.
Article continues below
---
advertisement


---
Author:
Editorial Staff, Sarah Arot
Archives
---
In Good Health
2017 Executives of the Year
Superior Sandwiches
Raise a Glass
Impressive New South Jersey BBall HOF class
The Promise of Public Transportation
Empowering the Next Generation
Singles: January 3
River Revitalization
Spreading Cheer
Singles: December 27
Winter Retreat
Are Holiday Parties Back in Favor?
Support System
Singles: December 20
More...