The Wetlands Institute in Stone Harbor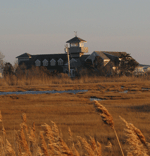 The last place some people think to visit when they're looking for a fun day trip is the Wetlands, but at the Wetlands Institute in Stone Harbor, volunteers work to make visitors' trips both fun and educational. The conservation and preservation of coastal ecosystems is the inspiration behind this fun and educational experience for families, school groups and vacationers. They are open year round and have great attractions offered throughout.
Visiting
Each visit begins at Marion's gardens, which surround the parking lot and line the walkway to the building. Hundreds of native plants can be seen, each chosen to attract specific birds and butterflies. This garden resembles an historic English cottage garden. Most of the plants are labeled for visitors.
You can visit Marshview Hall, which has an extensive view of the surrounding marsh (thus the name!). There is a variety of wildlife art and carvings, including several hand-carved wooden bird mobiles, as well as hand-sewn quilts. During the summer, there is a mini camera mounted near an osprey nest that allows for up-close views of nesting osprey.
There's the Diller Coastal Exhibit Building, which houses the institute's aquarium. It features more than a dozen exhibits with live marsh animals as well as a special "teacher's tank" with live horseshoe crabs, sea stars and lots more. It also houses hands-on, interactive exhibits designed to immerse visitors in the wetlands life.
There is an exhibit dedicated specifically to the diamondback terrapin. Here, you can learn all about this creature and its importance to the ecosystem. And there's the Salt Marsh Trail with views incomparable to anything like it. At the end, there's a 125-foot pier where you can view one of the world's largest colonies of laughing gulls.
The observation tower is another addition to this institute that provides additional gorgeous views of the wetlands area and, on a good day, the Jersey shore. Even climbing up the spiral steps is an adventure as you pass through the under-the-sea mural.
Events
The Wetlands Institute makes a great field trip destination, but it has more to offer than just beautiful sights. They offer summer nature classes for kids of all ages, as well as a variety of speaker and outreach programs.
Coming up:
Crabulous Crab Day, Friday July 17, from 9:30am–3pm. Non-Member: $10 Adult, $8 child, $30 family pack of 4; Member: $8 Adult, $6 child, $25 family pack of 4.
Wetlands Institute Summer Celebration, Saturday August 1, from 6-9pm, at The Reeds at Shelter Haven, 9601 3rd Avenue in Stone Harbor. This event benefits the Wetlands Institute. Enjoy wine & cheese as you cruise the back bay, experience scenic views, and learn more about the wetlands.
The Institute has many other special events scheduled throughout the year. There is a lot going on, so check their calendar for dates and times.
Important Information
Summer Hours (2015) May 1 through October 12:
Monday through Sunday: 9:30am to 4:30pm
Tuesday, Wednesday, Thursday from June 17 to August 28: Special evening hours until 8pm
Open Independence Day and Labor Day 9:30am to 4:30pm
Winter Hours (2015-2016) October 13 through April 28:
Friday , Saturday and Sunday 9:30am to 4:30pm
Monday through Thursday
Closed from December 23 through January 2
Open Martin Luther King Day and President's Day, 9:30am to 4:30pm
Special Hours Notice: It is sometimes necessary to close a building or facility to the public for part or all of a day due to maintenance repairs or special events. Please call ahead to verify hours.
Admission is $8 for ages 13 and up; $6 for ages 3-12. Members are admitted free.
The Wetlands Institute is located at 1075 Stone Harbor Blvd. in Stone Harbor.
For more information about the Wetlands Institute, its programs, or how to get involved as a supporter, please call 609-368-1211, e-mail education@wetlandsinstitute.org, or go to www.wetlandsinstitute.org.
Updated 7/1/15
Photo by Jessica Westerland
© SouthJersey.com 2013. All rights reserved. This article or parts thereof may not be reprinted or reproduced by any other party without the express written consent of SouthJersey.com. For more information, please call 856-797-9910.
For an extensive list of South Jersey Attractions, with links to websites and other information, check out our South Jersey Attractions page.
Article continues below
---
advertisement


---
Author:
Editorial Staff--SouthJersey.com
Archives
---
Advertise with SouthJersey.com
Shawnee High School
Acting Natural
Middle Township High School
Audubon High School
Cumberland Regional High School
African American Heritage Museum
Apple Pie Hill
Attractions: N. Pemberton RR Station
Johnson's Corner Farm
Lumberton's Air Victory Museum
Lucy the Margate Elephant
Tuckerton Seaport & Baymen's Museum
Emlen Physick Estate
Cape May's Washington Street Mall
More...