Emlen Physick Estate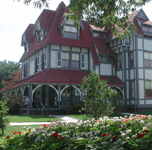 A visit to the Physick Estate offers a look back at our Victorian past through the estate's architecture, decorative arts, customs, and the lives of one particular Cape May family, the Physicks. This 18-room mansion was designed by famous architect Frank Furness in 1879. Known for its Victorian "stick style," it sits on 4 acres and houses 9 buildings.
A Brief History
This estate was the home of Dr. Emlen Physick, who never married. Physick was descended from a famous and wealthy Philadelphia family. He lived with his widowed mother, Frances Ralston, and maiden Aunt Emilie Parmentier. Physick followed in his grandfather's footsteps by completing medical training, although he never practiced. He spent his time owning two tenant farms, raising livestock and breeding animals. He was also the first person in Cape May to own an automobile.
The home was restored by the Mid-Atlantic Center for the Arts (MAC) in the 1970s. A Victorian herb garden was created to add flair to the environment around the estate.
What to Look For When You Go
Outside, there are oversized features typical of Furness' design. Upside-down chimneys, hooded "jerkin-head" dormers, and huge stick-like brackets on the porch. On the inside, the molding, fireplaces and furniture are perfect examples of classic Victorian style. Examples of this type of architecture are the wood construction with boxy projections, such as bays, wings and towers, grid work of raised boards--called stick work--overlaying the clapboarded walls, and simple decorative elements, often geometric in design. These elements are in marked contrast with the ornate gingerbread trim found on many other Cape May houses; irregular, asymmetrical forms and roof lines. Even a walk around the grounds is an educational experience with the herb garden, created to replicate that of one in the 1800s.
Facilities
You can visit the Carriage House, established in 1876, where you can purchase souvenirs in the museum shop or visit the art gallery that hosts a constantly changing variety of exhibits. Or visit the Twinings Tearoom for lunch and afternoon tea.
Ghosts at Physick
At Cape May's "original haunted house," staffers always felt that they weren't alone, but these feelings were finally confirmed when psychic medium Craig McManus began his investigations into the town's paranormal activities. Most prominent is Dr. Physick's Aunt Emilie, who has great energy and a vibrant smile, according to McManus. "This is a ghost who knows everything that is going on in her home," McManus wrote. He also explained that, after her death, Emilie had stayed on to watch over the house, which had fallen into disrepair before its restoration began in 1970. McManus has reported Dr. Physick's dogs being present. He encountered several in the house on his first visit.
Apparently, there is some disturbance when the dogs are about, because they were never allowed in the house by Mrs. Ralston. Aunt Emilie, however, had a softer spot for Dr. Physick's canine companions, and prepared their dinners in the estate's kitchen, and would let them in the house when Mrs. Ralston was absent.
One of MAC's most popular ghost tours is Midnight at the Physick Estate, where McManus leads a group of 25 people through the house to commune with its spirit residents. "Cape May's original haunted house never disappoints," McManus wrote about a recent tour. "It was one of the best haunting experiences I have had in my career!
Important Information
MAC offers guided tours of the Physick estate throughout the year. Tours are approximately 1 ¼ hours long. The Physick Estate is open all year long. It's located at 1048 Washington St., in Cape May. Free parking is available at the Estate. For further information, call 609-884-5404 or go to capemaymac.org.
Whether you're a history buff, excited by architecture, or interested in the supernatural, this attraction makes for a fun and educational day trip all year round.
9/28/15
© SouthJersey.com 2015. All rights reserved. This article or parts thereof may not be reprinted or reproduced by any other party without the express written consent of SouthJersey.com. For more information, please call 856-797-9910.
For an extensive list of South Jersey Attractions, with links to websites and other information, check out our South Jersey Attractions page.
Article continues below
---
advertisement


---
Author:
Editorial Staff, SouthJersey.com; Sarah Arot
Archives
---
Advertise with SouthJersey.com
Shawnee High School
Acting Natural
Middle Township High School
Audubon High School
Cumberland Regional High School
African American Heritage Museum
Apple Pie Hill
Attractions: N. Pemberton RR Station
Johnson's Corner Farm
Lumberton's Air Victory Museum
Lucy the Margate Elephant
Tuckerton Seaport & Baymen's Museum
Cape May's Washington Street Mall
Maple Shade High School
More...