Here We Go Again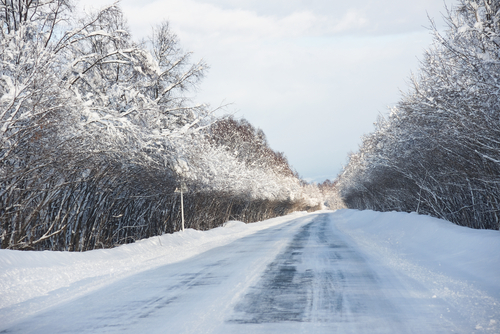 Snowfall in the Philadelphia began early on Thursday morning. AccuWeather was predicting accumulation of 6-12 inches in the city and north, and lesser amounts to the south. Wind gusts were expected to exceed 55 mph on Thursday night and Friday.
KYW's Ian Bush reports from the KYW Storm Center that area transportation and utility officials say they're preparing for whatever the latest winter wallop has in store for the region.
Officials in Philadelphia announced that a snow emergency will be in effect beginning at 9am Thursday, which means there's no parking on marked routes after that time.
Streets commissioner Clarena Tolson says that trash pickup on Thursday and Friday is suspended, as collection trucks are converted for snow removal. Rubbish pickup for affected customers will take place the following Thursday and Friday.
The Pennsylvania Department of Transportation (Penndot) said on Wednesday afternoon that it has 420 salt and plow trucks at the ready. Many of those trucks were already out, spraying roads with a salt brine solution to keep snow from instantly sticking.
There are 51,000 tons of salt stockpiled in the Philadelphia five-county area. Penndot officials say they have already used more salt this winter than any before, since their recordkeeping began in 1981.
Penndot spokesman Gene Blaum says blizzard conditions may pose a problem for crews:
"The severity of the winds may be much stronger than we've faced. So I think blowing snow, drifting snow, that's going to be a major issue we'll be dealing with."
Transportation officials in New Jersey have similar concerns. Joe Dee is a spokesman for the New Jersey Department of Transportation:
"Blizzard conditions are difficult because you plow something and then the snow blows right over, and you've got to do it again. It does make the job more difficult, but the crews will get out there and they'll plow and salt for as long as it takes."
Both Dee and Blaum say the two weeks between storms have given road workers the chance to get highways in good condition.
Statewide, Penndot still has about $21 million of its $180 million winter budget allocation left to deal with this latest storm -- and what's left of winter. In the Philadelphia five-county area, Blaum says, they've spent 85 percent of what's been budgeted for winter services -- with about $3 million left from the $18 million in their coffers before the season's first flake fell:
"If we should go over budget we're going to need to draw money from another maintenance line-item here in the region to cover any cost overruns. But it doesn't really affect our operations."
In New Jersey, the state DOT says they've already blown through the $20 million winter budget by about $15 million. But Dee says that despite the red ink, there's no change to their crews' snow-fighting plans:
"It's safety first, get the job done -- plow the streets, plow the highways, and then we'll take care of paying the bills on another day."
Strong winds from the blizzard a couple weeks ago left more than 100,000 homes from the city and the suburbs to the shore without power -- some for a number of days.
Peco spokesman Ben Armstrong says that once again they are shifting crews from maintenance to storm response:
"We anticipate 40-50 mile an hour wind gusts. And when you accompany that with a heavy, wet snow, that is where we could have some problems on the electric system."
KYW's Karin Phillips spoke to AccuWeather meteorologist Elliot Abrams about this latest storm, which will include both snow and high winds and has been given the descriptive name of a "snowacane."
Abrams says it's good to give a potentially dangerous storm a memorable descriptive name, because then people will pay attention. And he says this is indeed an unusual storm:
"The thing about this is that there's this pocket of cold air in the upper atmosphere over the Great Lakes, moving southeastward, and then there's this storm that's coming up from the southwest and is going out to the ocean east of Maryland. And when the two come together, the storm won't be able to continue northeast and it will stall."
Which is bad because that gives the strong winds accompanying it a chance to do some real damage, especially along the Jersey sore. Abrams says the last time we saw a storm like this was in 1962, which did a lot of damage at the shore.
KYW's Mike Dunn reports from City Hall that Philadelphia streets crews were gearing up for this latest storm. And Mayor Nutter, speaking Wednesday morning on KYW Newsradio's "Ask the Mayor" program, defended his government's approach to blizzard-fighting.
Nutter fielded listener questions and criticisms about his snow-fighting tactics, including the decision not to immediately haul away snow. He said that it is simply too time consuming:
"Eventually we do take some of the snow away and put it in safe places. But on the front end of any storm, the primary focus is on plowing those streets and making sure the travel lanes are clear."
He also defended the decision to fine residents who don't shovel their sidewalks even while some smaller streets remained unplowed:
"We have 2,595 miles of street network that we try to respond to. And we try to do the best that we can with all of the equipment and personnel that we have. But if each property owner does their part, it makes it a lot easier for us."
KYW's John Ostapkovich reports that we are once more into the breach, while dreaming (perhaps) of the beach! Our record-setting winter is taking aim at us once again.
One guy says it's "snow problem," but most people seemed to be getting ready for the worst.
Article continues below
---
advertisement


---
Author:
KYW Newsradio 1060
Archives
---
Who's Who in Health Care
Former Shawnee star Doolittle Calls It A Career
Camden County College welcomes Baseball Hall of Fame
South Jersey Football Games of the Week
Out & About
QB Ronnie Borden is Back in the Game
Should fans be worried for the Phillies bullpen?
South Jersey Football Games of the Week
A look at South Jersey's Top H.S. Girls' Soccer Teams
Out & About
Eagles will be fine after close call in opener
High School Football Games of the Week
Is it Super Bowl or bust for the Eagles?
What's New in South Jersey?
From New Jersey to Nashville
More...