Johnson's Corner Farm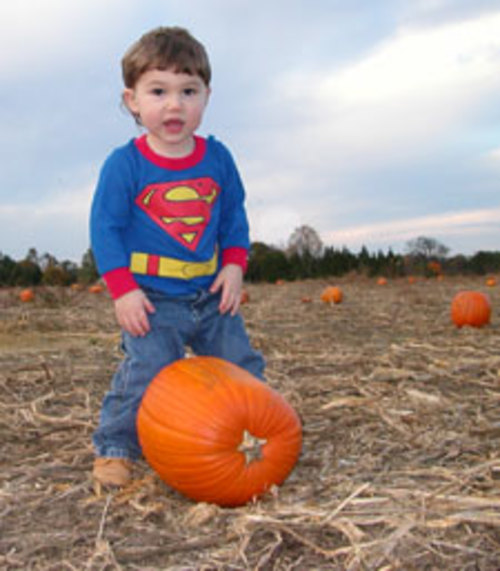 Johnson's Corner Farm in Medford, and now also in Jobstown, has pick-your-own hayrides and year-round activities for the whole family to enjoy!
Throughout the year, you can take a hayride and pick the seasonal crop, enjoy fresh food in the Barn Bakery and Farm Kitchen, tour the farm, enjoy the Discovery Barnyard with the little ones, or even hold a birthday party at Johnson's Corner Farm!
TRICK or TREAT at the Farm Saturday, October 31 and Sunday, November 1 from 11am-4pm.
Exciting news! Their second location, Johnson's Locust Hall Farm is now open. This location can be found at 2691 Monmouth Road in Jobstown. Click here for specific information about this new location, including the hayride and picking schedule. They've got a play area and animal farm, cider donuts, pies, pony rides every weekend, pedal cars, and more!
Pick Your Own Hayrides
Take a hayride into the fields and pick your own fresh produce! The hayride is fun, and there is plenty of time to leisurely walk through the fields and pick your favorites!
Throughout the year, strawberry, sugar snap peas and cherries kick off the first major harvest of the year, during May and June. Mid-June through July, there are blueberries! Sweet corn and peaches or nectarines follow, in July, August, and into September. Apples—Fugi, Empire, Red Delicious, Golden Delicious, Staymen, Granny Smith, Pink Lady, Cameo and Gold Rush—are available (see the website for specific variety harvest dates) in September and October. Pumpkins are available September through Halloween! And popcorn, sweet potatoes, broccoli and cauliflower are in season and available for harvest in November.
Check the website for specific hours and harvest offerings. The cost for the hayride is $3.75 per hayrider. The cost for the produce you pick is different for each crop. When the hayride ends, the staff will weigh your pickings and charge you the flat per-pound price for that particular crop. When the weather is hot, they have "Pay the Temp Tuesdays," Friday night Farm-B-Que and Car Shows, and the ice cream window is open until 9pm.
Discovery Barnyard and Animal Farm
For children, the Discovery Barnyard features climbing rocks, a space net, go cart tracks (one for older children, one for the younger ones to, a pretend farm and a tee-pee town. The barnyard has three play areas; each is for a different age group, starting with toddlers. In the Animal Farm, kids can see the sheep, goats and chickens. An obstacle course includes pipe slides, tire climbs, balance beams, a rope maze and a "wacky bridge." A Splash Pad was added in 2011. The Discovery Barnyard and Animal Farm is open from 9am until 6pm, weather permitting. Day passes are $7.50 per child between age 12 months and 12 years; $3.75 for adults and children 13 and older. All paid hayriders get 1/2 off Discovery Barnyard and Animal Farm Admission ($3.75 child, $1.87 adult)--not valid during Pumpkin Season or for their Holiday program. A season pass is $40 per child/per season; $20 per adult/per season. Sundays, from 5pm until close, Season Pass Holders are welcome to host a guest family to enjoy the Discovery Barn Yard and Animal Farm at no additional cost! You can bring 1 guest free for every person on your Season pass. Come for the evening, just remember to bring swim suits and towels for the kids! (Bring your guests into the Market to get stickers for both your family and theirs) *All children must be accompanied by an adult, and all adults must be accompanied by a child. Pies, Pies, Pies
Johnson's makes some out-of-this-world pies! If you haven't already tried one (or a few), there are lots to choose from! Some of the pies produced by the farm include apple berry, cherry, coconut custard, chocolate chip, strawberry rhubarb, pumpkin and sweet potato.
Order and view menus for pies (Thanksgiving included), breads, cookies, soups, dips and more by clicking here.
The Barn Bakery and Farm Kitchen
Built in 2007, the 1,600-square-foot Barn Bakery offers irresistible treats by season, and some treats you can find all year long (like their amazing apple cider donuts!). Some of the specialties include strawberry apple tarts, blueberry muffins and peach berry pies. Johnson's creations all give you that homemade comfort and quality.
The Farm Kitchen always has a variety of fresh food items. You can put together a full meal for holidays, special occasions, or just make any day special with their main dishes, soups, salads and side dishes. Main course options include eggplant parmesan, ribs and chicken. Side dishes include potato salad, macaroni salad, cucumber salad and coleslaw.
As if that wasn't enough, if you want to cook at home, check out the Recipes section of their website for great recipes and cooking tips!
Special Events at the Farm
Fall and Halloween are special at Johnson's Farm, and the Market at the farm is transformed into a Christmas wonderland, including Christmas trees, wreaths, gifts, cookies and fun activities for the entire family to enjoy!
For seasonal updates and to find out what's going on at the Farm, join the e-mail list on their website.
Birthday Parties and Field Trips
Johnson's Corner Farm offers opportunities for large groups to have fun together and enjoy a learning experience along the way.
Check out their website for the specifics on their birthday party, picnic, company picnic, or family get together offerings.
Tours include a hayride to pick the seasonal crop, time for a snack or lunch in the picnic area, animal feeding and play time in the Animal Farm and obstacle course, shopping time, and more. Children will have a hands-on experience in learning about farming and seeing how fruits and vegetables are grown.
Get more information and make a reservation by e-mailing Reservation@johnsonsfarm.com or by calling 609-654-8643.
If you go
Johnson's Corner Farm is located at 133 Church Road in Medford. Regular hours are 8am until 7pm daily. For more information, call 609-654-8643 or go to johnsonsfarm.com.

10/27/15

© SouthJersey.com 2015. All rights reserved. This article or parts thereof may not be reprinted or reproduced by any other party without the express written consent of SouthJersey.com. For more information, please call 856-797-9910.

For an extensive list of South Jersey Attractions, with links to websites and other information, check out our South Jersey Attractions page.

Article continues below

---
advertisement


---


Author: R. Cohen Ohlstein


Archives
---
In Good Health
2017 Executives of the Year
Superior Sandwiches
Raise a Glass
Impressive New South Jersey BBall HOF class
The Promise of Public Transportation
Empowering the Next Generation
Singles: January 3
River Revitalization
Spreading Cheer
Singles: December 27
Winter Retreat
Are Holiday Parties Back in Favor?
Support System
Singles: December 20
More...