Falcon Turn Daylily Garden Earns Honors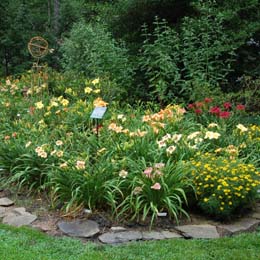 If you take a trip to Falcon Turn Daylily Garden in Southampton, New Jersey, you will find more than 1350 types of daylilies. To Falcon Turn's owner, Jane Guillard, the garden is a floral fantasy come true.
"I have dreamed of becoming a display garden ever since I started seriously growing daylilies 15 years ago," Guillard said.
From her first trip to a daylily garden, Guillard was smitten. Guillard set out to make her dream a reality by voicing her passion.
"I said to my husband, 'I want to do this!'"
From then on, it was that unfailing combination of inspiration and perspiration that led Guillard to success.
Not only has the garden blossomed into a destination for flower-lovers—it has been named an official display garden for the American Hemerocallis Society (AHS), hemerocallis being the scientific title for the daylily. AHS is a national organization charged with promoting, encouraging, and fostering the development and improvement of daylilies. The organization also focuses on keeping the public interested in the flowers.
In total, there are just 330 AHS Display Gardens in the United States and Canada. Guillard's garden is only one of two in the Garden State. The goal of the display gardens is to present the best cultivars— plant groupings selected for their outstanding characteristics—that North America has to offer, as well as to inform the public about modern daylilies and the ways in which they can be incorporated into landscapes. At Falcon Turn, visitors can see an eclectic, vibrant assortment of daylilies, ranging in size, shape, and color from various hybridizers, or crossbreeds. They will even see seedlings, as well as Guillard's registration.
Not just any garden can be designated with AHS Display Garden status. In order for a garden to be chosen by the organization, it must be well-kept and predominantly weed-free, with the daylilies displayed to their maximum potential. Therefore, Guillard had to clearly label each of the 1350 plants with their cultivar and hybridizer.
It was not until the summer of 2012 that Guillard felt that her garden was ready to go on display. She toiled in the summer heat to get Falcon Turn in top condition. Once the weeding and labeling was finished, Guillard sent an application to the AHS Garden Chairman and the AHS Regional President, who examined and recommended her garden before it could be given final approval.
Guillard was thrilled when her garden was approved. She said, "It was so exciting to see my approval letter and finally see my garden's name listed on the AHS webpage." However, the real sense of accomplishment came when she received the official display garden plaque in the mail. She said, "That's when I knew it was for real."
Falcon Turn Daylily Garden is located at 34 Falcon Dr., Southampton, New Jersey. Each year, hundreds of varieties of daylilies are on sale during the open garden weekend, at the Burlington County Farmers Market, and by email request. For more information and to request a catalog, email falconturndaylilies@comcast.net, visit the garden's Facebook page , or call 609-330-2933
Article continues below
---
advertisement


---
Author:
Zoë Miller
Archives
---
'Tis the Season: Holiday Events Calendar
South Jersey 4th of July Guide
Jersey Shore July 4th Guide
Molding a Legacy
Symbolic of South Jersey
Family Fun
Dig This
African American Heritage Museum
Apple Pie Hill
Johnson's Corner Farm
Lumberton's Air Victory Museum
Lucy the Margate Elephant
Tuckerton Seaport & Baymen's Museum
Emlen Physick Estate
Cape May's Washington Street Mall
More Articles