Cinnaminson High School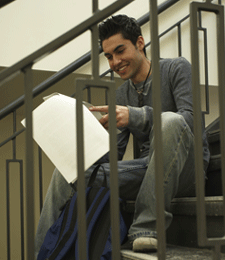 Cinnaminson High School is a four-year, comprehensive, public high school that serves students in ninth through twelfth grades from Cinnaminson Township in Burlington County. Cinnaminson's schools aim to develop students into self-motivated, multi-faceted people ready to face the world that lies ahead after graduation. According to their website, the school will help students gain an appreciation of knowledge, a desire to learn, and a respect for themselves and others.
Congratulations to recent students of the month: Tristan Scott, Andrew Odjemski, Emily Melone and Michael Ungvarsky.
Have you seen Cinnaminson High School's YouTube page yet? Check out videos of students from Introduction to TV Production and other classes at the school by visiting http://www.youtube.com/user/CinnaminsonHSTVProd?feature=mhum.
The CHS Home & School Association keeps an email list of parents, teachers and administrations who want to keep updated on what is happening at the school, as well as recaps of H&SA meetings. If you're the parent of a Cinnaminson High School student and would like to subscribe to their updates, send an email to HS_HomeSchool@cinnaminson.com with the word "subscribe" in the subject line.
The Cinnaminson High School Pirates compete in the Liberty Division of the Burlington County Scholastic League. The league consists of nineteen public and parochial high schools covering Burlington County, Mercer County and Ocean County in central New Jersey. Cinnaminson's teams include cross country, cheerleading, field hockey, football, soccer, tennis, volleyball, basketball, bowling, swimming, winter track, wrestling, baseball, golf, lacrosse, softball, and track and field.
Athletes this past spring season included Alex Ruiz, Marty McDonald, Chris Pawlikowski, Brandon Staub, Travis Pewor, Nick Thevanayagam, Jimmy Cicale, Mike McAndrews, Dalton Brauckmann, Nick Holl, Eddie Gore, Adam Berenato, Christian DeLuca, Wil Robinson, Jimmy Dever, Alex Forte, Nick Mahoney, Wyatt Holl, Norman Berry, Cody MacNair, Ryan Hanratty, Abby Bucci, Alexis Semola, Ashley Crow, Ashley Klein, Brittany Runyen, Brooke Figiel, Caitlyn Cook, Chelsea Price, Christina Gentile, Dejonet Jennings, Delani Pecchioli, Gia Trzaska, Jessica Ferris, Jessica Gant, Jill Kemble, Katie Bove, Kelly Sigmund, Marrissa Sozio, Megan Morris, Miranda Rooney, Morgan Hawk, Olivia Pestridge, Rachel Young, Sabrina Atkinson, Sarabeth Coyle, Shannon Profy, Tori Robinson, among many others.
The Cinnaminson High School Marching Band competes and performs at many events throughout each of their seasons. The members of the marching band perform pep songs and a half-time show at football games. In addition to this, the band has a long season of competitions within two Marching Band circuits: USSBA and Cavalcade of Bands.
Cinnaminson High School's monthly student newspaper, The Ship's Log, features articles written by students about sports, clubs and activities, teachers/staff and current events. A popular section of the paper includes a poll of students. Writers and photographers on the 2013-2014 staff include Megan Morris, Michael Zelinka, J.J. Walsh, Callie Gallagher, Jake Barnes, Andrew DeStefano, Sean Gallagher, Amanda McAneney, Anthony Murphy, Gia Cordisio, Valerie McAdams and Rachel Bastian.
Earlier this school year, art students at CHS entered the Vans Custom Culture shoe design contest. Only 2,000 schools could register and 50 schools were selected by the Vans judges for the finals, including Cinnaminson. Courtney Machamer, Marissa Sozio, Brandy Tolan and Brianna Ballinghoff's designs were selected to represent the school. Cinnaminson earned enough online votes to send them to the final event with four other schools in the country when they'll compete for a $50,000 prize for their art program and the chance for their shoes to be produced and sold in Vans' retail stores.
Cinnaminson High School is located at 1197 Riverton Road in Cinnaminson, NJ. For more information, call 856-829-7770 or visit Cinnaminson.com/Domain/29.
© SouthJersey.com 2014. All rights reserved. This article or parts thereof may not be reprinted or reproduced by any other party without the express written consent of SouthJersey.com. For more information, please call 856-797-9910.
For more information about what's going on in our local schools and what today's students are up to, visit our South Jersey Schools page.
Article continues below
---
advertisement


---
Author:
Meghan Shaginaw
Archives
---
Advertise with SouthJersey.com
Shawnee High School
Acting Natural
Middle Township High School
Audubon High School
Cumberland Regional High School
African American Heritage Museum
Apple Pie Hill
Attractions: N. Pemberton RR Station
Johnson's Corner Farm
Lumberton's Air Victory Museum
Lucy the Margate Elephant
Tuckerton Seaport & Baymen's Museum
Emlen Physick Estate
Cape May's Washington Street Mall
More...