Woodbury Junior-Senior High School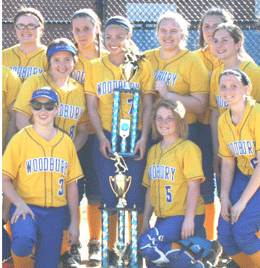 Woodbury Junior-Senior High School is a comprehensive, community, middle and high school that serves students in sixth through twelfth grades from Woodbury, Gloucester County. More than 70% of their students enroll in Honors or Advanced Placement classes.
The school has earned a place among the top public high schools in New Jersey and the country. Woodbury Junior-Senior earned a Silver Medal from U.S. News and World Report with a state ranking of #46. The school was one of only four in southern New Jersey to be ranked and the only high school in Gloucester County to be ranked.
Woodbury feels that a student's education does not end when the bell rings at the end of each day. According to their website, various activities and athletics at the Junior and at the Senior High strive to enhance what the student has learned in the classrooms with a practical, hands-on program that will expose the student to how the lessons learned in the classrooms can be used in the real world. Activities include Junior and Senior High Yearbook, White and Gold newspaper, National Honor Society, Theater Club, Robotics Team, WHS Choir, WHS Band and others.
The Robotics Team at Woodbury is a group of students interested in pursuing a career in engineering and technology. This team learns to design and build a robot. Robots from previous years included one modeled after the 2010 Camaro and one that was designed to retrieve and construct parts of an airplane. For more information, check out the Robotics Team's website.
The High School Band comprises several bands, including the Concert Band and the Marching Band. All members of the Marching Band are also members of the Concert Band. The other bands at the High School level are the Wind Ensemble and the Jazz Band. These bands include selected musicians from the Concert Band.
Staff members in the yearbook club learn to organize, plan, and lay out text and artwork for the high school yearbook. They also learn photography and Photoshop skills in meetings before and after school.
Congratulations to juniors Casey Sharp and Zeaenna Bracket who both won The Sage Colleges' "Student Sage" Award, based on their exemplification of Sage's motto, "To Be, To Know, To Do." Both students are guaranteed scholarships toward tuition at Russell Sage College or Sage College of Albany.
Woodbury High School is the oldest member of the Colonial Athletic Conference, which is composed of smaller schools. Woodbury's many athletic teams include Boys and Girls Soccer, Boys and Girls Tennis, Boys and Girls Indoor Track, Boys and Girls Swimming, Boys and Girls Cross Country, Boys and Girls Track and Field, Boys and Girls Basketball, Football, Wrestling, Golf, Baseball, Field Hockey, Cheerleading and Softball (pictured).
Senior athletes John Tierney, Sarah Novalsky, Jeff Hock and Madison Stebich were recently honored at the Colonial Conference Scholar Athlete/Sportsmanship Banquet. John and Madison were Woodbury's scholar athletes and Sarah and Jeff were the sportsmanship winners.
Congratulations to the school's students of the month for September 2013 – April 2014: Daniel O'Leary, Sara Juliano, Tori Lugiano, Samantha Aquino, Ashley Campbell, Jazlyn Pagan, Serena Turco, Summer Sklivas, Dean Triplett, Phaedra Badawika, Justin Vera, Charles Dorsett, Rebecca Martin, Deontae Moore, Manuel Echevarria, Eduardo Garcia, Lindsey Haban, Gregory Carey, Briana Abate, Brandi Esters, Kyle Bailey, Laura Knecht, Joshlyn Christopher, Daizja Williams, Eric Benn, Maria Berggren, Brandon Christina, Alexander Laneader, Naseemah Alfareh, Michael Navas Vasques, Derron Clement and Andrew Cocciolone.
Last month, a member of the Woodbury High School class of 1957 bequeathed $400,000 to the high school to establish a trust in which interest earned will be used to award scholarships to graduating seniors pursuing higher education. According to the school's site, Dr. John E. Hesson never married nor had children but he deeply cared for students and loved people.
Woodbury Junior Senior High School is located at 25 North Broad Street in Woodbury. For more information about the school, call 856-853-0123 or visit woodburysch.com/hs.
© SouthJersey.com 2014. All rights reserved. This article or parts thereof may not be reprinted or reproduced by any other party without the express written consent of SouthJersey.com. For more information, please call 856-797-9910.
For more information about what's going on in our local schools and what today's students are up to, visit our South Jersey Schools page.
Article continues below
---
advertisement


---
Author:
Meghan Shott
Archives
---
Advertise with SouthJersey.com
Shawnee High School
Acting Natural
Middle Township High School
Audubon High School
Cumberland Regional High School
African American Heritage Museum
Apple Pie Hill
Attractions: N. Pemberton RR Station
Johnson's Corner Farm
Lumberton's Air Victory Museum
Lucy the Margate Elephant
Tuckerton Seaport & Baymen's Museum
Emlen Physick Estate
Cape May's Washington Street Mall
More...