Palate: Firebirds Wood Fired Grill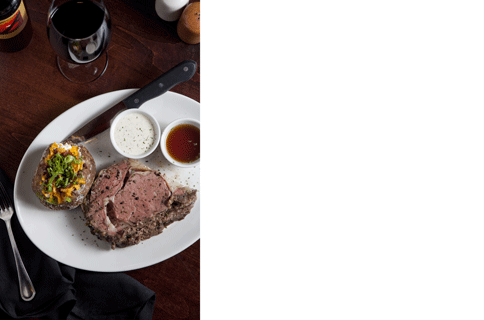 …A Dining Review from the pages of South Jersey Magazine…
Where There's Smoke … Firebirds Wood Fired Grill
400 Route 38
Moorestown
(856) 380-0604
3 forks
The Moorestown Mall is back in business. After a slight decline in retail over the last few years, the brains behind real estate company PREIT took advantage of the emerging foodie trend and the township's sparkling new liquor licenses and set to work creating a localized dining scene that would rival cities and Main Streets.
One of those new eateries is Firebirds, a growing national chain of steakhouses specializing in wood-fired food. Smoke billows out of the top of their oven around the clock, serving as a warm welcome from the outside. Meanwhile, new outdoor seating provides the opportunity to take in the cool summer nights.
The menu feels disjointed from the actual restaurant. While the space itself was chic and upscale, with low and intimate lighting, including a modern bar space and plenty of high-backed booths for added privacy, the menu seemed casual and relaxed. The appetizer choices in particular, like chicken wings and quesadillas, just didn't match the experience I was expecting when walking in.
But fantastic flavor was there, especially in the smoked chicken wings, which came with blue cheese and chopped celery. The first bite of the juicy meat came packed with tons of smoky flavor that helped them stand out from other wings, matching the smell that lingered in the air from the restaurant's open kitchen.
And while the lobster spinach queso with tortilla chips fulfilled its promise with plenty of spinach and a smooth, creamy pepper Jack cheese blend, there wasn't much lobster to be found. The few small pieces were appreciated, and added an extra briny, buttery taste to the dip.
There were more than enough steak options to choose from, as well as the satisfying pecan crusted trout, but non-beef entrees, like coconut shrimp, chicken breast and pasta, were uninspiring. The slow roasted prime rib platter, however, with housemade au jus, horseradish sauce and a loaded baked potato, arrived cooked to a perfect medium rare, with a crispy exterior that was crackling with fresh herbs and a nice bit of salt. The accompanying sauces packed plenty of flavor, but didn't distract from the actual prime rib. And the potato, which arrived to the table in classic steakhouse style—rubbed with lots of salt and loaded with sour cream, butter, bacon and scallions—was hearty enough to serve as a meal on its own.
The bleu cheese filet mignon, served wrapped in bacon with port mushrooms and a potato, was a buttery and tender cut on its own. But that flavor was lost in a sea of bleu cheese sauce which strongly overpowered everything else on the plate. It was a missed opportunity to highlight one of the best cuts of filet mignon that I've ever had, which I got to experience after tossing some of the pungent sauce to the side.
The mushrooms, which are also offered as a side along with several other items, were soft and had a nice bite from the port, while an additional side of sautéed spinach was buttery with plenty of seasoning.
A family-sized portion of dense Big Daddy Chocolate Cake came to the table, standing six layers tall and dripping with a rich chocolate ganache alongside raspberry sauce and a scoop of vanilla ice cream. Chocolate cake is a standard on lots of restaurant menus, but this behemoth beauty puts others to shame. It's super moist, chocolate-y but not too sweet, and definitely big enough to split between two (or three) people. This dessert that will leave you with sweet dreams at the end of the night.
It's exciting to see some new life in the Moorestown Mall, especially a place like Firebirds that seems to cater to local families. The chain seems to get lost in an upscale appearance when it has the potential to shine as a casual steakhouse, especially considering just how well their meats were prepared. And as long as Firebirds continues to embrace their smoked skills, I can see a bright future ahead.
Published (and copyrighted) in South Jersey Magazine, Volume 11, Issue 4 July, 2014).
For more info on South Jersey Magazine, click here.
To subscribe to South Jersey Magazine, click here.
To advertise in South Jersey Magazine, click here.
Article continues below
---
advertisement


---
Author:
Nancy Donovan; Photo by Phil Gray
Archives
---
Who's Who in Health Care
Crowd Pleaser
The Big Impact of Small Businesses
Feeling Festive
Mainland's Historic Football Season
A Rooting Interest
Eagles Continue to Fly High
Raising the Bar
Thanksgiving Football Continues
Hotstovers to honor All-SJ Baseball and new HOF inductees
South Jersey Football Games of the Week
The Phillies make the right move with Aaron Nola
Kingsway Field Hockey Finishes Strong
Should Castellanos return for a third season with the Phillies?
South Jersey Football Games of the Week
More...