Best of the Best: Retail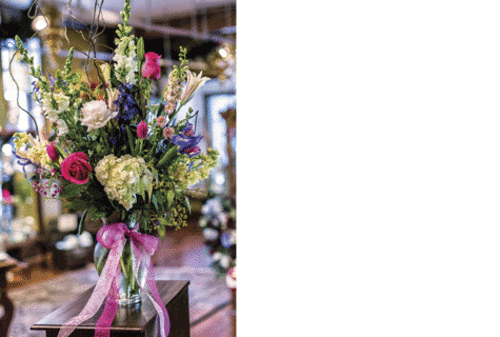 …From the pages of South Jersey Magazine…
We ate the meals, shopped the stores and pampered ourselves over the past 12 months with one sole purpose in mind—to bring you the absolute Best of the Best in South Jersey. To show you we are serious, we combed through every town in the tri-county region in search of standout stars and hidden gems that help make our area so exciting. But to make sure we didn't hog all the fun, we asked our loyal readers to go online and vote for their favorite places as well. Now, without further ado, we present this year's winners—everything from facials to French fries. It's the result of a lot of hard work, but by now you should know that no one does it better than us.
FLOWER SHOP
Moorestown Flower Shoppe
Whether it's an anniversary, birthday or just a simple hello, few things send a message better than flowers. When looking for the perfect arrangement, stop by this shop for one-of-a-kind work. Or browse from hundreds of bouquets available on their website for an easy exchange.
Moorestown, (856) 234-0660, MoorestownFlowerShoppe.com
UPSCALE CASUAL WOMEN'S CLOTHING
Tehen
From top to bottom, this boutique carries a constantly rotating selection of items that work during a day on the town or a casual night out with friends. You'll find designers like Kenneth Cole, Diane von Furstenberg and Michael Kors among the other designers on their racks, with seasonal pieces that are hard to find anywhere else.
Cherry Hill, (856) 424-4347,LeeNewman.com
RUNWAY READY LOOKS
Erdon
South Jersey has its share of clothing stores, but if you're looking to take it up a notch in the fashion department, Erdon is the place to do it. Carrying all of the latest fashions and designers, after one trip to this Marlton gem, you'll be ready to hit the runway—or sidewalk—in style.
Marlton, (856) 810-7577, Erdon.co
KITCHEN WARES
The American Table
Look no further for unique housewarming gifts or extra-special additions to your own kitchen. These shelves are stocked with an assortment of artisan jams, salsas and jellies, along with totally original barware, serving tools and glassware. There's even creative cookbooks, so you can find all new ways to use your tools of the trade.
Collingswood, (856) 240-1224, TheAmericanTable.net
LIQUOR STORE (BEER)
Joe Canal's West Deptford
From highly sought-after Belgians to popular local brews, including newcomers like Tuckahoe and Carton, this is a beer lover's one-stop shop. The knowledgeable staff can find you the right beer no matter how discerning your taste, and the growler station rotates in a nice mix of rare brews and fan favorites at prices that won't break the bank.
West Deptford, (856) 464-8787, JoeCanals.com
LIQUOR STORE (WINE)
Traino's Wine & Spirits
The staff at Traino's is there to please, with wine knowledge that rivals any restaurant thanks to their wine director/sommelier Nina. A trip down their aisles is like a journey around the world, with reds, whites, rosés and blends from Argentina to New Zealand. They'll even help you track down that bottle you've been searching for so you can impress without the stress.
Marlton, (856) 983-0056; Voorhees, (856) 424-4898, TrainosWine.com
SHOE SHINE
Nordstrom
Every man should own at least one brown and one black pair of high-quality dress shoes, and they should be treated like your car, meaning regular maintenance to make them last. That's why we head to Nordstrom to allow their skilled shoe shiners to have their way with our oxfords. It's one of those timeless experiences that will make any proper gentleman feel nostalgic and, at under $3, it can keep those $400 Allen Edmonds walking into the distant future.
Cherry Hill, (856) 773-5600, Nordstrom.com
PET GROOMER
Scissors and Suds
You don't trust just anyone to groom Fido's curly coat, and neither do we. That's why we take our pets here, where friendly, caring professionals are as committed as we are to making our pets look their best. Offering services like nail clipping, teeth cleaning, fluff drying and more, Fido never had it so good.
Collingswood, (856) 858-6262, ScissorsNSuds.com
ACCESSORIES
South Moon Under
Nothing can transform an outfit like the right accessories. At South Moon Under, the selection of clutches, scarves and belts from well-known designer brands like Marc Jacobs, Rebecca Minkoff and Printed Village will have you receiving compliments all day long.
Marlton, (856) 988-0254, SouthMoonUnder.com
MENSWEAR (DRESS)
Lee Newman
South Jersey's sharp-dressed men have been heading to Lee Newman for years, and for good reason. With a high-end collection of suits, blazers, dress shirts, ties, shoes and accessories, it's the perfect place to replicate the latest styles. Afraid you can't pull off the modern look? The friendly staff will be more than happy to help you update your wardrobe.
Cherry Hill, (856) 424-8388, LeeNewman.com
MENSWEAR (CASUAL)
Hugo Boss
With a collection of clothes that are perfect no matter if you're heading out for a day on the beach or a night on the town, Hugo Boss has the style that suits us best. The looks are sleek, hip and somewhat understated, especially compared with some other brand namedesigners.
Cherry Hill, (856) 488-2010, HugoBoss.com
HOSTESS GIFTS
La Di Da
How many times have you struggled to find the perfect hostess gift? If your answer is too many to count, consider a trip to La Di Da. Offering unique and fun gifts for all occasions, as well as clothing and accessories, you'll never have to fall back on your standard bottle-of-wine gift again.
Moorestown, (856) 222-1778, LaDiDaLaDiDa.com
TOY SHOP
Wonder World
This is the shop for parents who feel like all big-box toy stores look the same. Break from the mold and help your kids do the same. With crafts, science kits, art supplies and specialty toys from brands like Melissa & Doug and GoldieBox—plus kids' craft classes—it's sure to get your child's imagination going.
Medford, (609) 935-1118, WonderWorldMedford.com
MAIN STREET SHOPPING DISTRICT
Haddonfield
Vibrant, clean and safe, you can't go wrong with a day of shopping in downtown Haddonfield. Stroll up and down Kings Highway and Haddon Avenue for everything from a wedding dress to arts and crafts to fine jewelry, or take it all in with an outdoor lunch at one of the many restaurants in the area.
Haddonfield, DowntownHaddonfield.com
HOME ACCESSORIES
Modern Vintage HOME
Ignore the mundane offerings of retail chains and find something truly original at Modern Vintage Home. This boutique-style store is a refreshing alternative to mass-produced items, and features furniture and décor that can mesh with any style personality.
Cherry Hill, (856) 520-8110, TheModernVintageHome.com
WATCHES
Haddonfield Fine jewelers
The Yampell family has been an institution on Kings Highway since 1929, and expert watch making has always been a huge part of their jewelry business. The staff at Haddonfield Fine Jewelers includes one of the best around in Phan Van Nguyen, who has more than 35 years of experience. For a new, one-of-a-kind piece or to repair the sentimental watch you already own, the crew here has you covered.
Haddonfield, (856) 427-4465, HaddonfieldJewelers.com
MEN'S JEWELRY
David Arlen Jewelers
Shopping for jewelry can sometimes be a stressful experience, but the knowledgeable and friendly staff at David Arlen helps alleviate that stress. They offer selections from the top designers and can create unique pieces on the premises, helping you leave with the perfect choice to suit your personality.
Hainesport, (609) 914-0404, DavidArlen.com
FASHION JEWELRY
JG Kroenberger Fine Jewelry
When we're in search of a new piece of fine jewelry, to complete an outfit or give as a gift, we turn to the experts at JG Kroenberger, who can guide us through their impressive collections—including Frederic Duclos and Lauren G. Adams—to help us make just the right statement. Not sure what to get? Check out the gift guide on their website, which breaks down ideas by price point.
Medford, (609) 654-2234, JGKronenberger.com
ENGAGEMENT RINGS
Billig Jewelers
If you're looking to put a little bling on that special someone's finger, Billig Jewelers offers a wide variety of options for you to choose from. With all the diamond cuts and metal options you could want, it won't be hard for you to find a way to show your better half just how much you love her.
Marlton, (856) 983-2300, BilligJewelers.com
FINE JEWELRY
Family Jewelers
Shopping for the right gift for that special someone can be overwhelming, but the quality selection of gold, sterling silver, platinum and precious stones at Family Jewelers—coupled with a friendly and knowledgeable staff—will make the experience a pleasant one.
Marlton, (856) 983-6337, FamilyJewelers.com
STATIONERY
Papertree Studio
There's nothing like receiving a hand-written thank-you note. Though text messaging and emailing have made such messages virtually obsolete, for those moments where nothing but a hand-written message will do, The Papertree Studio has you covered. Also offering invitation design and calligraphy services, working with this Williamstown company may remind you why stationary is so special.
Williamstown, (609) 850-1600, PaperTreeStudio.net
BARGAIN HUNTING
Habitat for Humanity ReStore
If you live for the thrill of a good deal, get your kicks at the Habitat for Humanity ReStore, where you'll find a collection of donated goods from the typical couches and dining tables to the uncommon windows, doors and paving stones. An added bonus: The money you spend here will help a deserving family who needs a home.
Maple Shade, (856) 439-6717; Pennsauken, (856) 486-0040; Pitman, (856) 256-2004
READERS' CHOICE
CARD/GIFT SHOP
Ruth's Hallmark
Cherry Hill
SHOPPING DESTINATION
The Promenade at Sagemore
Marlton
CIGAR SHOP
Greentree Tobacco Co.
Sewell
ANTIQUE SHOP
Haddon Heights Antiques Center
Barrington
JEWELRY
Morton & Rudolph
Cherry Hill
FASHION JEWELRY
Fond Memories
Medford
ACCESSORIES
Charming Charlie
Mount Laurel, Marlton, Deptford
CHILDREN'S BOUTIQUE
Ragamuffins
Cherry Hill
WOMEN'S CASUAL CLOTHING
Andrea's Boutique
Marlton
WOMEN'S FORMAL CLOTHING
Jan's Boutique
Cherry Hill
TEEN FASHION
Dare Boutique
Cherry Hill
WATCH SELECTION
Jay Roberts Jewelers
Marlton
PET STORE
Medford Pet Supplies
Medford
CONSIGNMENT SHOP
Second to None Consignment Boutique
Marlton
FLORIST
Zenplicity
Marlton
Published (and copyrighted) in South Jersey Magazine, Volume 11, Issue 4 July, 2014).
For more info on South Jersey Magazine, click here.
To subscribe to South Jersey Magazine, click here.
To advertise in South Jersey Magazine, click here.
Article continues below
---
advertisement


---
Author:
Erica Bauwens, Colleen Patrice Clark, Matt Cosentino, Amanda Hamm Hengel, Liz Hunter and Peter Proko; Select photography by Jeff Fusco
Archives
---
Who's Who in Health Care
Out & About
QB Ronnie Borden is Back in the Game
Should fans be worried for the Phillies bullpen?
South Jersey Football Games of the Week
A look at South Jersey's Top H.S. Girls' Soccer Teams
Out & About
Eagles will be fine after close call in opener
High School Football Games of the Week
Is it Super Bowl or bust for the Eagles?
What's New in South Jersey?
From New Jersey to Nashville
Frustrating times for Millville's Mike Trout
High School Football Games of the Week
Hammonton's Kenny Smith off to a quick start
More...